23 Best Restaurants Open for Thanksgiving Dinner Orlando – 2023
Orlando is a central metropolis in Florida and is primarily known for its stupendous Carnival sites and more than a dozen adventure theme parks. The reason why this place has such pure magnificence is due to its festive essence with the Walt Disney World that continues to enamor kids and adults as well. The site is home to beautiful fictions and novel originations like Harry Potter and therefore continues to catch the eye of tourists annually.
It would almost be an unreal experience to celebrate Thanksgiving in Orlando, as the city will deliver you the majesty you crave. Therefore one must be familiar with some decent restaurants open on Thanksgiving for a bountiful dinner to tantalize your taste buds and visual senses.
Best Restaurants for Thanksgiving in Orlando this Year
1. The Ritz Carlton: Highball and Harvest
Why it's a must visit?
If you are on the lookout for a fancy restaurant with a gracious setting to spell-bind you with its beauty, then the Ritz Carlton restaurant will surely fulfill all your desires.
This restaurant is known for serving traditional dishes all inside an elegant setting that is stylized, keeping in mind its aesthetic strategy.
Without a doubt, this restaurant is considered to be one of the most beautiful Thanksgiving restaurants near me in Orlando.
The food here is also quite striking as it doesn't provide meals that are gourmet or unheard of in nature but instead takes a spin on southern cuisine so that US residents are familiar with it.
Chef's Choice
Among their many delicious southern delicacies is their cheer wine glazed bone-in ham, which is often ordered here during Christmas and Thanksgiving holidays.
In the same way, their horseradish and thyme-crusted prime rib mix for a perfect carnivore feast that feels almost exquisite.
It would be a shame to forget their sage butter roasted turkey, which is the star of the menu here and is sure to make you drool with its aromatic flavors.
Also See – Places to Eat in Orlando, FL
2. Canvas Restaurant & Market and Chroma Modern Bar and Kitchen
Why it's a must visit?
The Canvas restaurant is known for serving a unique variety of dishes that are stapled in nature and therefore give one a homey feel during Thanksgiving.
The restaurant exemplifies so many mouthwatering dishes that one forgets to look at their price, as all of them are incredibly appetizing in flavor but can lean towards a bit on the pricier side.
But you won't be disappointed by the pricey dishes here as the flavor of the meals lives up to its worth.
We would like to suggest that one must make sure that they make a dinner delivery one day before the pickup service as the restaurant is always packed with people and therefore needs a reservation or booking beforehand.
By doing so, one will get to relish the restaurant's many delicious dishes in the comfort of their home without having to go out.
Chef's Choice
The restaurant serves many staples and traditional varieties, like classic roast turkey, which is a perfect Thanksgiving choice.
Also, its Brioche stuffing is considered to be one of the best in all states as it comes loaded with delectable ingredients.
And as usual, their mashed potatoes get served for many days and are often ordered if people feel homesick or need a taste of a light meal.
The restaurant also has a fixed price for every meal and comes in many remarkable flavors that are hard to overlook.
3. The Capital Grille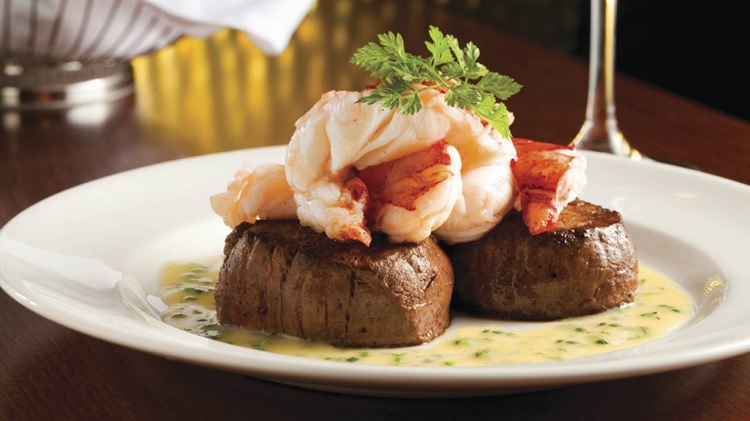 Why it's a must visit?
The capital Grille restaurant is a vast food chain specializing in roasted food and steaks across the US, which Orlando also proudly offers.
This restaurant not only provides people with the most advanced meals that they might have ever tasted but also extends its glory by featuring a posh neighborhood that brings out its overall magnificence.
It's situated right in the soul of the international drive, which a lot of families visit as Disney world is in the vicinity of it.
Also, it's only a 15 minutes drive away from the house of the mouse, which is a hotel and therefore offers the convenience of visiting if one gets a sudden craving for steaks.
Chef's Choice
As it is a famous food chain, the restaurant serves bountiful portions of meals specializing in steak variety and seafood.
The steaks here are grilled to quintessence and come seasoned with plentiful sauces that are highly appetizing.
So whenever you are planning to visit this place, make sure that you warm your stomach well and have a good appetite beforehand to enjoy all of its delectable options.
4. Hard Rock Hotel at Universal Orlando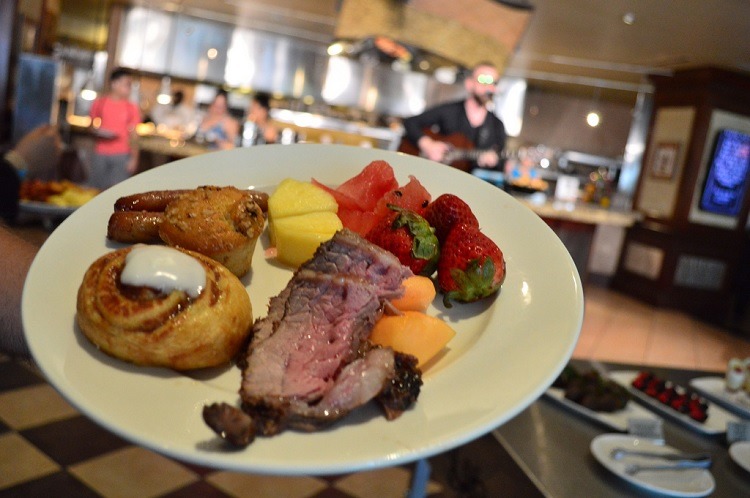 Why it's a must visit?
The hard rock Hotel restaurant is a fusion of a hotel and a restaurant all in one, serving the most lovely variety of family-oriented meals.
Most of the residents of Orlando call this place a kitchen rather than a hotel or a restaurant because the food is prepared live and served rapidly.
One can book the reservation from late morning to midnight beforehand as the place keeps inviting a lot of crowds.
They also have live performances of an acoustic guitarist playing soothing music that keeps the atmosphere exciting and entertaining.
Chef's Choice
This restaurant is known for serving gourmet food choices that come in rich flavors and several complementary dips.
All the dishes here are made in family style, and therefore accommodates the wishes of kids and adults as well.
Also, the beverages here are fascinating as they are prepared from fresh coffee beans and therefore have a refreshing taste. 
5. Eddie V's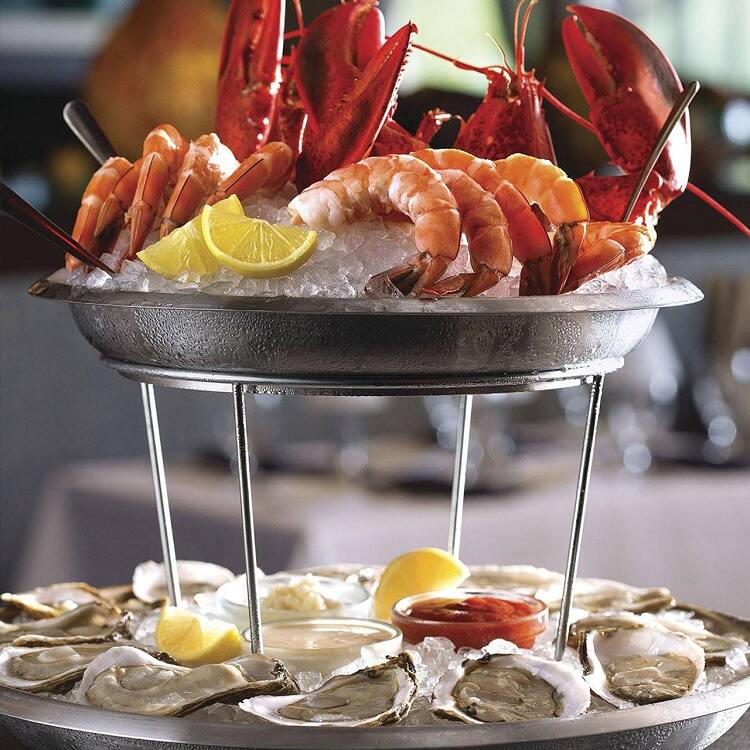 Why it's a must visit?
It's not always a necessity to spend a fortune on Thanksgiving as you can have an equally fun night with sublime food that Eddie V's is willing to offer.
This restaurant is a gem when it comes to trying budgeted options at a fixed price and is quite a steal for people who want to have the most fabulous dinner with their family at reasonable prices.
The restaurant can serve even a family of six at low prices with enough satisfaction.
Also, it's vital that one should book a reservation here a couple of days before, as the restaurant often runs out of seats during special holidays like Thanksgiving or Christmas.
Chef's Choice
One of their most outstanding dish here is turkey which is a favorite of many people during Thanksgiving.
They also have several feast options that come in buffet form so that people can enjoy different varieties.
The side dishes that come with the main course are also enjoyable.
6. Maggiano's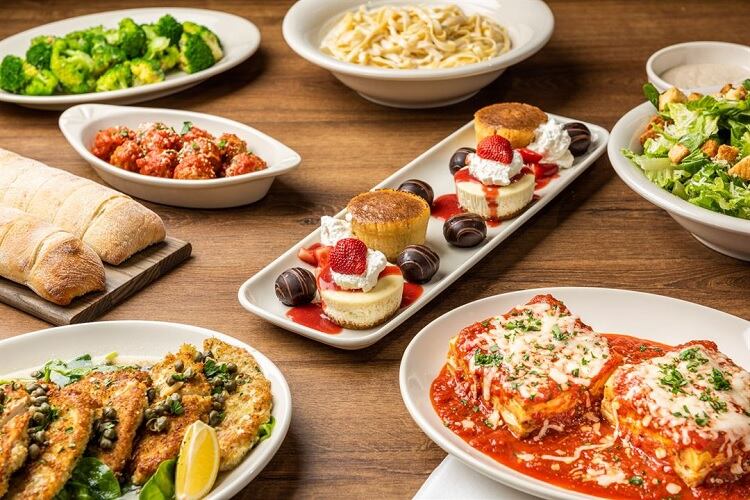 Why it's a must visit?
Get the ultimate Thanksgiving dinner experience at Maggiano's if you manage to snag a seat here.
The restaurant is designed with a modest layout but attracts huge crowds with its reasonable prices that have delighted people.
The restaurant has a separate Thanksgiving menu that displays all of the holiday's favorite dishes and also offers several takeout services even at last minute for convenience.
The restaurant has a fixed price for a family of 4 or 5 and serves dishes at a reasonable price with a rewarding feast.
So if you want to experiment with something unique this time, then this restaurant open on Thanksgiving will probably give you a pleasant experience.
Chef's Choice
The reason why this restaurant has gained so much acclaim over the years is due to its special holiday menu that lays down every favorite dish available.
Ranging from sweet potatoes and stuffed hamper to roasted turkey, you will discover almost everything here that feels divine.
It's worth noting down that this restaurant also serves an exquisite spin on Italian dishes with ravioli, baked bread, and gorgeously made meatballs.
7. Bob Evans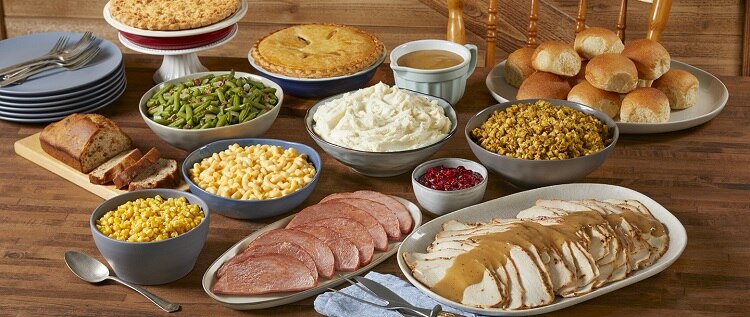 Why it's a must visit?
The Bob Evans is a homey restaurant that serves a staple variety of Thanksgiving dishes during the holidays with various classic choices.
It's rare to find a restaurant with staple dishes during Thanksgiving, which this restaurant successfully accomplishes. 
The restaurant has an impeccable staple menu that contains everyday dishes but also features a separate menu as a bonus for Thanksgiving with various specialties.
This impressive fusion of both staple and particular varieties has made this a top destination to visit for indulging in simple as well as Thanksgiving-inspired food.
Chef's Choice
Among their wide delicious varieties is their bread and celery dressing, which is beyond amazing.
Their other simple staple options, like mashed potatoes, are worth a try too!
Their mashed potatoes go exceedingly well with their extra gravy, and the delicious pies at the end make the entire feast a lot more flavorful.
8. Bahama Breeze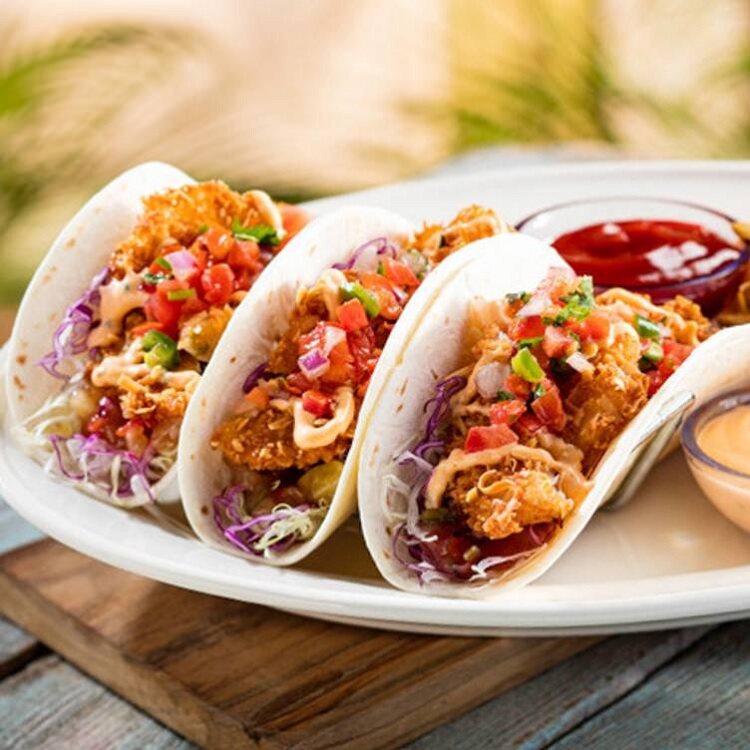 Why it's a must visit?
The Bahama breeze restaurant is a genteel diner serving family-oriented cuisine in a classy tone.
This restaurant is mostly gets celebrated for its decadent food choices along with soothing music, which gives it its easygoing atmosphere.
Its fancy interior and sophisticated layout are perfect if you are on the lookout for some restaurants that have an elegant atmosphere to them.
So if you want to dine with elegance with your family, then this place could be an acceptable option but might be a little bit extra for your kids.
Chef's Choice
The restaurant is known for its grilled food choices especially steaks that come in a variety of flavors.
Their calamari steak is the most premium dish here and should be tried if one wants to experience superb food in a laid-back setting.
Their short lamb rib bones are an excellent choice to consider.
9. Del Frisco's Double Eagle Steak House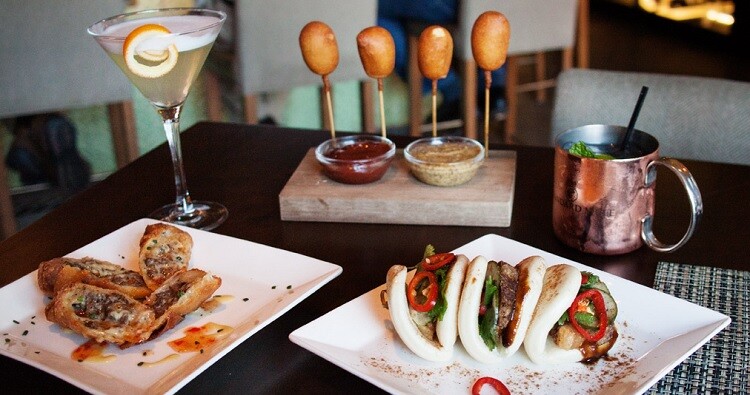 Why it's a must visit?
Del Frisco's Double Eagle Steak House is not just a usual steakhouse serving simple varieties but is actually quite an elegant diner that proves its excellence by providing a varied number of flavorful steak choices.
This restaurant continues to catch the eye of a lot of travelers, as it's nestled near the international drive and also shares its proximity to various theme parks.
Even though the restaurant serves gourmet food choices, they are priced at plausible levels.
So if you are in for something more adventurous this Thanksgiving, then you can always visit this restaurant to get that experience.
Chef's Choice
It's essential to know the fact that this restaurant has fixed prices on classic meals as well, irrespective of which category they fall into
One will discover several classic dishes here, like citrus turkey adorned with apple stuffing which has got a lot of positive reviews here.
But if you prefer to stick with traditional options, then their fancy turkey will suffice you well.
Getting a combination of both turkey and steak will prove to be divine as they go exceptionally well.
10. Rosen Plaza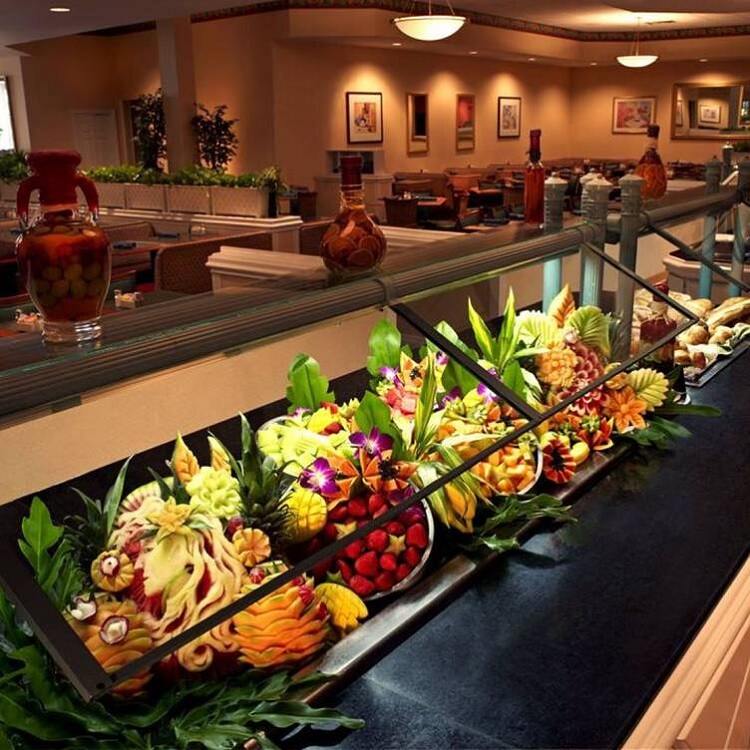 Why it's a must visit?
It's hard to miss Rosen plaza is one of the best restaurants in Orlando, as it provides the most rejuvenating feast that one can find in Florida.
This restaurant focuses on buffet options which are perfect if you want to experiment with various varieties and Thanksgiving favorites.
One of the most significant advantages of a buffet is that it offers people tons of varieties to choose from and enjoy till their stomachs are filled to the brim.
Also, another plus point about this restaurant is that kids will have a great time here as they won't nitpick and can choose their own favorites.
Chef's Choice
So if you are a person who despises traditional family-oriented dinners, then this place could be your top destination to visit, as the buffet options here will surprise you beyond your imagination.
By fixing the same price on all the dishes, one gets to eat to their heart's content without having to compromise.
Kids are sure to have a great time here as the multiple varieties here will get them drooling.
11. Fogo de Chao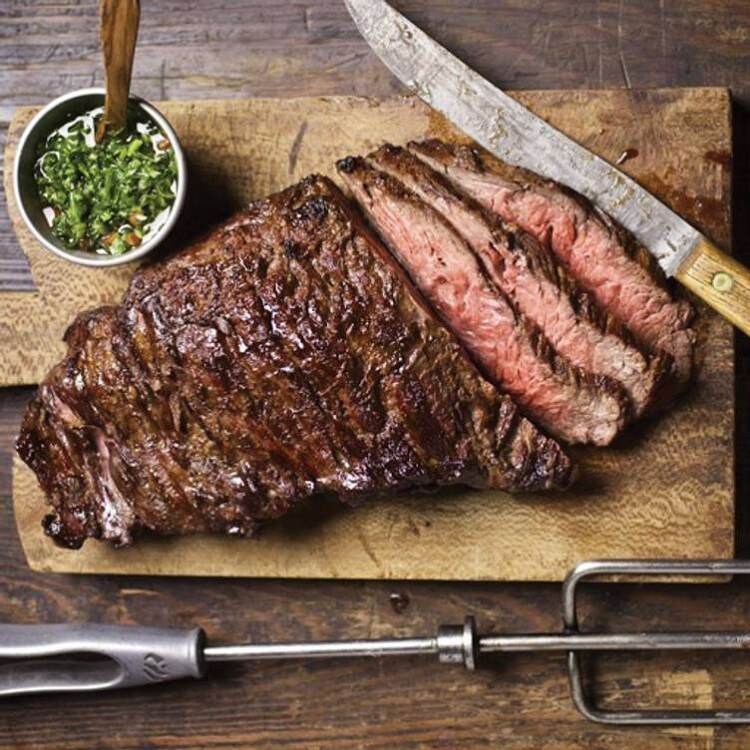 Why it's a must visit?
The Fogo de Chao restaurant might not be the traditional diner that you are looking for, but it is a spectacular pick if you want something contemporary and delicious that you won't be able to get enough.
The restaurant not only serves palpable dishes but is also visually pleasing to the eye as the waiters serve you meat straight out of meat skewers which feels fantastic.
The sizzling sight of the dishes is a blessing for sore eyes as they look delicious and palpable as well.
So if you want to feast on something experimental and quirky, then this place could be your go-to destination.
Chef's Choice
The restaurant specializes in fire-roasted techniques, especially in non-veg categories.
So almost every dish here gets served in a sizzling fashion with exquisite meals like Brazilian sausages that come with complementary meals too.
But the one dish which has been raved about for years is their turkey which is a Thanksgiving special dish.
Also, it would be a lot better to try their dessert option in the end to give yourself a worthwhile treat.
12. Cracker Barrel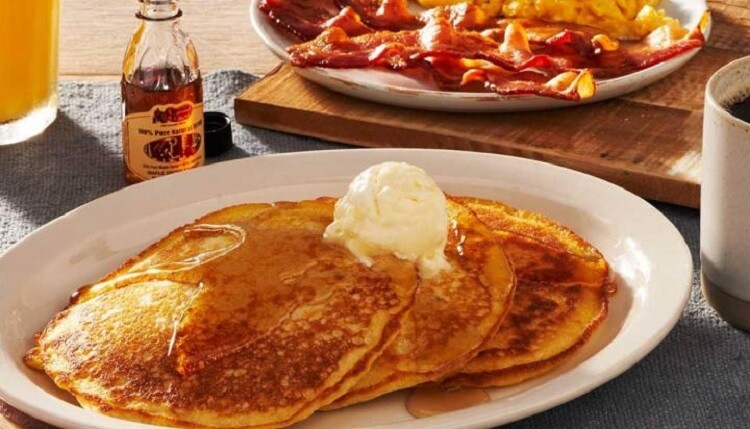 Why it's a must visit?
The Cracker Barrel restaurant is one of the top restaurants open Thanksgiving in Orlando and remains open during conventional business hours starting from late morning.
The restaurant also carries several special events for Thanksgiving, one of which is known as the 'Thanksgiving heat and serve feast,' which ranges from 8 to 10 people.
The restaurant also has a family dinner package which suffices a family of 4 to 6 members.
Their special event not only helps people to celebrate Thanksgiving in a zestful way but also lets them go for budgeted options as the prices get discounted at half the rates.
Chef's Choice
The restaurant feature shareable platters that you can partake in with your family members so that they can get a taste out of several dishes.
Most of the choices on the menu are meant for vast groups of at least 6 to 8 people and contain tons of variety in non-veg categories.
Some of the many delicacies are gravy, mash, turkey, and ham which are all equally flavorful.
13. Fleming's Prime Steakhouse and Wine Bar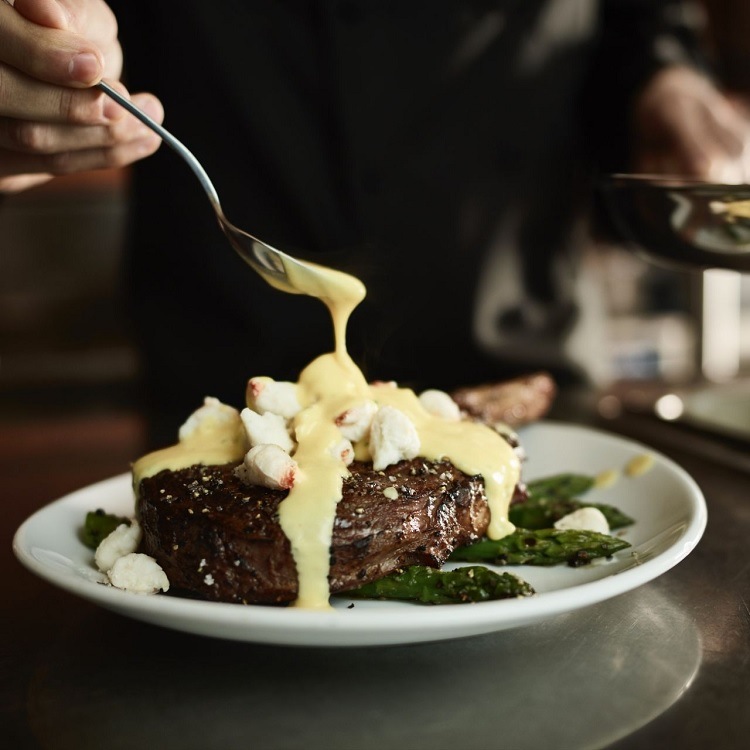 Why it's a must visit?
The Fleming's Prime Steakhouse and Wine Bar diner is one of the finest steakhouses in Orlando and serves people multiple traditional Thanksgiving recipes that are extremely tasty.
Its convenient location has rendered it a superb place to visit after a day of scouring the city.
This place is mainly created for tourists who, after an exhausting day of exploring the city, come to rejuvenate themselves.
But make sure that you book a reservation previously  as the place remains packed during holidays like Thanksgiving, and you would surely not want to miss out on this.
Chef's Choice
This place just doesn't serve you conventional full turkey dishes but also extends its genius with carefully curated dishes like steaks which have a juicy and succulent flavor.
The restaurant is also known for serving the most refined selections of wine and cocktails that, preferably, no other restaurant can fight against the sunshine state's excellence.
And we promise you that this restaurant will provide you with the most traditional and classic Thanksgiving experience that you wish to encounter.
14. Ravello at the Four Seasons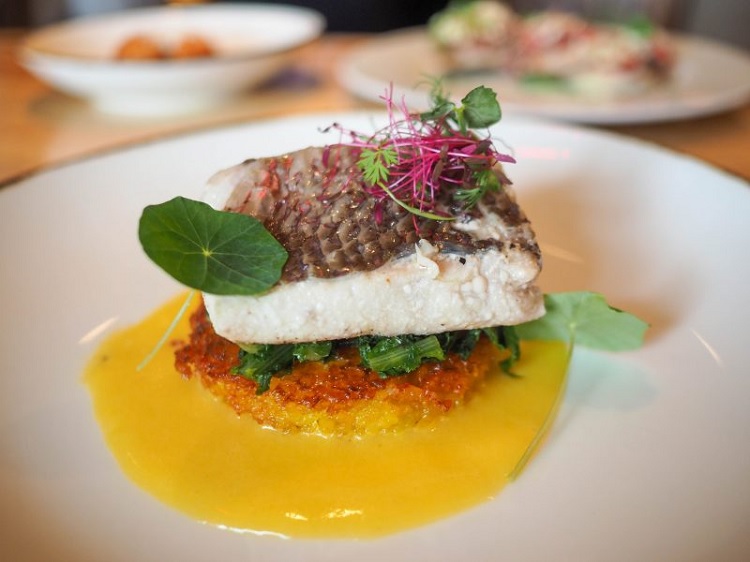 Why it's a must visit?
The Ravello at the four seasons restaurant gives you an unconventional menu that won't restrict you to one form of the feast but introduces you to experimental food in the most glorious sense.
By unconventional we mean that the restaurant focuses on delivering modern cuisine without restricting itself to a traditional Thanksgiving feast.
This restaurant makes almost anyone satisfied, even with its unique menu, as the food comes in plentiful portions that feel lovely on your taste buds.
It also fixes one price on one adult and will surely give you a sublime time here.
Chef's Choice
The restaurant is known for its full buffet option that basically introduces you to free choices ranging from one cuisine to another.
So if you are craving ravioli or charcuterie, you will get all of them on the same platter with a satisfying taste.
Also, you will find immense pleasure in the desserts, which come in varieties like tiramisu or pumpkin pie with numerous other servings.
15. Ruth's Chris Steak House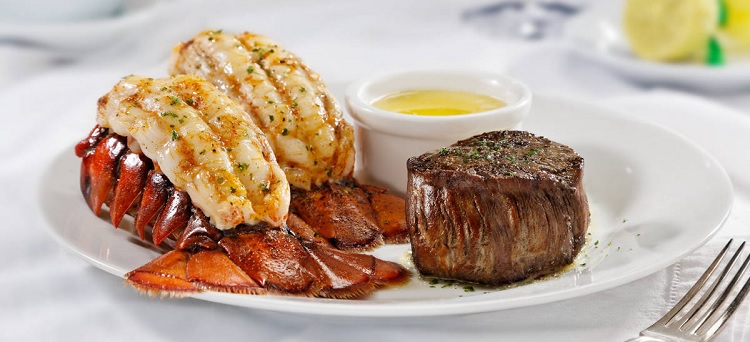 Why it's a must visit?
The Ruth's Chris steak House is a budgeted restaurant that specializes in providing succulent steak varieties in a three-meal course fashion.
The restaurant is only known for serving the most delicious steaks in town but also provides charming non-veg varieties.
It's the red meat that takes the crown here.
So anyone who has a carnivore side to them would love this place as it's meat heaven.
Chef's Choice
Now coming to its delectable non-veg menu, the restaurant is known for serving the most gracious Thanksgiving dinner that features lots of delicious platters.
The best one here is their turkey breast which is a Thanksgiving favorite and is frequently ordered during this holiday.
Their gravy and stuffing are also terrific, which are often given with a complimentary dish that tastes incredible too.
16. Universal's Cabana Bay Beach Resort
Why it's a must visit?
The universal's cabana bay beach restaurant is next on our list of some of the classiest restaurants open on Thanksgiving in Orlando.
This restaurant is known for serving the most impeccable variety of Thanksgiving meals that taste a bit unique but are indeed a suitable choice for you.
The dishes here are unconventional as they don't feature many traditional meals.
By following such a unique disposition, the restaurant proves its excellence as the classiest restaurant to exist in Orlando, with innumerable contemporary dinner choices.
Chef's Choice
So if you are coming here for a Thanksgiving meal, then get their biggest platter which comes with several comfort food choices.
The roasted meats are good choices to consider if you want something spicy and meaty.
Get a glass of beer to experience a wholesome Thanksgiving dinner.
17. Chef's Art Smith's Homecoming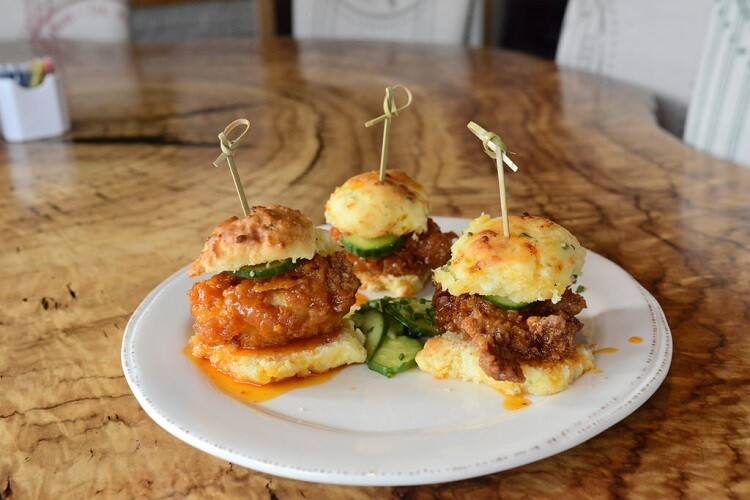 Why it's a must visit?
There are lots of people who want to taste staple southern food varieties even on holidays like Thanksgiving, which this restaurant successfully accomplishes through its delicately created southern-inspired Thanksgiving cuisine.
During the unique Disney Springs festival, you discover you come across several Thanksgiving favorites that will exactly fit your needs. 
But if you feel like you still want to stick with traditional Thanksgiving dishes, then this restaurant also offers you that possibility.
Chef's Choice
As we mentioned above, the restaurant provides people a spin on Thanksgiving and Southern cuisine in one go so that it feels homey and unique at the same time.
Some of the restaurant's favorites are their smoked turkey breast and creamy and buttery mashed potatoes, which are filling in nature.
These dishes blend exquisitely well with their tasty sticky cranberry sauce that accentuates the delight of these two dishes.
Best Dinner Restaurants for Thanksgiving in Orlando
18. Raglan Road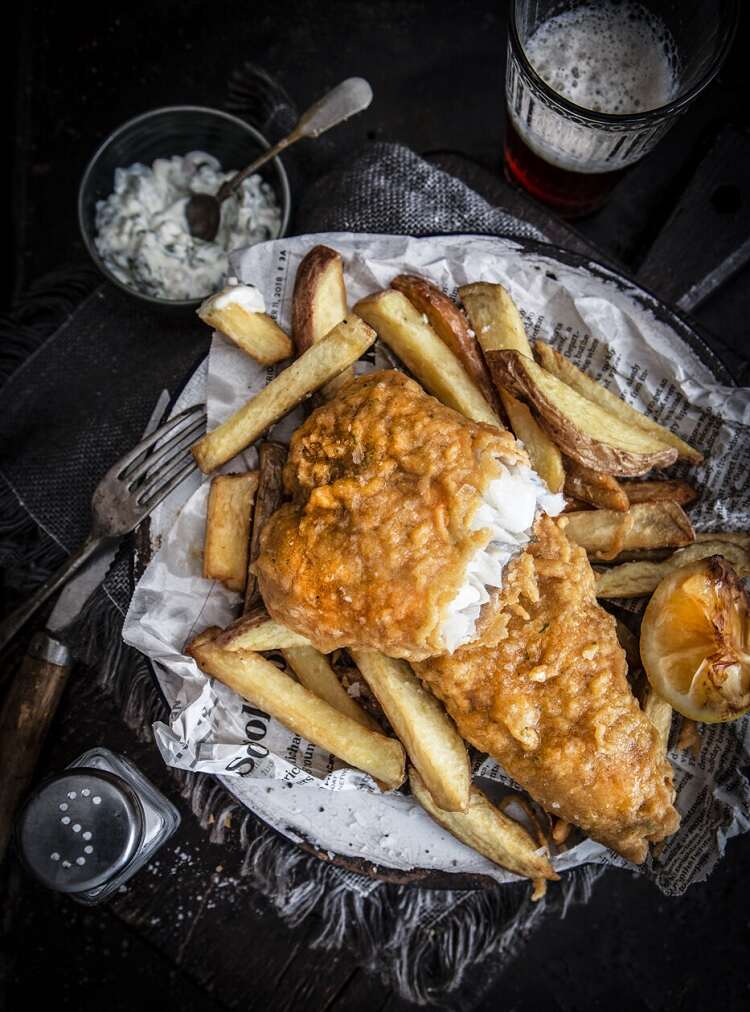 Why it's a must visit?
The Raglan Road is a restaurant nestled near the Disney Springs venue, providing people with a joyous setting with fruitful menu varieties.
It's an Irish restaurant and is known for its authentic recipes that take inspiration from Dublin.
To maintain its authenticity, the restaurant imports several of its spices and drinks so that one can engage in its cultural value.
Chef's Choice
It's a fantastic place to visit if you are craving to taste authentic Irish food on Thanksgiving.
The non-veg variety here is exquisite, with dishes like chicken pie, slowly seared baby back ribs, pork hash, and a wide variety of luscious salads with gracious side options.
One can also treat themselves to luxury by trying their Dublin donkey cocktail or their imported drinks like Guinness Irish stout for a lavish encounter.
19. Wine Bar George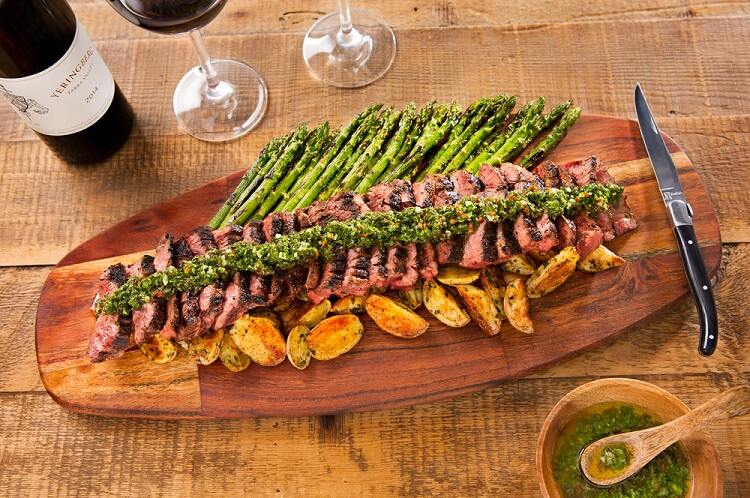 Why it's a must visit?
The wine bar George is at two level winery that is known for serving fantastic food in small portions.
The restaurant has a regular menu but introduces a special menu on holidays like Thanksgiving so that it can cater to their yearnings.
The other menu mentions traditional Thanksgiving dishes, which feature specialized holiday treats and meals.
Chef's Choice
Don't visit this place if you want to feast on heavier meals, as this restaurant focuses on delivering small plates or snack options for late-night bites.
This place is also more suitable for adults as the wine selection here is impressive, with more than 140 collections of wine available by ounce, glass, or bottle.
They also have several tasty and fancy dessert options, like pumpkin pies, that are perfect as a takeout option.
20. California Grill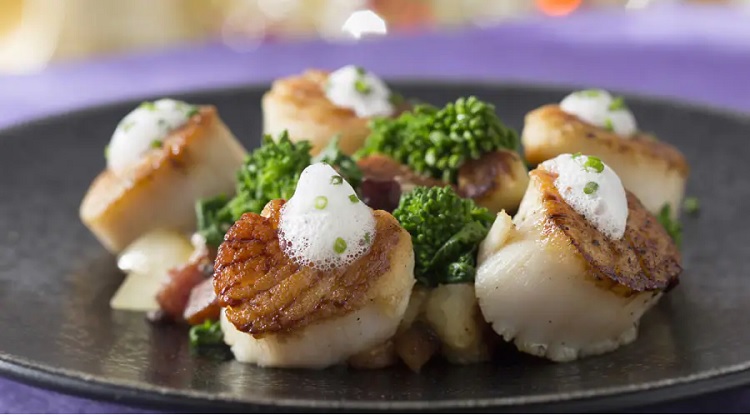 Why it's a must visit?
Indulge yourself in the most lavish cuisine of California through this celebrated California Grill restaurant that has a legacy of bagging several awards in the hospitality and cuisine providence.
This restaurant is nestled inside the 15th floor of a sophisticated resort and provides spectacular views of Cinderella's castle and Floridian Woodland.
The restaurant has a beautiful atmospheric ambiance that is perfect for a fancy romantic Thanksgiving night with your partner.
Chef's Choice
As the restaurant is a luxurious diner, all of its menu options are gourmet in nature.
So as one can expect from any luxurious restaurant, the steaks here are the most advanced feature.
But the one thing which takes the crown here is their handpicked wine which covers selections of more than 300 varieties that are often recommended as pairing options by experts so that you can get the most out of your feast.
21. Hollywood and Vine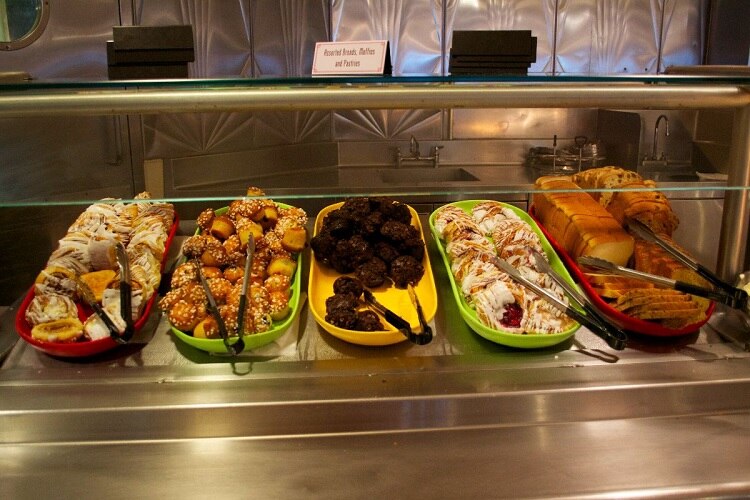 Why it's a must visit?
The Hollywood and Vine restaurant is a perfect place to visit after exploring the magical beauty of Disney's Hollywood and Florida's most beloved city.
The venue here is contemporary, and the dishes here are modern, which deviates from the conventional norms of a Thanksgiving feast.
So if you wish to celebrate Thanksgiving in an unusual fashion, then this place would be your ultimate destination.
It's also an excellent place to visit with kids as the Disney characters often give a visit here during lunch and breakfast hours to put a smile on their faces.
The restaurant also has a buffet option that covers almost every delicacy that you can imagine ranging from salads, copped meats, Mikey waffles, pasta, fish, and pastries.
The desserts here are the major highlight and are cherished by kids a lot.
22. Rose & Crown Pub & Dining Room
Why it's a must visit?
The Rose and Crown Pub and dining room restaurant is a favored British bar and restaurant which is family oriented and has a spirited atmosphere.
This restaurant is known for its delightful cuisine that relishes anyone's taste buds with a scenic beauty surrounding it.
It illuminates a gorgeous picturesque image of the entire Orlando city with pretty fireworks and spellbinding views.
It's a major hit among the residents of Orlando, and therefore it's indispensable that one should book a reservation beforehand to guarantee a table for themselves.
Chef's Choice
Among its excellent food choices is its delectable turkey, which pairs exceptionally well with the breathtaking views of the city.
They also have extensive selections of ciders, spirits, wines, and British beers that feels otherworldly.
So if you prefer a breathtaking view with a gorgeous feast, then this place will be your sanctuary.
23. Season 52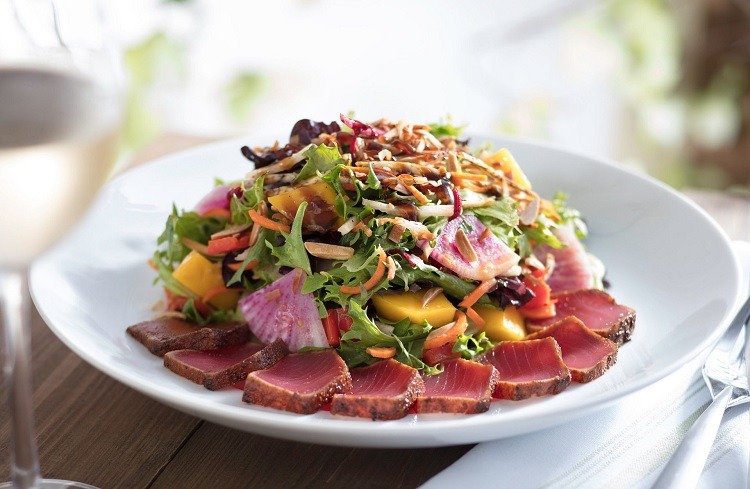 Why it's a must visit?
Seasons 52 restaurant is one of the best diners to visit for feasting on traditional Thanksgiving dinner that you can also enjoy in the comfort of your house by trying their takeout services.
The restaurant only holds its pickup services on Wednesdays; because of that, you should be careful, as this year, it will be held on November 23 and should be ordered before the final date.
Every single platter here can suffice up from 4 to 6 people with a fix priced but needs a reservation beforehand.
Chef's Choice
The restaurant displays every Thanksgiving treat that you would want to feast on during the holiday.
One of them is their turkey which is the most famous Thanksgiving dish here that is often ordered at this place.
In the same way, the trimmings are also worth a try and can be reheated once taken home, which is only possible because of their high quality.
Final Thoughts
Orlando is a lively city that exemplifies the beauty of Disney world and has several gorgeous aspects to it. It's almost everyone's dream to celebrate Thanksgiving or any memorable holiday here, as the place brims with excitement during such festivities. Because of its overall fantastical glory, the site often gets a surge of tourists who look forward to making the best memories here.
But despite having such overarching dreams, it's much more important that one should know some good restaurants where they can celebrate Thanksgiving at. So to help you with your search of where to eat, we created this list of some of the best restaurants open on Thanksgiving in Orlando for dinners, and we hope that it was able to fulfill your suitable parameters. Bon appétit!