11 Best Restaurants Open for Thanksgiving Dinner Oahu – 2023
If you're anything like me, then you've also not planned your Thanksgiving till now and are going to procrastinate until the last minute.
So for procrastinators like us, this article is a boon in disguise because it lists the best Thanksgiving Restaurants Oahu that you should definitely visit at least once, especially to celebrate the holiday with your loved ones. 
You can visit these eateries for breakfast, lunch, or dinner at any time you want because there's no specific time to start the festivities. 
Best Thanksgiving Restaurants Oahu This Year
Let us just say one thing, and these restaurants check all the boxes that you look for when choosing a place to eat. Excellent ambiance? Check. Exceptional Food? Check. Top notch service?
Check. If there's anything else that we're missing out on, these restaurants open Thanksgiving would cover those too. So now, if you're convinced, check out this list of restaurants that are open from morning till evening.
1. M.A.C 24/7 Restaurant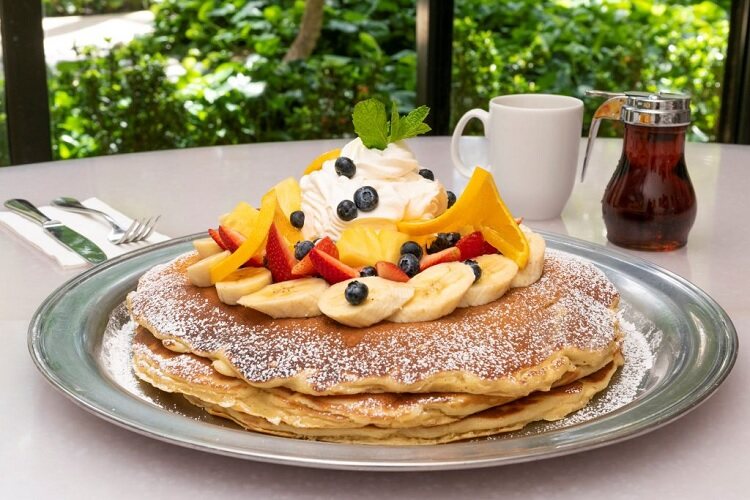 Why it's a must visit? 
This restaurant's name itself conveys the fact that it's open from morning till night, and you can visit it anytime. The tropical island-like vibes are exactly what this place offers you, with vibrant decor, a spacious dining area, and bright lights. 
You'd get into the festive mood the moment you enter this place due to its fun and chill vibe with a touch of elegance and charm. 
Chef's Choice
This Thanksgiving, M.A.C. is offering a brunch buffet menu with several appetizers, entrees, desserts, and beverages. Their potato and macaroni salad, maki sushi, or veggies would be the perfect way to start the meal. Then moving on to the entrees, you can order their roasted turkey, pork, smoked bacon, and a lot more. 
As you move to the end of the meal, you can't say no to the mouth-watering desserts on the menu, including mini cake bites, pumpkin pie, or pastries. Sounds delicious, I know!
Location and Contact
2. Pagoda Restaurant and Catering
Why it's a must visit? 
The primary reason to visit this restaurant is because of its location near the popular downtown attractions that the locals and tourists love to visit. This place has become quite well known because of its warm and inviting ambiance, the decor with a koi pond near the entrance, and the sound of the waterfall while you dine. 
Their hospitality and service are also top notch, so your dining experience would certainly be a wonderful one here. Don't forget to book a table before visiting, though. 
Chef's Choice 
Every dish at Pagoda has authentic and local Hawaiian flavors that add richness to the dishes like no other. They offer several cuisines, like Asian, Hawaiian, and Western; therefore they have an extensive menu full of dishes representing these cuisines. 
You can order their juicy prime rib, or something from their seafood options, such as sushi, snow crab, etc. this holiday. Every dish is fresh and organic, which is what makes your dining experience exceptionally good.
Location and Contact
3. Black Angus Steakhouse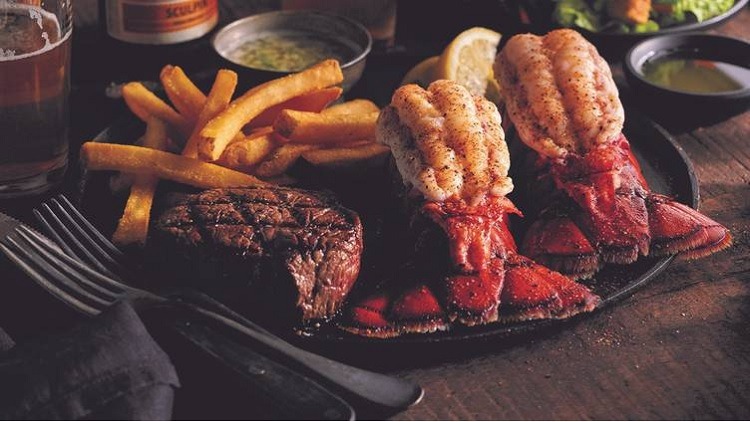 Why it's a must visit? 
Black Angus is an absolutely charming and rustic restaurant that offers a homely and comfortable vibe, which is perfect for Thanksgiving celebrations. It'll provide you with an intimate yet friendly dining experience with dim lights, and wooden furnishings are the ideal setting for celebrations. 
You can go here any time of the day, but with reservations; otherwise, the holiday rush would make you wait for a long time. 
Chef's Choice
You must try this restaurant's fall trio, which includes any type of meat of your choice along with side dishes, such as shrimp, and lobster tail, and two classic dishes, which could be sirloin, filet, N.Y. strip, and so on. 
There are other dishes as well that you can opt for on the menu, so you have got an entire menu at your disposal; order anything you want that soothes your soul.
Location and Contact
4. Merriman's Honolulu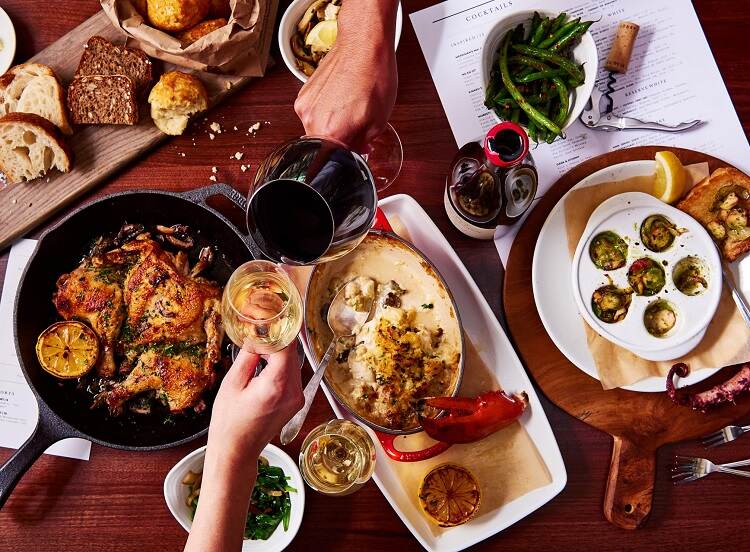 Why it's a must visit? 
This is a charming and gorgeous restaurant with white and black interiors, wooden furnishings, and warm lights that exude an elegant and sophisticated vibe. It's like walking into a cheerful and vibrant ambiance, which is so infectious that it'd make you happy the entire time. 
Visiting this place would feel like being in a bubble, away from all the worries and the fast track city life, and you wouldn't want to leave from here. 
Chef's Choice
You'd be served a prix fixe meal here with beet and fennel salad, caesar salad, etc., and the main course would include roasted beef, lamb shank, scallops, and a lot more. But their dessert steals all the limelight; therefore, you must order either their pumpkin pie or chocolate bread pudding. 
One thing is for certain you'd relish each and every dish that is served to you because they are all scrumptious.
Location and Contact
Thanksgiving Dinner Oahu Near Me
It's time to look at some of the restaurants to dine in or to order takeout from that serve an excellent dinner.
There are some restaurants that might even offer dinner delivery services, so check out this list, and choose a restaurant that you wish to go to this holiday. 
5. Chart House Waikiki
Why it's a must visit? 
One of the major reasons for visiting this restaurant is that it's located in the heart of Waikiki, near the Ala Wai Harbor. The beachy and tropical vibe of this place instantly attracts people, and its color theme is also similar to the ocean, blue with subtle tones of brown and white. 
We recommend you to visit this restaurant at night to bask it in its full glory with lights and other beautiful decorations. 
Chef's Choice
So this Thanksgiving, Chart House is offering a buffet, which will consist of appetizers, entrees, accompaniments, desserts, and a beverage to pair it with. You can expect a classic Thanksgiving meal with roasted turkey, ham, cranberry sauce, gravy, and mashed potatoes; pumpkin pies is the go-to option for desserts. But they also offer jello mold that you can try. 
To complement your dishes, pair them with a bottle of chardonnay, pinot noir, etc., which would enhance the flavors of the dishes as well.
Location and Contact
6. Bali Oceanfront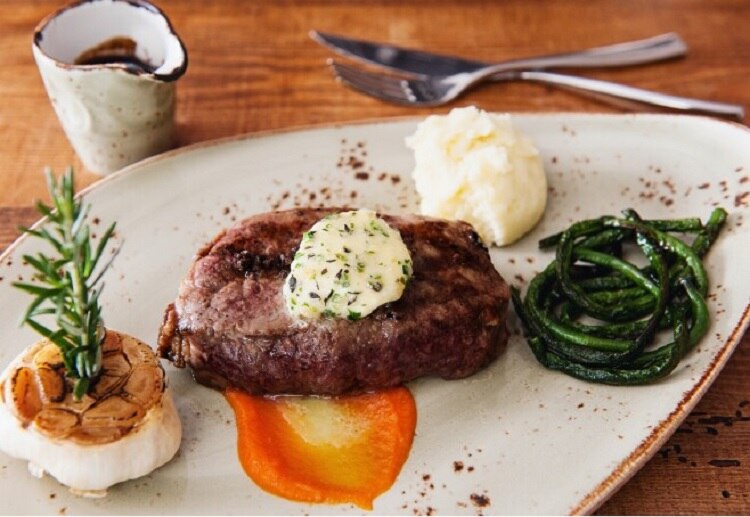 Why it's a must visit?
Get ready to be mesmerized by the spectacular view of the Waikiki beach from this restaurant, which compliments the subtle and minimalist decor of the place and the light color tones used all over the restaurant. The spacious dining area offers an airy and relaxed ambiance that'll soothe you. 
If you go for their outdoor dining area, then you're in for a romantic and intimate time as you view the most beautiful sunset or the starry night. 
Chef's Choice
All the ingredients are locally sourced and fresh, which are then cooked into delicious meals with the right techniques to bring out bold flavors and authentic taste. For the holiday, you can enjoy roasted chicken breast, lamb, and ahi, along with side dishes, like risotto, broccolini, and many more. 
There are a lot more options on their holiday special menu than the ones mentioned here, so you can order as per your choice and whatever brings comfort to you.
Location and Contact
7. Orchids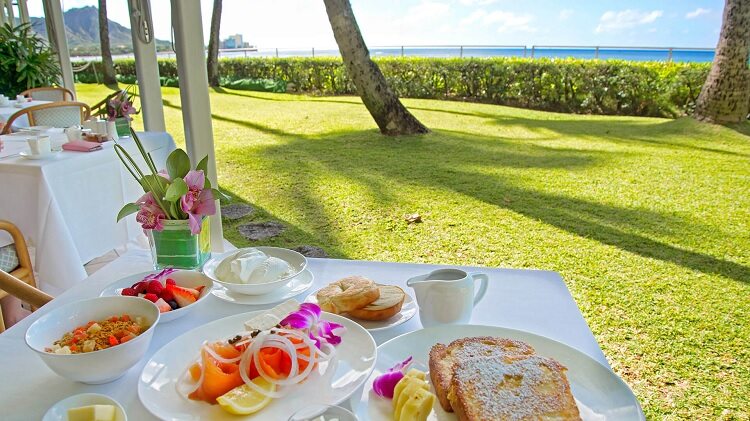 Why it's a must visit?
Being in sync with its name, this restaurant is how you'd describe a heavenly place with its more than a pleasant view of the ocean and nature. The indoor dining area with wooden furnishings and a white color theme adds vibrancy, exuding an air of sophistication and elegance. 
The potted plants, piano bar, and other decorative pieces also add to its already existing charm and opulence. Make a reservation before visiting this place because it'd be packed during the holiday. 
Chef's Choice
The dinner menu at Orchids is a comprehensive one with a wide assortment of dishes ranging from lobster bisque and carpaccio to tenderloin filet, short rib ravioli, and a lot more than you can imagine. One thing is for sure; you wouldn't have to worry about being dissatisfied with the variety here. 
Their seafood is also quite popular, and you can order prawns, branzino, or any other sea dish available on the menu. Orchids restaurant doesn't offer take out service, unfortunately.
Location and Contact
Conclusion
Since Oahu is a small city, these are the most amazing Thanksgiving Restaurants Oahu that we could come up with for you to celebrate the holiday with your family and friends.
Every detail has been provided to you regarding these places, so all you have to do now is pick one of the restaurants out of these, get dressed, and spend the holiday with the people you love and create unforgettable memories.