11 Best Restaurants Open for Thanksgiving Dinner Honolulu – 2023
Now that Thanksgiving is upon us, it's time to take a look at the best Thanksgiving Restaurants Honolulu that you can go to for a holiday meal and spend quality time with your friends and family over breakfast, lunch or dinner.
The restaurants recommended in this article are one of the best and are perfect for Thanksgiving celebrations. 
After all, enjoying the festivities shouldn't come at the cost of exhausting yourself to cook a meal and doing all the work by yourself. Sometimes, you should just relax and let things be done for you. 
Thanksgiving Restaurants Honolulu Near Me
There's no specific time to celebrate Thanksgiving; therefore, we've come up with a list of restaurants that are open the entire day, and you can visit them any time as per your schedule.
You can even visit three different places for the three meals with your friends and family to make the most out of this holiday because worrying about where to eat will no longer be on your list after today.
1. Plumeria Beach House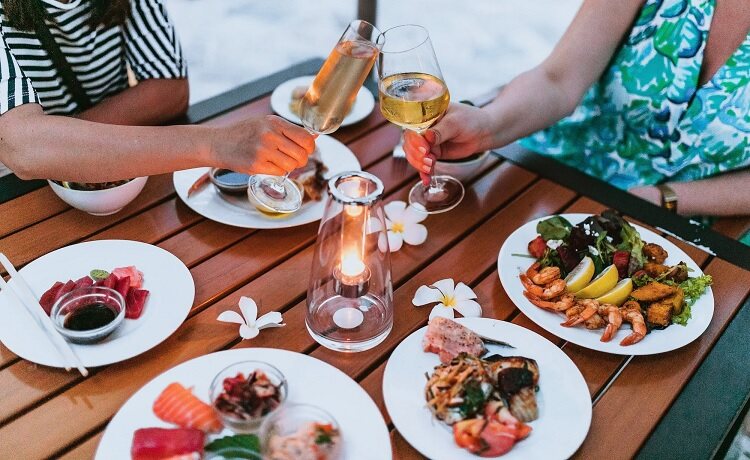 Why it's a must visit?
This restaurant by the seaside would make you nostalgic about the family vacations you took with your family to the beach house. This restaurant is open the entire day and offers a casual ambiance for people to have fun and chill. 
Their indoor and outdoor dining areas are both charming and dainty, where you can relish your food and enjoy a glass of cocktail in peace. 
Chef's Choice
Plumeria is going ahead with a brunch and dinner buffet this Thanksgiving with a carving station, hot pods, classic holiday dishes, and mouth-watering desserts that will make you crave for more. 
Do reserve a table, though; otherwise, getting a seat would be difficult. Also, their regular menu won't be available on 24th November because their Thanksgiving menu would be more than enough to satiate your hunger.
Location and Contact
2. Hard Rock Cafe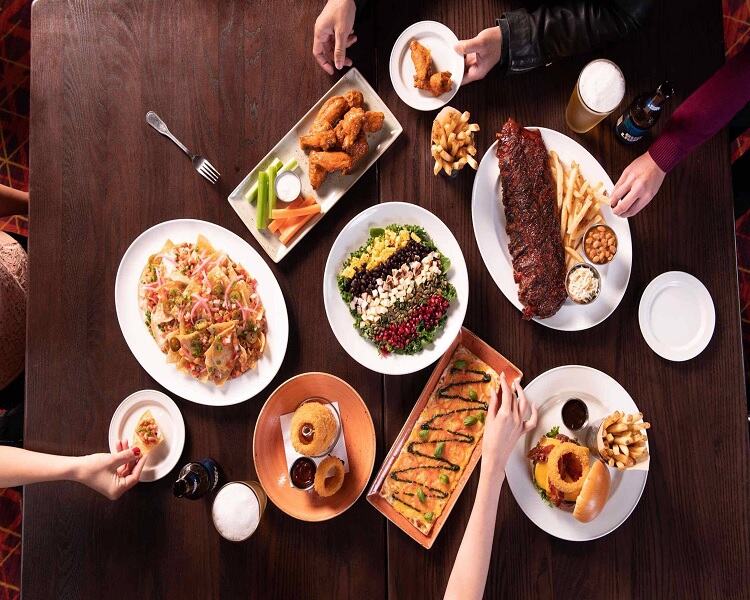 Why it's a must visit? 
The Hard Rock Cafe is at the heart of Waikiki and in a busy area with the beach, numerous shops, and the convention center nearby. As soon as you enter the restaurant, you'd be greeted with live music and a gorgeous view of the ocean. This open air dining space acts as the perfect escape during the holiday to focus on the ones you love. 
The wooden furnishings, warm lights, and guitar decorations would certainly get you into the festive mood, and you can kickstart your celebrations the right way. 
Chef's Choice
This restaurant has planned everything for you, so all you have to do is sit back and relish the meal served to you. Their menu consists of roasted turkey, stuffing, mashed potatoes, gravy, cranberry sauce, and other side dishes that come along with it.
As for desserts, you can never go wrong with a pumpkin pie topped with whipped cream and caramel sauce drizzled on it. Sounds delicious, right? This home style food would overpower your senses and send your mind into a beautiful place.
Location and Contact
3. Romano's Macaroni and Grill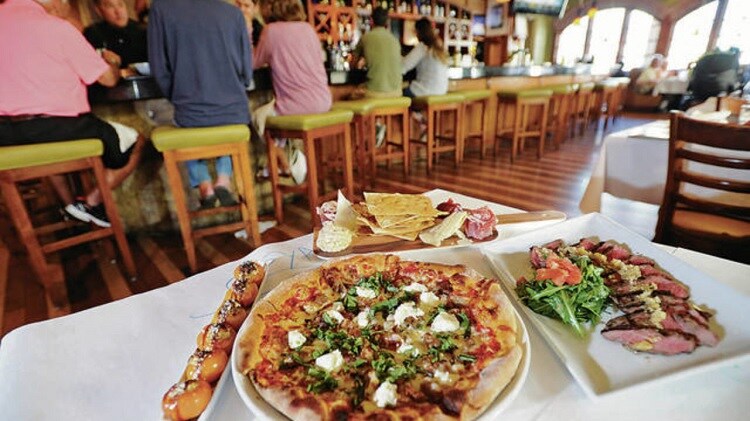 Why it's a must visit? 
This charming and quaint restaurant with soft lights, wooden furnishings, potted plants, and fairy lights would make you feel at home with the comfort and warmth it exudes. Visiting this place at any time of the day would work because its beauty remains the same at all times. 
Their service is top-notch, and the servers are friendly and helpful, which is the cherry on top, honestly. However, we recommend you reserve a table beforehand. 
Chef's Choice
Romano's is serving a three course prix fixe menu to all its customers with roasted turkey and all the trimming and side dishes along with it. You'll get all the classic dishes as per the Thanksgiving tradition, and it'd truly be a feast for everyone. 
All the scrumptious dishes would leave no space for anything else in your stomach, and you'd go with a fulfilling and wholesome feeling, the best kind.
Location and Contact
4. Hau Tree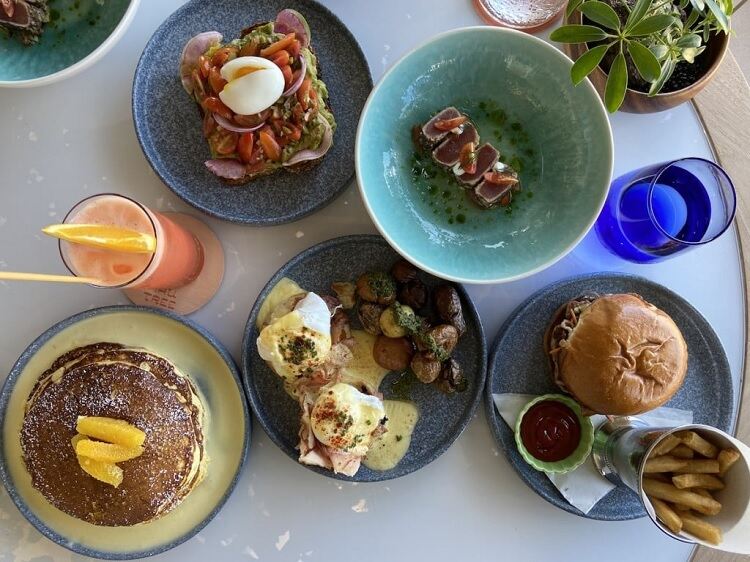 Why it's a must visit?
This is one of the best places that Honolulu has to offer because this beachside eatery is a comforting and welcoming space where you can casually dine with your loved ones while enjoying the view of the crashing waves. The light color theme, open space, and natural lighting would send you into a cheerful mood, and that's what Thanksgiving is all about. 
The charm of this place would leave an impact on you because you won't be able to get over this place anytime soon. It's definitely a must visit restaurant when you're in Honolulu. 
Chef's Choice
Hau Tree is going all out with their family-style, four course meal, which will include glazed turkey breast, butternut squash bisque, mashed potatoes, gravy, cranberry sauce, beet salad, Hawaiian rolls, and much more. 
A pumpkin pie for dessert would complete the meal in the best way possible, and there'd be no room for complaints regarding any of the dishes because they'd be created with love and care.
Location and Contact
5. 100 Sails Restaurant and Bar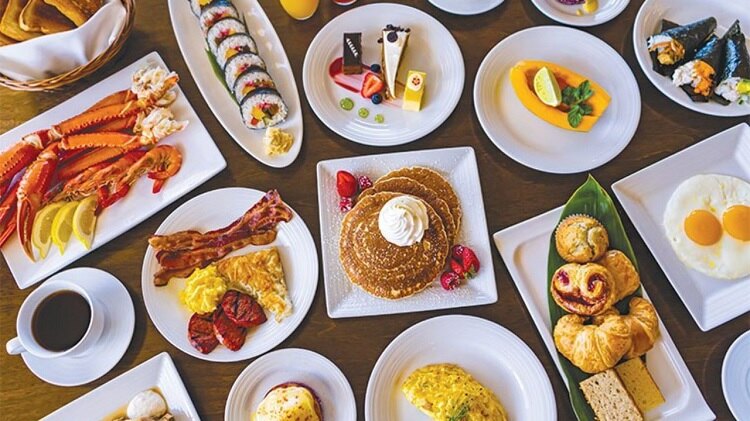 Why it's a must visit?
Let me just say that you'd understand what love at first sight, means the moment you step foot into this restaurant. This place is perfect for unwinding and bonding with your friends and family because the view of the ocean and the natural light from the windows energizes you in more ways than one. 
The modern and spacious dining area with sleek furnishings, earthy tones, and warm lights exudes a warmth and elegance you can't get over. 
Chef's Choice
100 Sails has a separate Thanksgiving menu planned for its customers where you can start off with their wide variety of appetizers; as for the entrees, you can go for their crab legs, clam chowder, bacon, or their catch of the day to retain a surprise element. They also have a carving station if you opt for a roasted turkey or prime rib. 
For desserts, there are so many choices that you'd want to order them all, such as pumpkin pie, bread pudding, cream puffs, and many more. Just hearing about it makes my mouth water. You can even order take out if you don't wish to get out of bed.
Location and Contact
6. La Vie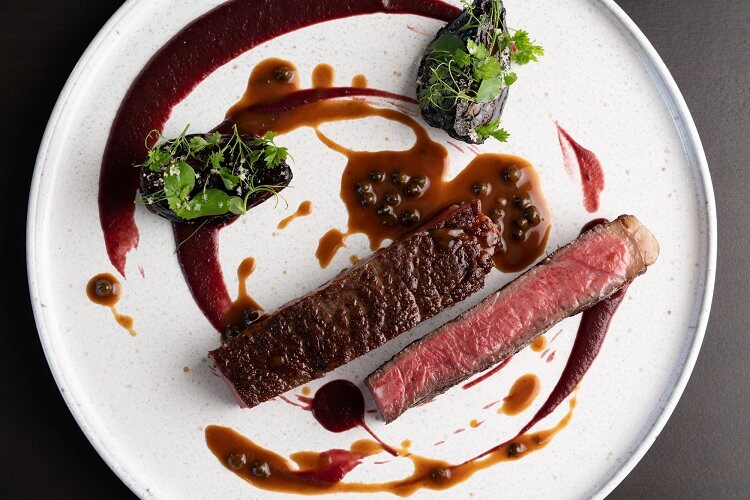 Why it's a must visit?
This is another open air restaurant with a view of the Pacific Ocean to soothe you as you relish the ultimate Thanksgiving feast. The dark and light color theme perfectly matches this place's vibrant yet sophisticated vibe, decorated with potted plants and a piano bar. 
Celebrating any festivity here would make it more memorable and enhance the element of fun and cheer. The gorgeous view from its massive window is all you need to have the time of your life. 
Chef's Choice 
You'd be served a prix fixe dinner this holiday with an optional wine pairing. The meal would include spaghetti squash, brussels sprouts, Kona abalone, and many other entrees and side dishes to go with your meal. 
Unlike the classic pumpkin pies, La Vie would serve a warm apple tart with caramel sauce drizzled on top of it to end the meal on a sweet note.
Location and Contact
Popular Thanksgiving Dinner Restaurants
Our article is going to cover restaurants open Thanksgiving, specifically serving dinner or opening during the nighttime because a lot of people prefer going out at night for a relaxing and warm meal to end the day.
So take a look at these eateries mentioned below, and don't wait till the last minute to make reservations in your favorite restaurant out of these. 
7. Rock a Hula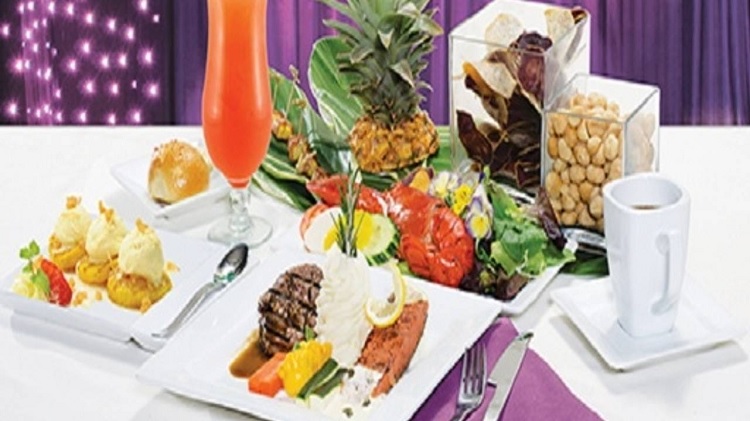 Why it's a must visit? 
Visiting this restaurant would benefit you in two ways; firstly, you'd get sumptuous food, and secondly, you could enjoy the live entertainment as their theatre performances would be showcased, which is considered the biggest Hawaiian show. 
This place would make you feel welcomed, and the warmth of the staff would win your heart. You'd create unforgettable memories here while dining on the best Thanksgiving meal you've ever had. 
Chef's Choice
You can relish the dishes from their buffet dinner, which is divided into two: original and VIP. The original buffet includes roast beef, a whole luau pig along with a carving station, and several dessert options to choose from. As for the beverages, their E Komo Mai Tai is quite popular, or you could go for their tea or coffee. 
Those opting for the VIP buffet would enjoy more options, such as two premium beverages, an orchid lei, etc. The dishes would remain the same, though.
Location and Contact
8. Stripsteak Waikiki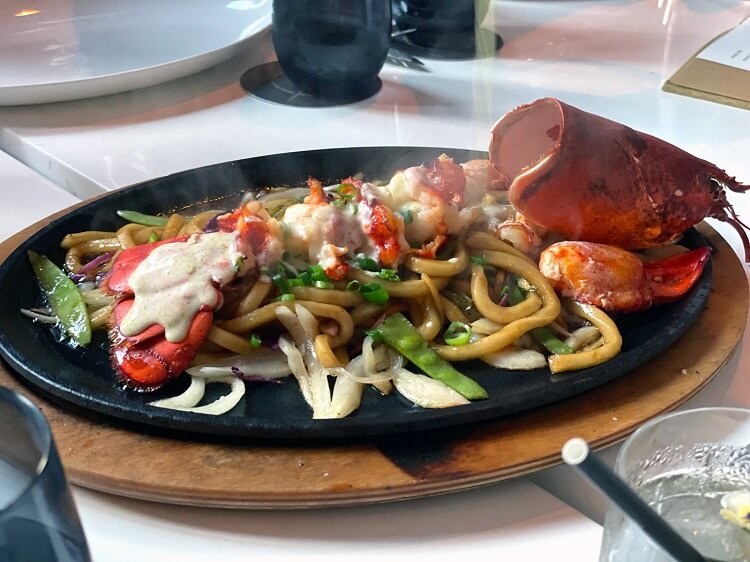 Why it's a must visit? 
There's only one way to describe this restaurant, and that is sexy. This place's sultry vibe makes it unique from the others. Its modern decor with elegant subtleties adds a perfect balance of casual and sophisticated ambiance, which is what we're going for this holiday. 
Stripsteak is undoubtedly not your regular steakhouse because it has innovated itself in a new light while staying true to its roots and local culture. 
Chef's Choice
You'd be amazed by the extensive menu offered by this restaurant. You can begin the meal with butternut squash soup or tuna tartare, and then you can move on to the second course and either order a roasted turkey or a ribeye. There are numerous side dishes to go with your meal, so you can take your pick from whipped potatoes, mac and cheese, etc. 
For dessert, you can either go with a classic, which is pumpkin pie or a non-traditional ube basque cheesecake. Both of them are scrumptious, which is guaranteed, and this restaurant offers takeout as well.
Location and Contact
9. Ruth's Chris Steakhouse
Why it's a must visit? 
Ruth's is the epitome of opulence and richness, yet its inviting atmosphere is what attracts people to this restaurant. The dark interior and large windows letting in the natural light allow for a warm ambiance, while at night, the warm lights from the lamps and chandeliers add an aura of intimacy. 
Those who wish to dine outdoors can enjoy the view of the city while relishing their food and having a good time. It's one of the most legendary steakhouses you can't miss out on.
Chef's Choice
For Thanksgiving, you can go for this restaurant's filet, ribeye, or a new york strip. However, if you wish to move away from the classics, then their seafood is also as popular, including lobster tail, crab cakes, or their steak and shrimp combo. It's entirely up to you. 
The whole menu is at your disposal, so order as much as you want and whatever you want. Pair these with one of their hand crafted cocktails and you're all set. For the ones with a sweet tooth, their bread pudding is the perfect go-to dessert for a lot of people.
Location and Contact
10. Hy's Steakhouse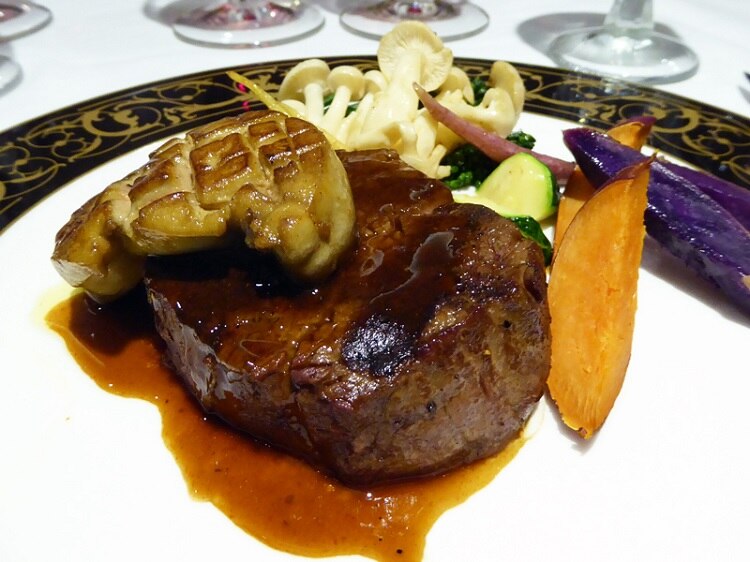 Why it's a must visit?
If you're looking for a fine dining restaurant with a peaceful ambiance, and elegant setting, then this is the place for you. They pride themselves on their top-notch service and excellent staff, which adds five stars to your dining experience. 
The dark wood furnishings with soft light from the rustic chandeliers add an old school charm to the entire place, making you feel like you've been transported to a different era. 
Chef's Choice
You're in for a culinary experience of a lifetime with their finger licking dishes, such as scallops, crab cakes, and several varieties of salads. To complement your dishes, you can order non-alcoholic or alcoholic beverages as well. 
There are meal options for vegetarians as well, who aren't interested in turkey or any other meat dishes.
Location and Contact
11. Morton's the Steakhouse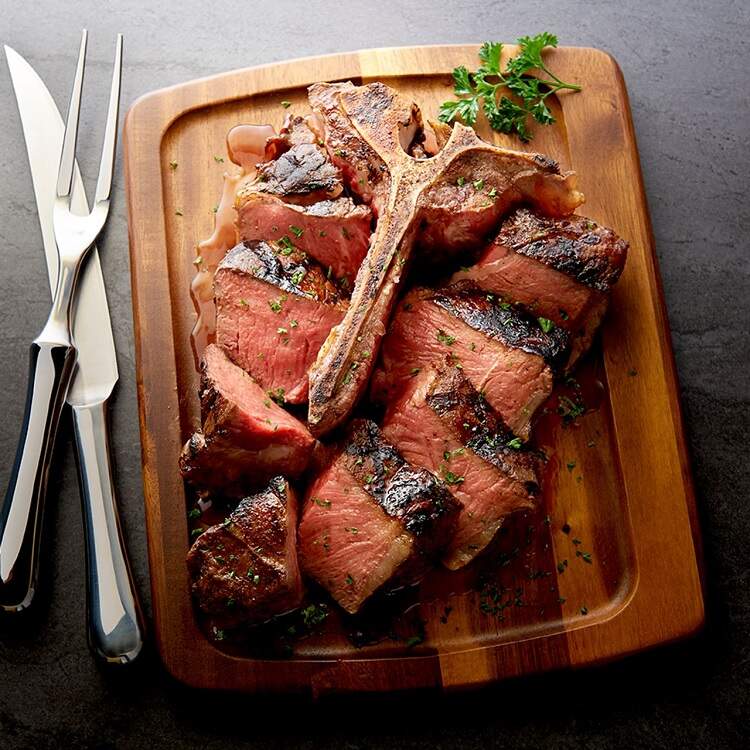 Why it's a must visit?
Morton's sets the benchmark for fine dining and is well known for its legendary hospitality. Their focus is on quality and consistency in every regard, and that is what gives them a higher steakhouse standard. 
The earthy tones and warm lighting exudes a comforting and relaxed atmosphere where you can unwind with your friends and family and create memories. 
Chef's Choice
This restaurant is famous for its USDA prime aged beef. Still, apart from that, you can also order their Wagyu filet, filet mignon, prime ribeye, and the numerous side dishes it offers, including brussels sprouts, baked/mashed potatoes, etc. 
Their decadent desserts, like bread pudding or their mouth-watering chocolate mousse, are a must try; otherwise, you'd miss out on something truly remarkable. You can use their dinner delivery service as well.
Location and Contact
Conclusion
There are so many restaurants in the city that it can become a task to just choose one of them, right? So we've made that task slightly easier for you by narrowing down your search for Thanksgiving Restaurants Honolulu so that you can focus more on the celebrations and the people important to you.
Choose one of the restaurants out of these for Thanksgiving breakfast, lunch, or dinner because they are certainly the best in business.