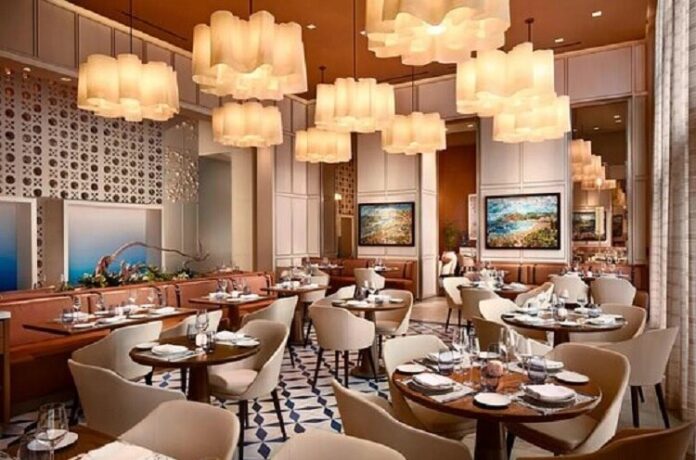 South Florida is the southernmost region in the US in Florida between two directional areas of north and central Florida.
South Florida remains one of the most popular destinations in the country, where the weather is always warm, and people are always happy.
Because of such a lively population, it has become a great spot to celebrate various festivities like Thanksgiving.
A lot of people settle here after retirement as there are several tourist regions that one can escape to while exploring the city.
Therefore, one can easily say that South Florida remains a lovely location to celebrate special festivities by visiting various places to eat.
As the festival of Thanksgiving approaches, it seems rather wise that one should check out some of the best Thanksgiving restaurants in South Florida to avoid the hassle of cooking a big feast during this day.
Let's check them out. 
The Best Thanksgiving Restaurants in South Florida This Year
1. Shooters Waterfront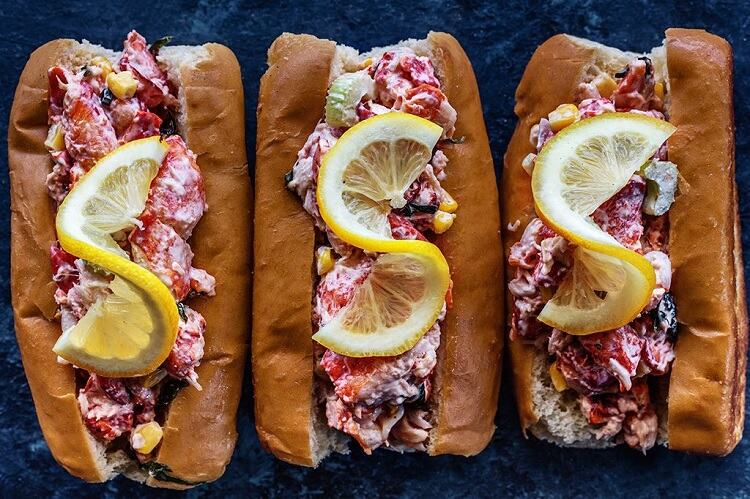 Why it's a must visit?
The Shooters Waterfront restaurant is a relaxed dining spot on the beautiful intracoastal waterway in South Florida.
It's one of the top-rated restaurants to visit during Thanksgiving to enjoy live music, delicious drinks, and food with beautiful water views.
This restaurant has excellent service with delicious menu options that are perfect for celebrating birthdays and festivities like Thanksgiving.
This restaurant serves delicious appetizers and main course options like calamari that are seasoned to perfection and fried in a crispy manner with a scallion garnish and dipping sauce. 
Their Godzilla sushi roll is also a tasty dish that is beautifully presented and makes for a special meal for Thanksgiving.
Location and Contact
2. Rusty Pelican – Miami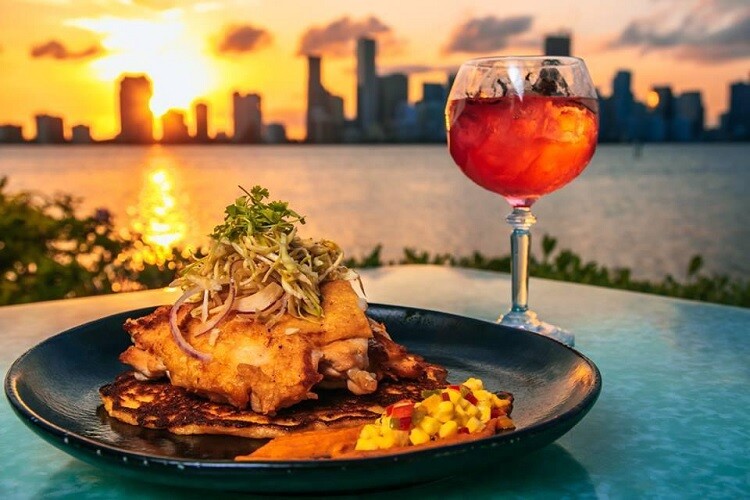 Why it's a must visit?
The Rusty Pelican is a stylish restaurant in Miami, south Florida that is known for its patio setting, providing gorgeous sunsets, water, and city views.
This restaurant offers takeout options and is a perfect weekend brunch option to visit during a refreshing Thanksgiving morning to energize yourself.
It's one of the top restaurants that is conveniently situated in the heart of Miami, serving immaculate drink and food options with impressive presentations.
The staff here is very knowledgeable and serves an incredible main course and drink menu right next to beautiful water views.
Location and Contact
3. Tropical Acres Steakhouse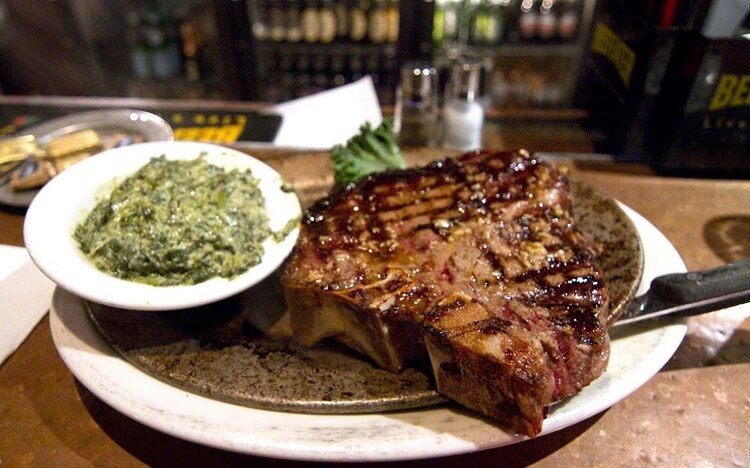 Why it's a must visit?
The Tropical Acres Steakhouse restaurant is a family-owned diner serving a classic menu full of delicious wine, steaks, and seafood in a vintage-like setting.
The restaurant is designed in 1950s style fashion with wooden furnishings and gorgeous presentation details.
It's a 5-star restaurant serving luxury food variety with delicious lobster and prime rib as some of its impressive menu options.
The restaurant serves the freshest bread basket with crispy little baguettes that are fried in butter.
The best options here that you can try are their filet, prime rib, roast prime rib of beef, and seafood.
They also have incredible bottles of Prosecco champagne and other discounted bottles of wine that you are not going to find anywhere else.
Location and Contact
4. Burlock Coast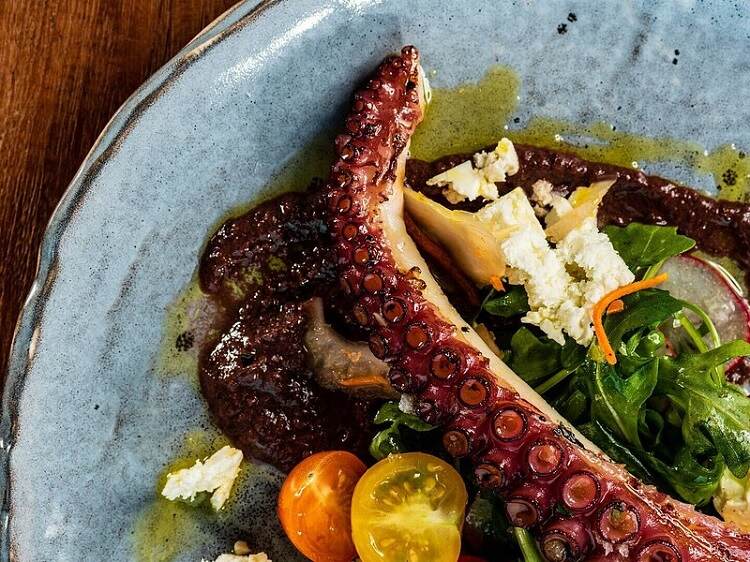 Why it's a must visit?
The Burlock Coast restaurant is a spectacular seafood restaurant that also has an artisanal market set up inside a rustic and chic space right inside a fabulous hotel dining room.
It's a fancy restaurant but also offers takeout options without a hassle and is perfect for coming during the warm sunny month in South Florida to enjoy a delicious Thanksgiving dinner.
Anyone who is wondering where to eat in a fabulous manner with gorgeous interior details and superb service with quality food will definitely appreciate coming to this place.
This restaurant offers a fine dining experience with delightful options like a fish tempura sandwich, ceviche, and shrimp cocktail.
Location and Contact
5. Farmer Girl Restaurant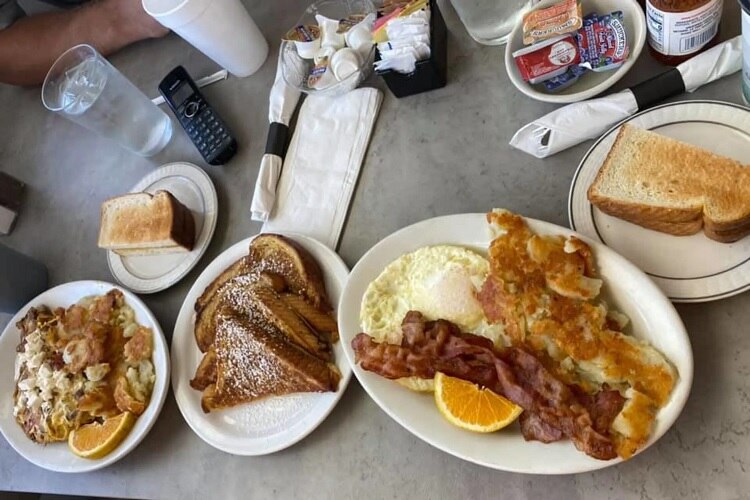 Why it's a must visit?
The Farmer Girl restaurant is a professional place serving delicious Thanksgiving cuisine even at the last minute with incredible options like turkey and wines.
It's one of the must-places for both brunch and dinner in Lake Worth, South Florida, serving affordable food options with quality dishes. 
This restaurant is situated close to the beach, which provides a fresh breeze to the people dining here, and the food here also comes in large portions at cheap rates.
Their e-home fries are a perfect crispy option you can go for, as well as sweet dishes like bacon waffles as good dessert options.
Location and Contact
6. Foxy Brown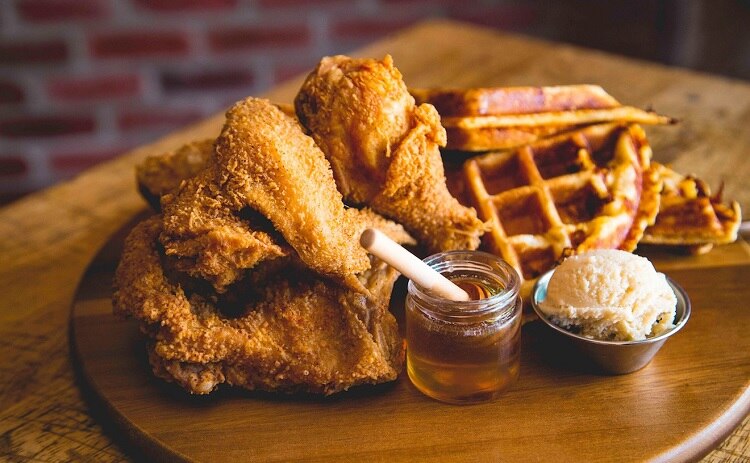 Why it's a must visit?
The Foxy Brown restaurant is an informal American restaurant serving a delicious hearty dinner with main course options, including a classic brunch on weekends.
It's one of the nicest restaurants near me that offers the option of delivery, even during Thanksgiving, and has reasonable prices with a great atmosphere.
This restaurant exceeds expectations with us satisfying brunch choices like its captivating, meticulously crafted appetizers with delicious flavors in symphony.
Their main courses are also culinary masterpieces that will delight your palate with options like strawberries and cream waffles and chicken and waffles sliders.
Location and Contact
7. Diplomat Prime Steak & Seafood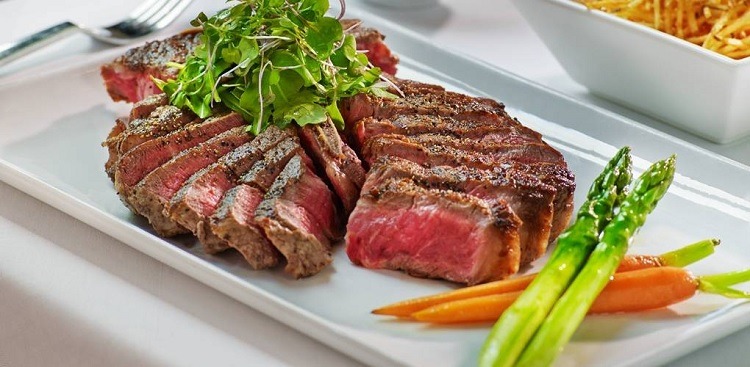 Why it's a must visit?
The Diplomat Prime Steak & Seafood carries the image of fine dining with its upscale chophouse hotel interior specializing in seafood, dry-age steaks, and luxury wines in a beachside space.
It's one of the cool places to eat a memorable Thanksgiving dinner in South Florida that serves flavors that you might have never encountered in your life.
The restaurant serves the tastiest Chilean Seabass that one might have ever tasted, with other mouthwatering options like a seafood tower, NY strip, crab cakes, and skirt steak.
Their whipped potatoes, oysters on the half shell, and surf and turf are also honorable mentions.
Location and Contact
8. Runyon's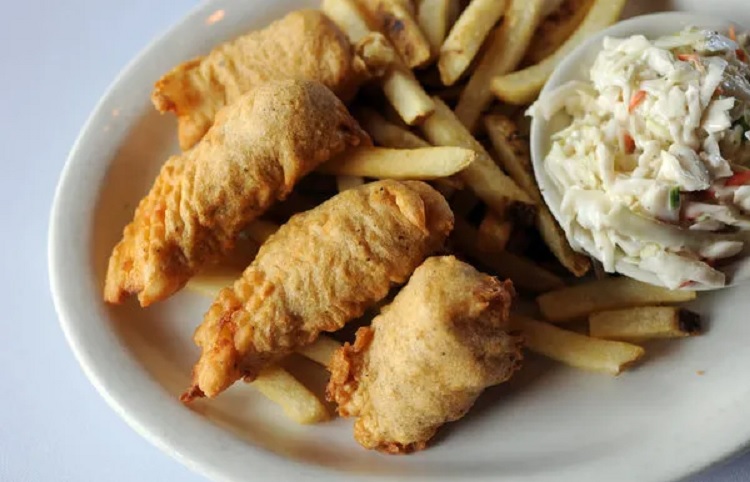 Why it's a must visit?
The Runyon's is another one of the great restaurants that have an old-school atmosphere with an exclusive menu of steaks and a cherry piano bar right next to it.
It's one of the best restaurants open on Thanksgiving that has a classy and comfortable space, serving top-notch food and drinks.
The restaurant is the perfect provider of decadent prime rib, which blends nicely with live music that gets played in the background and is worth every penny. 
Their French onion soup is a perfect starter dish that comes with a dynamic combination of tasty, savory, and cheesy flavors.
In the same way, their steaks, which come medium cooked, are also delicious and juicy, along with their mac & cheese and wagyu meatballs.
Location and Contact
9. Ocean Bar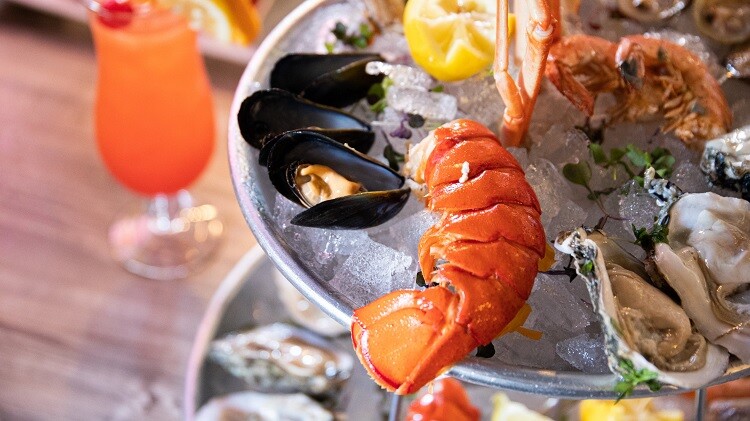 Why it's a must visit?
The Ocean Bar restaurant is an upscale seafood restaurant in the harbor beach Marriott, South Florida, that serves American seafood dishes.
The restaurant is known for its beautiful ocean use that you can see from its patio and provides an ultimate fine dining experience, especially for Thanksgiving.
Everything from start to finish ranging from their appetizers to desserts, is just outstanding and worth trying.
The food near me of this restaurant is just pure talent, with options like Caesar salad and grilled chicken, desserts like strawberry ice cream, and a lot more.
Location and Contact
10. Le Patio – The tiniest, cutest Restaurant in South Florida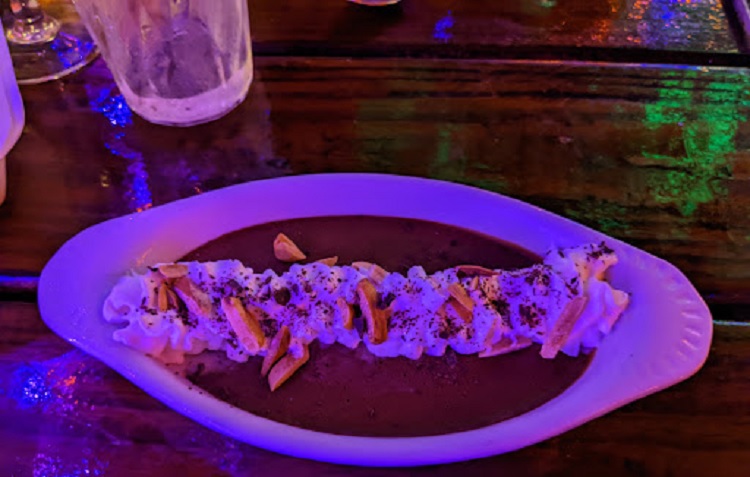 Why it's a must visit?
The Le Patio restaurant is one of the cutest pint-sized eateries with an intimate and quirky patio setting, serving delectable French comfort food with different wine options.
It's one of the trendiest restaurants open on Thanksgiving, which is truly a gem that brings the flavors from France into the heart of South Florida.
The restaurant provides delicious courses like cheese course, tomatoes and lasagna, and escargot, followed by various tasty desserts.
Their cream Brulé, European cheese platter, and spinach ravioli are the most excellent highlight that one can try at this restaurant.
Location and Contact
11. Il Mulino New York – Miami
Why it's a must visit?
The Il Mulino New York it's another fancy restaurant in the heart of Miami, Florida, that has an elegant space.
It is one of the most well-known restaurants that focuses on sizable portions of various Italian favorites.
This restaurant perfectly embodies the idea of fine dining and is absolutely perfect for romantic date nights, girls' nights out, reunions, and even for celebrating festivals like Thanksgiving.
This gorgeous restaurant is ridiculously good in its overall quality food and image that enamors you completely.
Its delicious options, like grilled octopus with spinach, fried zucchini, pies, seafood combo, bruschetta, and flourless chocolate cake, are some decadent options for Thanksgiving.
Location and Contact
Final Thoughts
South Florida is a beautiful city lined with gorgeous beaches and has the loveliest city of all, which is Miami.
It is globally known for its beautiful sunny weather and is also perfect for coming during winter and autumn, especially for Thanksgiving.
With so many exceptional restaurants offering different kinds of options ranging from seafood to steaks, pies, cocktails, etc., south Florida definitely is a dream destination for many.
Therefore, looking at some of the best Thanksgiving restaurants in Florida that you can check out this Thanksgiving without looking further is perfectly wise.
Happy Thanksgiving and bon appétit!