21 Best Restaurants Open for Thanksgiving Dinner Boston – 2023
Boston is the capital of one of the most populated cities, namely Massachusetts, and embodies the cultural essence of the United States through its several financial sectors. The city covers the actual meaning of a true metropolitan city that exudes a sense of modernity and hegemony as its main essence.
Because this city has such a sense of extravagance, celebrating holidays here as Christmas and Thanksgiving, seems like a dream, as the vibrant crowd here will touch your heart.
So if you are coming here for Thanksgiving, then it goes without saying that you should know some good restaurants open on Thanksgiving to get yourself a fantastic dinner.
Best Restaurants for Thanksgiving in Boston this Year
1. Aquitaine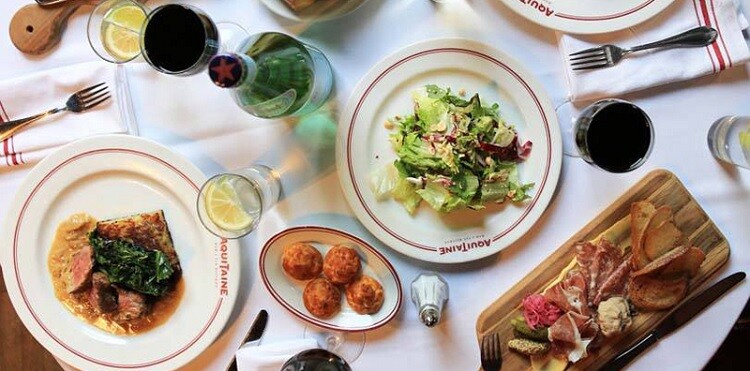 Why it's a must visit?
The Aquitaine restaurant provides a classy spin on a delicious Thanksgiving supper by giving introducing people to the masterful creations of the chef named Dolly Bourommavong.
The restaurant follows the idea of Magnifique and holds the main event in the name of that French title, where it provides people with the most decadent varieties of Thanksgiving dishes.
The restaurant solely focuses on its creation on creating innovative French dishes that carry the authentic taste of France in its every spice.
Chef's Choice
One can begin their meal with some cheesy choux pastries known as gougeres which are a genius creation based on French technique that uses basic bread rolls.
After that, your main meal can consist of an apple bisque, butternut squash, and some caramelized apple with onions stuffing to fill you up.
Some unforgettable dishes that can act as a primary main course are thinly sliced turkey breast and turkey au vin adorned with thighs, a braised leg, and a final seasoning of Cremini mushrooms and pearl onions.
Location and Contact
Phone:- +1 617-424-8577
Email:- manager@aquitaineboston.com
2. Bar Mezzana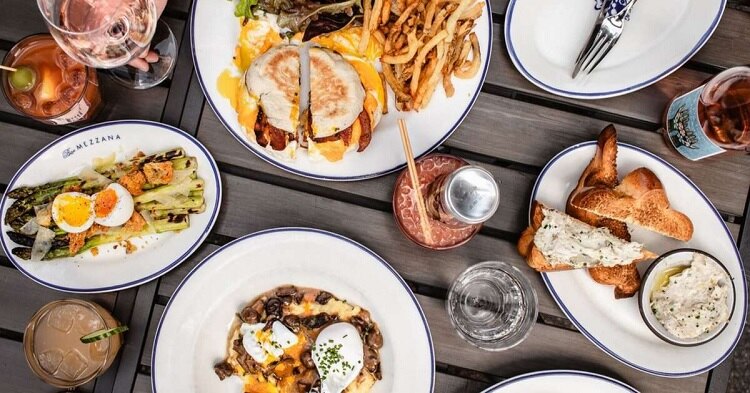 Why it's a must visit?
The bar Mezzana restaurant is headed by the renowned chef named Colin Lynch, who literally puts you into a food coma with his many mouthwatering dishes.
The restaurant not only delivers people stunning Thanksgiving varieties but makes sure that it offers to take out services to bring a spirit to the Black Friday holiday.
It's sufficient for people coming in groups of two, four, or six as they are served in a La carte fashion.
Chef's Choice
The restaurant offers an ample portion of roasted turkey breast and delicious leg confit, which comes seasoned with sage, dried plum stuffing, and gravy that feels absolutely gracious.
With the leftovers and adding some bread and mayonnaise with some turkey pieces, you can easily make a sandwich for the next day.
As for the desserts, they serve loaves of bread, especially their famed pecan dinner rolls are a sublime choice.
Location and Contact
Phone:- +1 617-530-1770
Email:- INFO@BARMEZZANA.COM
3. Brassica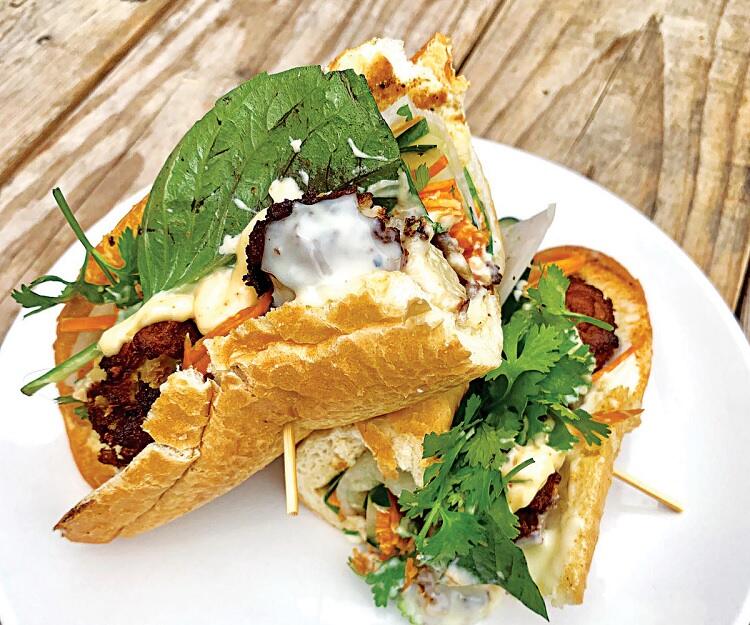 Why it's a must visit?
The Brassica restaurant is one of the most sensational diners that has proven its excellence not only in supporting the indigenous community of the USA but also in following a sustainable mindset to create its dishes.
The restaurant makes sure that 10% of its proceeds go towards vulnerable tribes that prevail all across the US.
Aside from its altruistic motive, the restaurant also has one of the most impressive menus in Boston that needs to be devoured.
Chef's Choice
The chef recommendations here are outstanding, with delicious Thanksgiving meals like roasted duck adorned with orange char siu sauce and a bit of black apple stuffing, which is a divine combo.
Their cheesy mac & cheese comes with a spice of Shiro miso that is entirely out of this world. 
One can also sample their dishes with bevies and distinct wines as well as delicacies like honey pies which are farmed locally and contain organic sweet sap.
Location and Contact
Phone:- +1 617-477-4519
Email:- info@fazendacoffee.com
4. Citizen Oyster House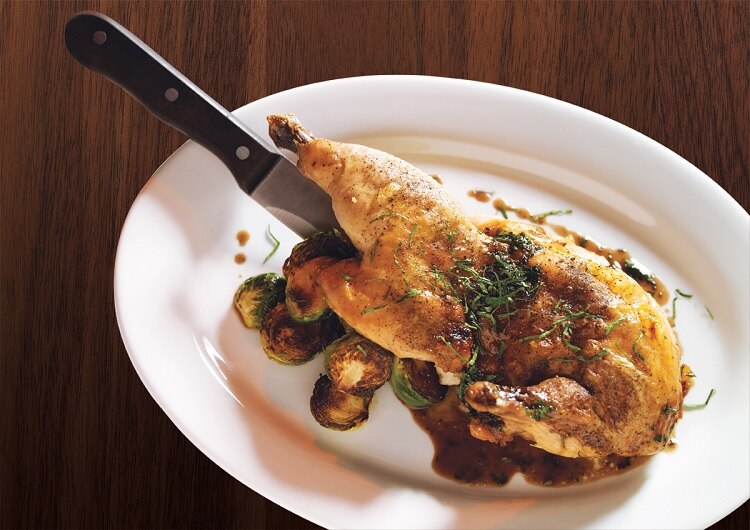 Why it's a must visit?
The Citizen oyster House brings a whole new meaning to the entire tradition of Thanksgiving by featuring seafood instead of poultry.
The restaurant has a very convenient takeout and dinner delivery service and has a special knack for creating delicious pig cuisines that have no match.
Sadly, the restaurant doesn't have an infinite group setting but can only accommodate up to 10 people in one feast.
Chef's Choice
The Citizen oyster House provides people with a unique spin on serving delicacies like a seafood tower, lobster rolls, shrimps, oysters, and clams that keep your appetite up.
The restaurant's most famous dish is its slow-roasted pig which comes with a generous amount of gravy and handcrafted BBQ sauce and is efficiently cooked over a span of 14 hours.
The side dishes here are flawless, too, with lovely goodies like sweet potatoes, marshmallows, small pork meatball stuffing, and lots of other local varieties.
Location and Contact
Phone:- +1 617-450-9000
Email:- amelia@citizenpub.com
5. Juliet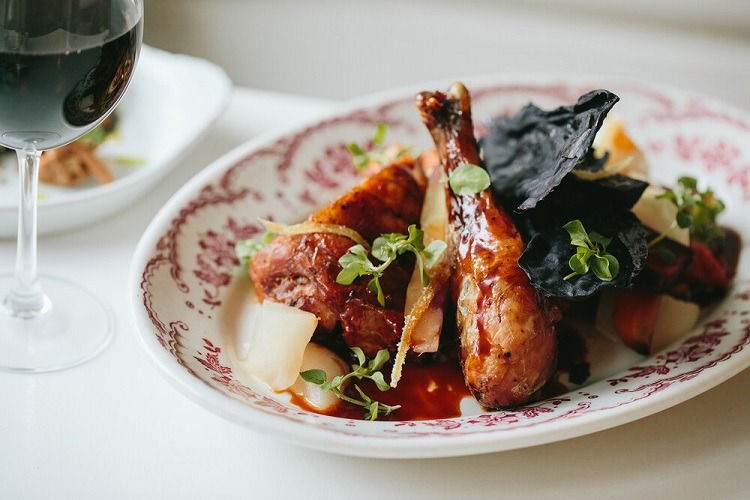 Why it's a must visit?
The Juliet restaurant offers you a balanced taste of a regular plus a special Thanksgiving meal that feels mouth-melting.
The restaurant also has an exciting feature of cooking your own Thanksgiving meal, where the feast can accommodate from 4 to 6 people at once.
The restaurant's entire interior is French inspired and also possesses a relaxed atmosphere that feels comforting.
Chef's Choice
The variety here is decadent with the dishes like mashed potatoes, brined turkey, cranberry sauce, gravy, and generously seared honey basil glazed carrots that delight one's tastebuds. 
One can also go for their three-meal course, which features starter specials with extra add-ons like spinach and artichoke sauces as appetizers.
One can also get a bite of their delicious pumpkin pie which contains a mild flavor of black pepper that gives one an exceptionally balanced taste.
Location and Contact
Phone:- +1 617-718-0958
Email:- info@julietsomerville.com
6. Lucie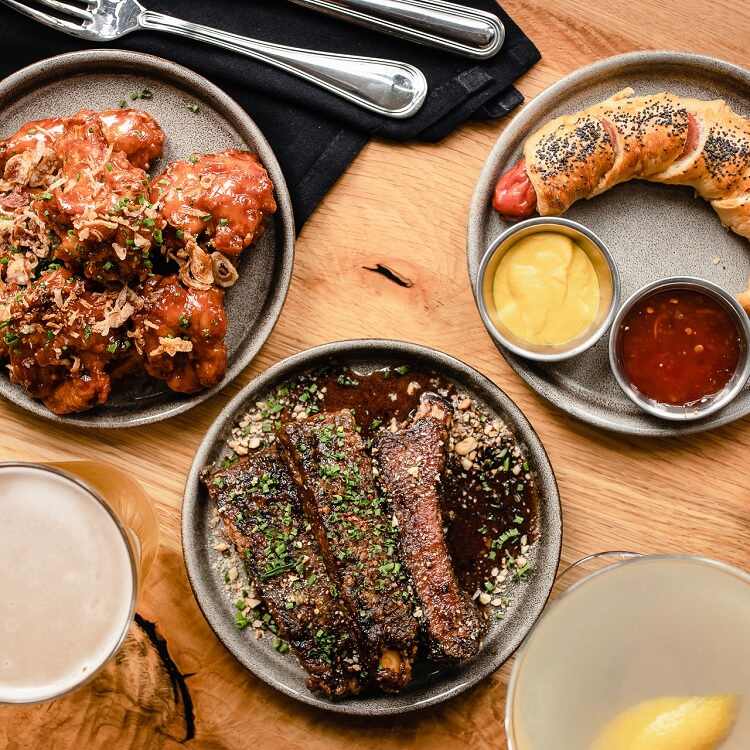 Why it's a must visit?
The Lucie restaurant is often renowned as a Back Bay beauty which is located at the foundation of the Colonnade hotel, which introduces an intriguing spin into Thanksgiving cuisine.
If you are tired of feasting on turkey dishes every single year during Thanksgiving, then visiting this restaurant will offer you a hands-off unique Thanksgiving experience.
Even though the restaurant has several distinct features, from only providing turkey dishes, it makes sure that it mentions traditional dishes like turkey as well so that loyal followers of Thanksgiving don't get disappointed.
The accent which is added to this restaurant's dishes here primarily focuses on familiar cuisines so that it feels homey.
Chef's Choice
Tired of having turkey every time? Then go for their Cavalcade, which is made from coconut popcorn shrimp, and after that, get the main dish of roasted duck adorned with Honey cranberry sauce and some delicious garlicky crispy ribs to add flavor to your holiday.
As for those who follow traditions, their roasted turkey, which comes with an extra adoration of mushroom Brioche stuffing, will give you an unforgettable dining experience.
Also, it's worth trying their cheeseburger pizza which is quite a familiar choice, and in the same way, other comfort dishes like mashed potatoes and green beans are captivating options to give a try.
Upgrade your dinner by adding dessert specials at the end of your meal through delicacies like cranberry chutney, cream Fraiche, and butternut squash bisque as your dessert meals.
Location and Contact
Phone:- +1 617-425-3400
Email:- marketing@colonnadehotel.com
7. Oak Long Bar + Kitchen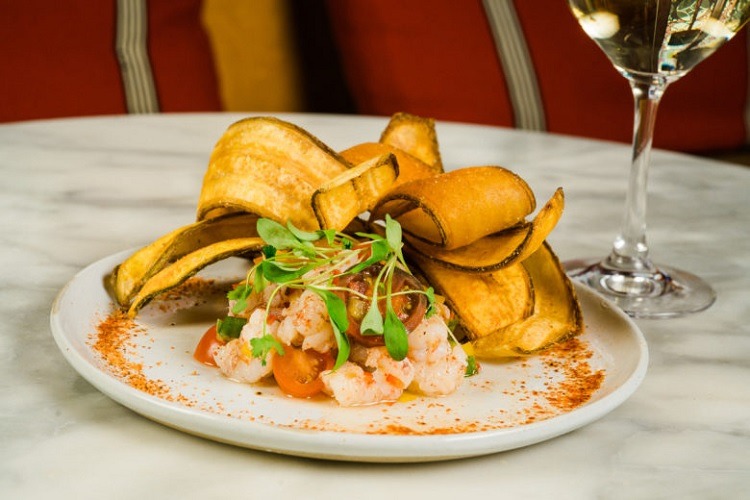 Why it's a must visit?
The Oak Long bar and kitchen restaurant nestled at Fairmont Copley plaza introduces people to a unique way of approaching Thanksgiving by holding an event name Friendsgiving which offers people a delicious three-course feast that is simple yet tasty.
A lot of travelers wish to couple mouthwatering dishes with a relaxing atmosphere so that they can often stay at peace without facing hassles. For those people, the Oak Long bar plus Kitchen is a fantastic place to dine and stay as it has good value.
The restaurant has a special package for Thanksgiving where it lets people stay for two nights as per the reservations at this place.
Also, the chef here is a genius when it comes to serving La carte varieties, and it is run by Zaid Khan, who helps people with tempting dishes.
Chef's Choice
Besides serving regular menu options all day, the restaurant has some classic varieties like bacon-wrapped turkey breast roulade, which are impeccable choices.
They also have some more unique dishes like turkey old fashioned and elegant bourbon with the aromatic flavors of freshly baked turkey that are pretty like heaven themselves.
So gnash your teeth into their many marvelous choices that you can try here as it's available for non-residing members as well.
Location and Contact
Phone:- +1 617-585-7222
Email:- boston@oaklongbarkitchen.com
8. Puritan & Company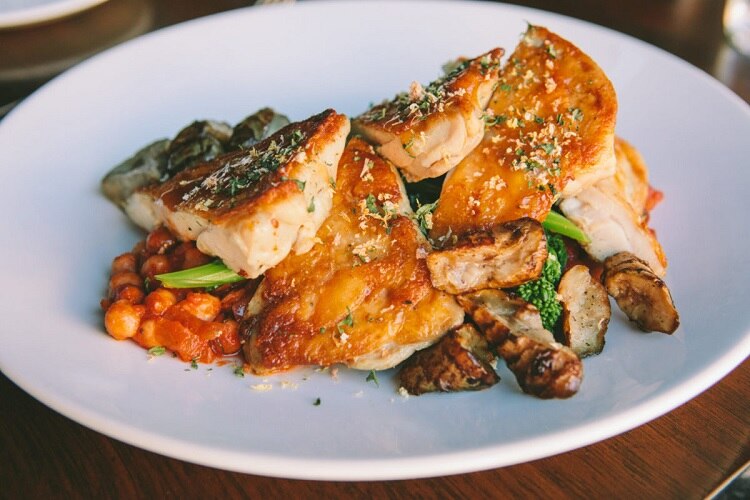 Why it's a must visit?
The Puritan and Company is run by a chef-plus owner named Will Gilson and has topped the charts for serving mouthwatering Thanksgiving Classics that go beyond anyone's expectations.
The entire restaurant revolves around the idea of serving two people at once through its dual acclaimed dishes, which are the most significant highlight here.
To add a cherry to the top, even Chef Brian Mercury adds his influence to creating delicacies by serving several toothsome treats.
Also, the takeout service here is impeccable with free reheating instructions and excellent packaging that you can take home even at the last minute.
Chef's Choice
The restaurant is a complete Goldmine in serving lovely dishes like rich mushrooms, turkey sausage stuffing, sweet ingredients like sage and zippy cranberry chutney, and their favorite roasted turkey breast, which has an otherworldly taste.
And, by the hands of the genius chef, the restaurant creates some of the most innovative dessert options with varieties like apple, pecan, and pumpkin pies.
One can cheer themselves up with their delicately molded bourbon cider and aromatically infused maple glazed sweet potatoes that are pretty light on your taste buds.
Location and Contact
Phone:- +1 617-615-6195
Email:- info@puritancambridge.com
9. Stillwater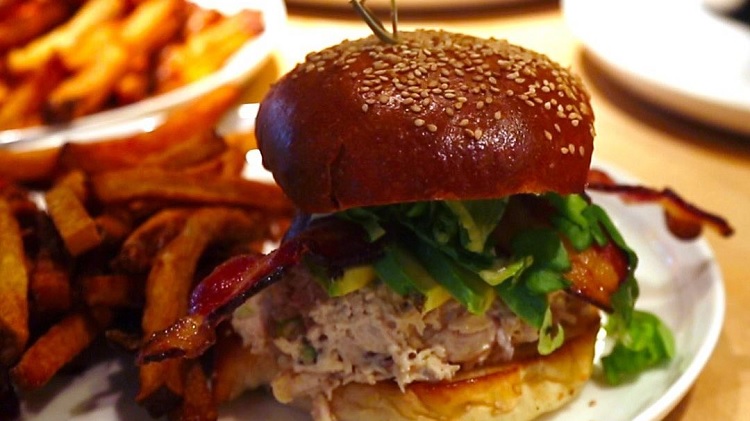 Why it's a must visit?
The Stillwater restaurant is spearheaded by the celebrated chef named Sarah Wade and is known for promoting exquisite side dishes, which are the main highlight of this restaurant. 
The restaurant is known for combining the most flavorsome side dishes with main courses that leave everyone wanting more.
One can order either individual dishes or a group platter, which can suffice to eat people at once.
Chef's Choice
Among the many exquisite choices here, which are chef's kiss here, are mashed potatoes stuffed with lovely chives and sour creams, Brussels sprouts dipped in sea salt and maple syrup, and delicious wild mushrooms accentuated by thyme spices.
Also, it's recommended that you order their handmade white rolls, which come dipped in salted butter and are a perfect turkey gravy.
As for the dessert options, the ones who take the crown here are pumpkin cheesecake swirl, whole pies, and apple crumble, which are genuinely decadent in flavor.
Location and Contact
Phone:- +1 617-936-3079
Email:- info@stillwaterboston.com
10. Summer Shack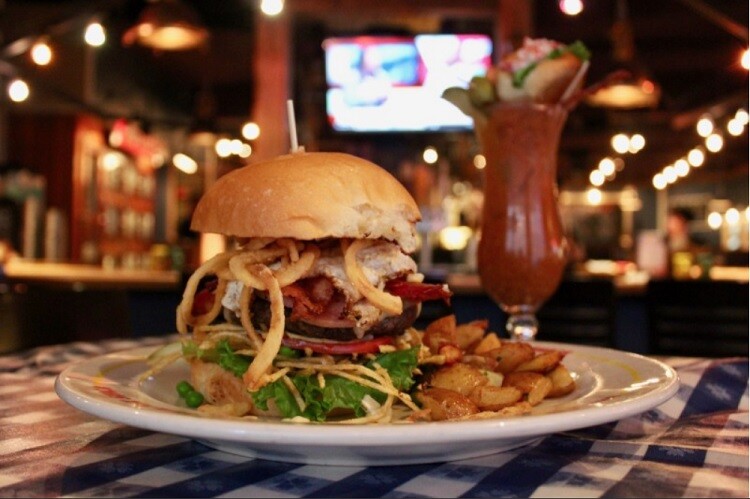 Why it's a must visit?
This summer shack restaurant shares two locations, one in Boston and the other in Cambridge, and serves to indulge in food that tingles one's senses.
The chef, Jasper White, serves his personal culinary creations in comfort food that comes with a lot of twists.
The restaurant offers you to either go with the main meal or experiment with multiple side dishes as per your liking.
Chef's Choice
On the special turkey day, the go-to options here is their roasted bird or their complete platter comprised of cornbread stuffing, mashed potatoes, and other exemplary side options.
Other comfort food options which are offered here in fast food form are their southern fried turkey which has a crispy layering and tastes delectable.
In the same way, their lobster pot pie makes for an incredible dessert option as it comes thoroughly dipped in a creamy layer with spikes of sherry and some kick of cayenne with other dishes of veggies and potatoes all inside a creamy pastry shell.
Location and Contact
Phone:- +1 617-867-9955
Email:- questions@shackfoods.com
11. Sweet Cheeks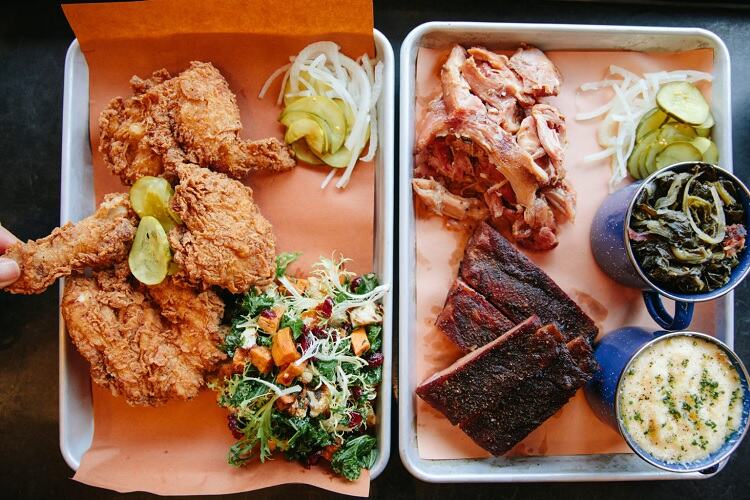 Why it's a must visit?
The sweet cheeks restaurant is one of the front runners for the show's top chef star and is spearheaded by Tiffany Fisons who recently celebrated the restaurant's ten-year anniversary of being one of the best in the entire food industry of Boston.
The restaurant serves wholesome meals not only for Thanksgiving but for typical days as well and is known for its generous stuffing that beats the odds.
The place features a special T day which also has a policy of pick-ups and packages which can suffice up to 12 people at once with ultimate satisfaction.
Chef's Choice
The restaurant's rising reputation has made it one of the most excellent spots to celebrate Thanksgiving, with distinct varieties like pumpkin apple spread and honey butter, swiping up gravy, and biscuits that are its unique options.
As for the main packages, the dishes mainly consist of smoked and brined bird flesh, with some delicious side dishes of broccoli casserole and creamy layered mashed potatoes.
In the main menu, you will encounter some delectable dishes like candied yams seasoned with brown butter walnuts and molasses and other scrumptious desserts like maple buttermilk pies which go exceptionally well with specific wine pairings as directed by the mixologist Charlie Gaeta.
Location and Contact
Phone:- +1 617-266-1300
Email:- info@sweetcheeksq.com
12. Trina's Starlite Lounge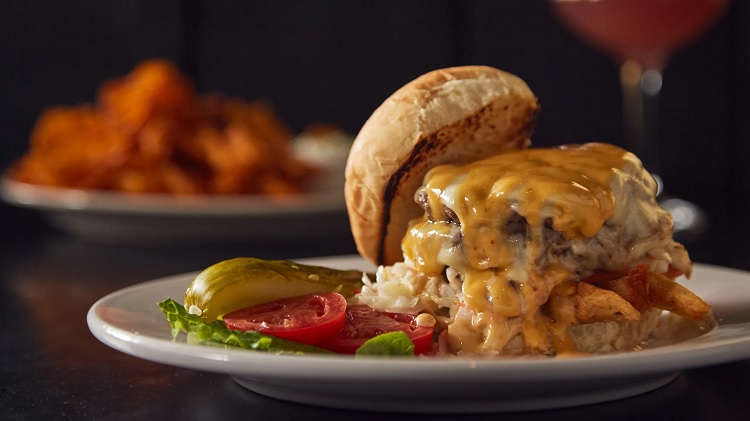 Why it's a must visit?
Trina's starlight Lounge restaurant is the place where one can explore their utmost love for Thanksgiving by indulging in their many decadent dishes and drinks that have no rival.
It's an ideal place to celebrate happy family reunions and is also perfect for losing yourself by trying their beers.
This restaurant is a place that you can visit if you want to have fun while feasting in an engaging atmosphere.
Chef's Choice
The ultimate reason why this place has garnered so much adoration is due to its extensive cocktail menu that features various favorites in the drunken monkey section that lists liquors like lime, rum, and velvet falernum. 
These intoxicating drinks will melt and blend incredibly well with their creamy mac & cheese, half turkey for two people, and some cornbread stuffing.
As for Thanksgiving unique desserts, their bourbon sprouts and delicious bourbon bacon pie will take you to heaven if you blend those treats with their rocking chair cocktail, which is practically a tea mixed with bourbon and ginger along with a tint of lemon and cognac.
Location and Contact
Phone:- +1 617-576-0006
Email:- info@trinastarlitelounge.com
13. Urban Hearth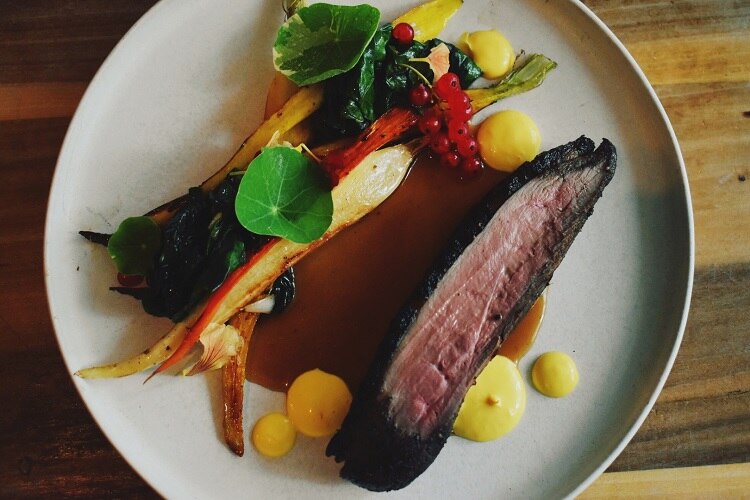 Why it's a must visit?
The Urban Hearth restaurant features a specialized farm-to-table setting that manages to sway people with its soulful ambiance and exquisite flavors only because of the genius of Erin Miller's cuisine creations.
The restaurant leaves no exception when it comes to covering every thanksgiving staple dish with a three-form variety and splendid use of ingredients. 
Let the restaurant surprise you with its many hidden talents that you should be looking forward to.
Chef's Choice
Begin with their sage and cider, Brian roasted turkey breast, along with an exquisite extra dish of confit leg that comes with the packing of challah bread, fennel, and apple that feels almost outlandish.
Meanwhile, their dessert options will also appease your sweet inner tooth with their special Thanksgiving treat package that contains almost 4 to 5 inches of pies like maple pumpkin, apple crumb, and toasted coconut cream.
Also, get a bottle of their bolster to add a bit of flavor to your feast.
Location and Contact
Phone:- +1 617-682-7295
Email:- info@urbanhearth.net
14. Vincent's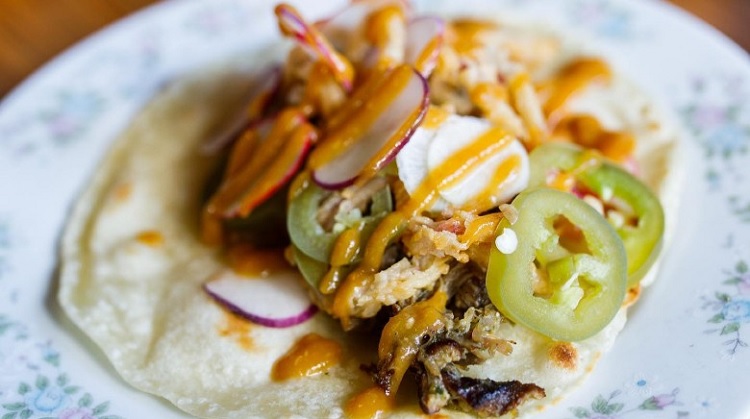 Why it's a must visit?
In a nutshell, Vincent's is a canvas of classics that explores every Thanksgiving menu option that you can ever think of with tasty varieties.
The restaurant is beloved by lots of Boston residents who like its hearty dishes made in an efficient sense.
The package here for takeout service can feel multiple people at once and therefore lives up to its worth.
The restaurant adds a lot of celebratory figures onto your dishes with elegant decorations so that it genuinely feels like it's Thanksgiving.
Chef's Choice
The restaurant has some classic favorites like smoked leg and roasted turkey breast, which are captivating choices.
It also has a fennel sausage stuffing and efficiently roasted spice parsnips with mashed potatoes and soul-warming squash soup that exceeds expectations.
Vegetarians are also in luck here with rich varieties like Futsu squash packed with brown rice, Farro pilaf, and sprouted lentils that are just waiting to be devoured.
Roasted mushroom gravy is also an excellent option to consider if you are going for something vegetarian.
Adding a glass of wine to your list with some charming French bubbles will add a lot of excitement to your feast and it's also recommended that you check out some sibling spots in the city if you ever visit this place.
Location and Contact
Phone:- +1 617-314-7297
Email:- vincent@vincentscorner.com
Best Dinner Restaurants for Thanksgiving in Boston
15. Deuxave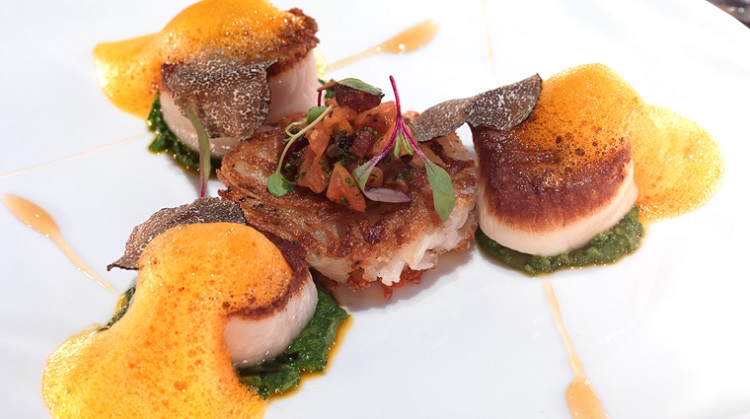 Why it's a must visit?
The Deuxave restaurant has such a prominent location across the entire state of the US that it has been mentioned as one of the most hospitable places to dine in the prominent magazine named Forbes travel guide.
The restaurant prides itself on hosting optional wine pairings every Thanksgiving holiday, along with a delicious three-course menu.
The whole dining experience here seems like an elegant session that any other diner can't beat.
Chef's Choice
The restaurant serves many Thanksgiving staple favorites like roasted beets and pumpkin soups as starter options, whereas innovative main entrées like turkey with the duck rillette, chicken sausage, and turducken complete your feast in a satisfying manner.
The restaurant also offers several classic Thanksgiving choices like cornbread sausage stuffing and turkey, which are also available as a tap option.
Apart from their savory main meals, the dessert options here deserve a lot of praise, too, with varieties like pumpkin semifreddo, chocolate mousse, and caffeine-rich coffee cake.
Location and Contact
Phone:- +1 617-517-5915
Email:- info@deuxave.com
16. Clink and Scampo
Why it's a must visit?
The clink and scampo Thanksgiving restaurants near me are dual options that you can choose between dining on your special Thanksgiving day as both of them are situated inside the luxury resort named the liberty hotel.
The restaurant has a fixed-price menu and includes several classic choices with crowd-pleasing dishes that are selected carefully.
The restaurant has an a La carte menu, and therefore all of its dishes are made in a family style with a hinge of elegance to them.
Chef's Choice
The clink restaurant has several tantalizing flavored dishes like beef tenderloin, roasted turkey, and pumpkin and apple soup which are perfect as an appetizer and main entrees options. 
The restaurant also includes several side dishes that have palpable flavors like mashed potatoes, green beans with quince, Marcona almonds, cranberry sauce, roasted Cipollini onions, and maple-glazed yams that feel incredibly captivating.
Their poached halibut and born in filet mignon have a slice of tender meat that dissolves in your mouth in no time.
Some unique dessert options here are apple crumble, pumpkin pie, bacon pie, bourbon zabaglione, and tasty buttermilk ice cream as Thanksgiving treats.
Location and Contact
Phone:- +1 617-224-4004
Email:- clink@libertyhotel.com
17. The Beehive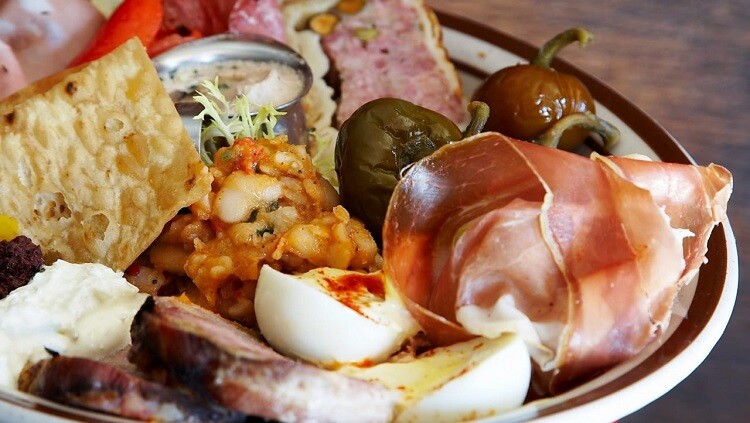 Why it's a must visit?
A lot of people get stuck in Boston for college and are not able to visit homes for Thanksgiving, and when it's that problem, the beehive restaurant comes to the rescue by presenting an ultimate variety of Thanksgiving dishes.
The restaurant even offers vegetarian choices if you have a restrictive diet.
Basically, it's a restaurant that fuses traditional with contemporary in the most fabulous way with extensive menu options.
Chef's Choice
The menu contains several wide Thanksgiving varieties like lobster risotto, bourbon pecan pie, and truffle mushroom soup which are thick in texture and enticing in flavor.
Among its vegetarian options is its flavorful kale stuffing, which is prepared with thorough seasoning and delicate touches.
So if you feel homesick, then the beehive is the place you can always go to.
Location and Contact
Phone:- +1 617-423-0069
Email:- frontdesk@beehiveboston.com
18. Mike's City Diner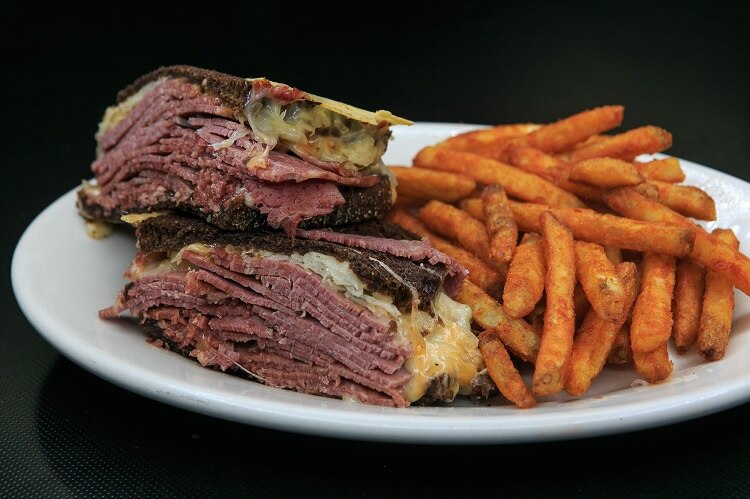 Why it's a must visit?
Mike's restaurant has a thrilling history of continuing over 17 years and has become the most adored food destination to stop by if one suddenly gets a craving for comfort food.
The place streams several hit shows like dives and drive-in diners that add to its entertaining aura.
It's a laid-back place to celebrate Thanksgiving in the most peaceful way, filled with laughter and joy.
Chef's Choice
As the restaurant serves comfort food choices, its fried chicken and sandwiches take the crown here.
But when it comes to unique Thanksgiving options, their pilgrims sandwich and turkey dinner are the most fantastic choices you can go for.
The sandwich contains every staple dish that Thanksgiving often highlights with ingredients like warm stuffing of gravy, cranberry sauce which is handcrafted, and freshly made a roasted turkey that is all wrapped inside a massive roll.
The sandwich is one of the reasons why they climbed the ladder of being the finest providers of comfort food in the entire food industry of Boston.
Location and Contact
Phone:- +1 617-267-9393
Email:- j.hajj@mikescitydiner.com
19. La Pheegan Chef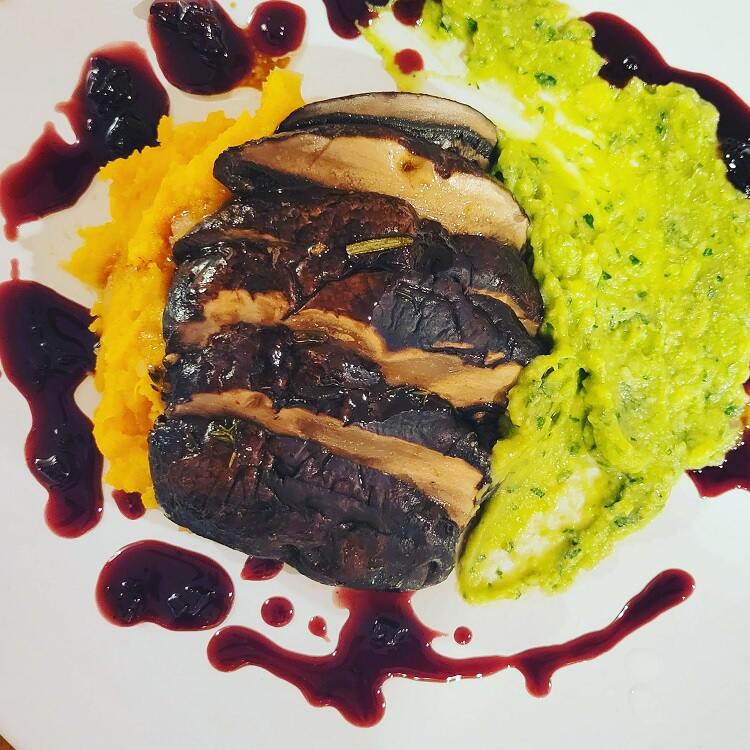 Why it's a must visit?
The La Pheegan Chef restaurant offers people an alternative to the conventional notions of Thanksgiving by focusing on plant-based varieties that are truly distinct in their face value and flavor.
The restaurant covers almost every favorite vegan dish, especially in comfort food forms that have an extremely light and delightful taste.
All of the dishes are small bite-sized but carry a bursting taste in them that melts in your mouth quickly.
Chef's Choice
Some spectacular vegan wins here are the ten pieces of Lumpkin sassy Jack chicken, yucca drumstick delight, and jackfruit.
Gather more flavors by trying their baked delicious mac & cheese, mashed potatoes seasoned with lovely vegan herb butter, some mushroom gravy with a delicious seasoning of sweet corn cakes, and Walnut and cranberry stuffing that has a superb taste.
Also, to finish it off, there is no better match for their mini pumpkin pies, which contain tons of flavors.
Location and Contact
Email:- lapheeganchef@outlook.com
20. Top of the Hub
Why it's a must visit?
The top of the hub restaurant is one of the nicest and fanciest restaurants open Thanksgiving that provide sinfully eye-catching skyline views of Boston that are inconceivably incredible.
This gorgeous restaurant is located in the soul of downtown Boston at the Prudential tower and leaves an impression on its visitors that is hard to forget.
Besides exhibiting a classy atmosphere, the restaurant also provides free entry to its skywalk observatory, which is situated on the 50th floor.
So if you are not acrophobic and are wondering to where to eat a decent Thanksgiving supper, then this place could be the best diner you can ever visit in Boston.
Chef's Choice
The restaurant follows a four-course meal with a fixed-price menu in a French-style fashion with traditional Thanksgiving choices.
It takes its local ingredients from the farmers directly and is known for serving the most famous Misty Knoll farms, Vermont turkey, which is a rarity in the entire state of the US.
One can observe their dinner at this restaurant while enjoying the breathtaking view of Boston.
21. Meritage Restaurant and Wine Bar
Why it's a must visit?
This masterpiece of a restaurant was created by Chef Daniel Bruce and nestled inside a diamond-star hotel named Boston Harbor hotel; the restaurant celebrates a fancy embodiment of Boston's vibrant culture.
The place is known for its upscale atmosphere and has a special holiday significance to it that often catches the eye of tourists.
The restaurant also boasts of the city's finest Wine cellars which are compulsory as well.
Chef's Choice
Just like the restaurant's classy atmosphere, the food here is also pretty exquisite, with lovely dishes like five spice, grilled Long Island duck breast, and char seared yellowfin tuna, which are all gourmet dishes.
But if you want to stick to familiar choices, then their spinach and fennel-loaded organic turkey seasoned with sage sauce and whipped tomatoes will be a perfect choice for you.
In the dessert section, the best bet you can go for here is their Vermont-aged cheddar cheese and roasted pear, which blend exquisitely well with their selected wine choices.
Final Thoughts
Boston always radiates a rich cosmopolitan culture that is hard to match against the many US states. The city is not only modern in an industrial sense but is also known for its experimental cuisine that has captured the eyes of a lot of gastronomists who are enthusiastic about food.
So if you are coming here to celebrate Thanksgiving, then it's way nicer to know about some decent restaurants open on Thanksgiving which serve a delicious dinner feast.
Therefore to help you achieve that target, we compiled this list of some of the best restaurants in Boston that you can take a look at, to celebrate Thanksgiving with complete joy and happiness.