25 Best Restaurants & Places in Oklahoma, OKC | 2023 (Top Eats!)
Oklahoma is a city full of wonders and takes back people to reminiscent ages where cowboys and cowgirls prevailed, along with a reminiscent western culture that boasted of enticing galleries, rodeos, and several other nostalgic landmarks to enrapture people's attention.
Besides featuring a gorgeous age-old American western culture, the city also prides itself on having the most lovely food scene all over the US. So it would be reasonable to consider finding a good place to eat through this article on the Best restaurants okc.
The Best Oklahoma restaurants
1. Metro Wine Bar & Bistro
Why it's a must visit?
The Metro Wine Bar & Bistro restaurant is one of the most casual eateries in Oklahoma, which serves people exquisite French styled dishes with decadent options and a wide variety of wine choices that are outstanding when paired together.
The restaurant gives people a reminiscent atmosphere as it features beautifully laid out green tiled floors, along with dark wood furnishings and a rustic lighting effect that brings up its overall old Western American vibe.
It not only has a gorgeous interior with thoughtful details but further has the most exquisite French inspired menu that no one can rival in Oklahoma.
Chef's Choice
Before heading to the main course, it would be an excellent choice to consider trying out their delicious appetizers, especially their Pepper Seared Ahi Tuna, which gives people the most admirable taste of delicious fishes which were caught freshly from the seas.
Another equally delicious appetizer that you can give a try here is their Butternut Squash Bisque which has received a lot of love and acclaim from previous visitors for its mouth melting taste.
As for your main entree, nothing can suit your palate other than their mouthwatering prime rib eye, which is served in red wine sauce and is sure to take you to heaven with its flavorsome taste.
One can quickly tell what comes after the main course, and that is desserts, which this restaurant also delivers with their marvelous specialty of Vanilla Bean Pot de Creme adorned with a Chocolate sauce that has the power to soothe your palate and give you a satisfying aftertaste.
Location and contact
2. Nic's Grill
Why it's a must visit?
The Nic's Grill restaurant is a simple American restaurant that has garnered a lot of love due to its fascinating mid-day and morning meals, which come off as a great quick bite option for snacks during a busy day.
The restaurant might look simple and modest, but its menu is truly fantastic as it is known for serving the best lunches in Oklahoma and also offers people familiar choices so that they can easily choose the dishes according to their liking.
Also, one gets to have a relaxing experience here as people don't have to go through the hassle of experimenting with new dishes but can choose their favorites without wasting time experiencing something new.
Chef's Choice
One of the most straightforward and yummy choices that you should care for is their cheeseburger which comes with overflowing cheese and actually has a genuinely delicious taste that won't disappoint you.
But if you wish to try something more with your already delicious cheeseburger, then you can choose to sample them with their crispy curly fries as they have an appetizing taste and will satisfy you.
Other than that, if you want to elevate your meal a lot more, then you can always go for their drinks like simple Coke and sprite to add extra flavor to your feast.
Location and contact
3. Cheever's Café
Why it's a must visit?
The Cheever's Café is an adorable, quaint Western restaurant that provides people with the authentic taste of Southern cuisine along with several colorful cocktails to please your palate.
Other than featuring a unique Southern cuisine, the restaurant also excludes a classic ambiance with an open ceiling, along with red brick walls and dark wooden furnishings that give one an industrial vibe, which is excellent if you want to click some aesthetic snapshots for your social media platforms.
It pays attention to its breathtaking interior and also adds beauty by aesthetically presenting its dishes and giving excellent service, which has altogether made it one of the top restaurants in Oklahoma.
Chef's Choice
When it comes to deciding good starter choices, then their Bleu Cheese Potato Chips take the crown as it acts as an outstanding appetizer that prepares your stomach for the incoming meals.
But if you want something healthier and tasty, then their small chopped salad is your best bet as it contains the freshest veggies with Balanced seasoning.
After trying out their appetizers, you can satisfy your palate with their fulfilling and satisfying Molasses Roast Chicken Breasts, which will fill your belly to the brim and will make you drool with its aftertaste for hours.
Location and contact
4. Paseo Grill
Why it's a must visit?
The Paseo Grill restaurant is considered one of the classiest American dinners that provide people with rich western food dishes. It also shares its location near the posh Paseo District, adding to its overall extravagance.
One also gets to choose if they want to dine inside or outside as the inside has a sophisticated interior whereas the outdoor has breathtaking scenery, which is the main reason why it has become one of the 5-star restaurants in the city.
As it has a luxurious status, it's a great place to have romantic dates or celebrate reunions with rich food choices and royal treatment.
Chef's Choice
One of the best things about this restaurant is that it allows people to share their dishes as it comes in a platter form, which is excellent if you are on a budget but want to experiment with gourmet food.
So when it comes to platters, their Assorted Cheese and Fruit Platter wins the headlines as it has a creamy texture and a balanced sweet taste which makes it an overall incredible meal to consider trying.
If you feel that you still have some space left in your stomach, and would like to try other terrific non-veg options, then their Chicken Saltimbocca with a side dish of Mashed Potatoes should indeed be given a try as its appetizing flavor, and soft chicken pieces will leave an unforgettable impression on your mind and palate.
Location and contact
5. Kitchen No. 324
Why it's a must visit?
The Kitchen No. 324 restaurant is considered one of the best places to visit for youngsters as it features a chic vibe along with a stylish interior and baking service that has made this one of the best places to see if you are craving some comfort food near me inside a historical setting to dine at.
The reason why this place is so thrilling is because of its location inside a historic building that features High open ceilings and clear Crystal White walls along with a vibrant and spacious atmosphere which is perfect if you want to grab a delicious breakfast or brunch.
Adding more to its wonder, it also features innovative dishes for morning meals, especially classic recipes that make it a worthy place to give visit.
Chef's Choice
Vegetarians would love to grab a bite of their delicious starter plate, which includes their fresh fruit salad, and, as the name implies, comes with the freshest fruit choices with lots of variety and aromatic seasoning.
After that, you can go for their simple yet delicious 324 omelet, which comes with a generous side dish of breakfast sausage that makes it a perfect choice for brunch to feast for a rejuvenating day ahead.
Also, make sure that you pair their omelet and sausage with their delicious cup of peached iced tea, which comes off as a great beverage option to give you a caffeine rush with lots of flavors.
Location and contact
6. Redrock Canyon Grill
Why it's a must visit?
The Redrock Canyon Grill restaurant is a sophisticated western diner that shares its proximity to the spectacular Lakeside river and has gained a lot of acclaim for its delicious South plus Western fusion cuisine.
The restaurant, due to its intimate and spacious atmosphere, is considered to be one of the best places to celebrate special occasions like birthdays as it excludes a lively ambiance and a breathtaking location along with excellent food choices.
If you want to relax with your friends and make your entire dining Pleasant, then this place should be on top of your list as it overlooks the beautiful scenic waters and gives you an overall stunning experience.
Chef's Choice
As the diner specializes in providing South Western food, its comfort food choices are the best here as they consist of familiar food options and have a delicious taste to them.
But we would recommend that you give their delicate appetizers a try, especially their lovely Stuffed Poblano, which has a fulfilling taste but will keep your cravings in check.
As for your main course, there is no match for their BBQ Pork Ribs which contain tender meat which is cooked to the bone with perfection giving people the most satisfying dining experience.
Location and contact
7. Flint
Why it's a must visit?
The Flint restaurant is a stylish diner that offers people the most decadent American food choices and is located inside a famous Colcord Hotel, which remains open from morning till evening.
If you want to get the most sophisticated dining in experience with comfort in Oklahoma, then this place will surely live up to expectations as it has proven evidence of offering gracious hospitality and food.
The interior is also quite impressive here as it contains a blend of traditional plus modern along with aesthetically presented dishes and a relaxed ambiance that makes anyone feel as if they are royalty while simultaenously providing people a pleasant dining experience.
Chef's Choice
One of the best things that you here as an appetizer here is their Dips Trio which has a genuinely fascinating taste and will help you relish the next meals a lot more.
As for the main course, their Blackened Chicken Fettuccine is indeed one of the most fantastic options that you can try here, as it comes with tender white meat and has a flavorsome taste to it.
The fascinating texture of the dishes, plus their beautifully presented details, are the hallmarks of its overall enthusiastic and loved reputation worldwide.
Location and contact
8. Hideaway Pizza
Why it's a must visit?
The Hideaway Pizza restaurant is one of the most famous pizzerias and a food chain that serves traditional Italian dishes with authentic taste and a colorful menu of Pizza options that are exceedingly delicious in taste.
It's one of the best family restaurants okc to visit in Oklahoma as it contains familiar and simple flavors to its dishes while also exhibiting a vibrant atmosphere with lots of enjoyment and solace.
Also, as it features simple options, the menu choices are pretty easy to choose from as one won't be able to waste their time searching for decent meals as they are already familiar with each one of them.
Chef's Choice
Nothing could beat their serving of the 50/50, which contains globally renowned fried mushrooms and mouth watering fried Mozzarella sticks which give one an unforgettable flavor and lingering aftertaste.
Also, as this restaurant is a famous pizza chain, their hurricane Pizza which is slightly tangy and comes with lots of seasoning, is a great option to consider as it suffices at least three people at once.
But if you want to try something in the category of vegetarian, then the veggie combo Pizza is one of the most acceptable Pizza options out there without a single doubt.
Location and contact
9. Charleston's Restaurant
Why it's a must visit?
The Charleston's Restaurant restaurant is another globally renowned diner that has gained its prominence internationally for serving decadent classic American dishes along with a vibrant atmosphere.
It's considered one of the top rated restaurants in Oklahoma not only because of its youngster targeted ambiance but also due to its chill atmosphere, a striking interior, and familiar food choices.
The interior of the place is genuinely engaging as it exhibits a stylish aura that is perfect for a hang out with friends and also has seats covered in red leather along with marble furnishings and an overall contemporary aesthetic.
Chef's Choice
Their dynamite shrimp salad comes with bursting flavors and is a perfect starter option due to its generous amount of shrimp pieces and a balanced amount of veggies.
Also, you can go for their simple main course options too, like their grilled pork chops which come with the most tender meat you might have ever tasted and also has a smoky flavor to them due to their roasted technique.
Don't forget to try their decadent key lime pie, which has a soft taste along with a lingering flavor of lemon touch.
Location and contact
10. Empire Slice House
Why it's a must visit?
The Empire Slice House restaurant is one of the hippest pizza restaurants okc in Oklahoma, which gives people the best paired options of various pizza slices and great drink options like beers to provide one the most likable dining adventure.
If you're looking for a late night hangout in Oklahoma, and want to get a memorable night dining experience, then this place should be your first choice as it not only excludes a retro ambiance with flashing lights but also delivers the tastiest pizzas ever!
Other than that, one will indeed find the restaurant relaxing as it has modest interiors with lovely details.
Chef's Choice
When it comes to deciding which pizza slices to order at this restaurant, their Foghorn Leghorn could be a good choice for you to consider as it contains distinctive flavors with a delicious taste.
If you're still confused about which flavor to go for, tasty Joezilla also shared an equally delicious taste to satisfy your cravings.
Other than that, their Hamburglar has also won the hearts of local people due to its decadent taste and filling texture.
Location and contact
11. Cattlemen's
Why it's a must visit?
The Cattlemen's restaurant is a prominent laid back steakhouse in Oklahoma that excludes a vintage atmosphere due to its providence of delivering generational beef recipe options.
The restaurant has an enticing interior with red brick walls, wooden furnishings, and separate booth sections that deliver people an enticing ambiance and has also earned its reputation of being one of the top rated okc restaurants in the city, credited for its high-quality meat, ingredients, and seasonings.
Besides giving people a relaxed setting, the biggest reason why this restaurant has become beloved by so many people is due to its simple steak dishes, which have an appetizing taste with lots of flavors.
Chef's Choice
When it comes to selecting good food okc choices here, it is a pronounced judgment that one should go for their delicious non-veg options, which are their specialty, though vegetarian options like salads with seasoning of cheese are also available here.
Therefore, anyone who visits this restaurant should make sure that they follow the conventional rule of feasting, which starts with an appetizer, then follows up with the main course, and ends with the dessert.
Hence, for starter options, we should suggest that you go for the delicious lamb fries, which come with crispy fries and have lots of flavor to them.
Whereas for the main course, You won't go wrong with a delicious T-bone steak which is grilled to the core and has a slice of smoky, tender meat to relish your tastebuds.
Location and contact
12. Ted's Cafe Escondido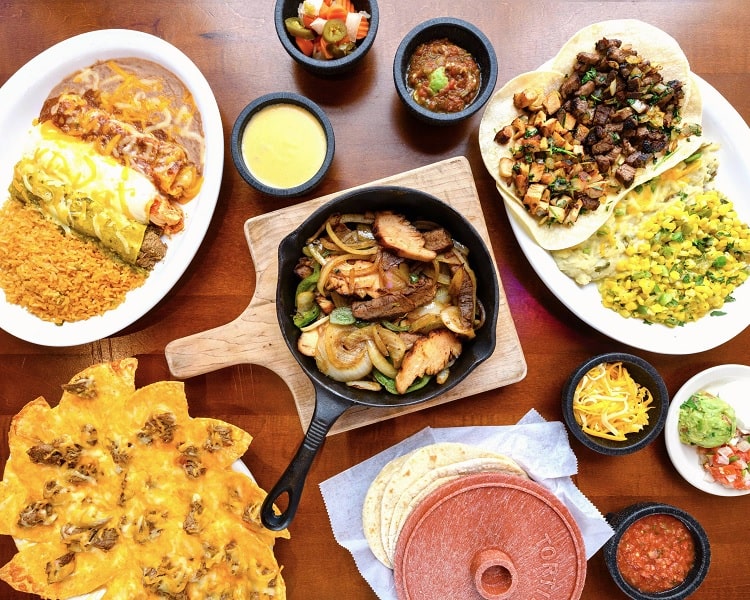 Why it's a must visit?
Ted's Cafe Escondido restaurant is a regional and famous Mexican diner chain that has become popular across the entire state of America for serving traditional Mexican food in almost every form possible, be it street food or gourmet food choices.
One can get the most satisfying Mexican experience while dining at this restaurant as it not only features appetizing Mexican dishes but also has a colorful menu that takes into consideration almost every Mexican cuisine aspect and always makes sure that it lifts the spirit of its visitors with its generous hospitality.
It's among the must eat places in Oklahoma on the east side as it not only has a mouthwatering menu but also features a colorful interior with a trendy atmosphere that makes the entire dining adventure a lot more thrilling and enjoyable, especially for youngsters.
Chef's Choice
Nothing could win against the delicious Mexican shrimp cocktail, which comes off as an incredible pairing option with any authentic Mexican dish and elevates your dining experience to a much higher level.
After ordering their Mexican shrimp cocktail, you can go with their classic dish, which goes by the name of tender pork burrito dinner, which gives people multiple platters of dishes to feast on while also relishing the authentic flavors of Mexico with lots of feels.
In the end, their street okc food options are also quite remarkable, like their tacos if you're searching for something light and refreshing in taste.
Location and contact
13. The Mule
Why it's a must visit?
The mule restaurant has recently become one of the many great restaurants to visit in Oklahoma as it provides people gigantic amounts of beer options with a pub style menu while also boasting of a bar like atmosphere.
If you're looking for some decent places to eat in Oklahoma, then this will probably live up to your worth as you would adore every aspect of this diner as it matches up to your expectations with its generous portions and delicious taste along with various forms of drinks to keep you hooked with its flavors for hours.
Also, the familiar food choices will also provide you with lots of time to spare as one will be able to choose any option from the menu easily.
Chef's Choice
Before you try any heavy meal, we would suggest that you go for their crispy and delicious BBQ Chicken Mac'Cachos, which contains the smokiest meat you have ever tasted with a crisp and tender taste.
One can also keep your dinner simple with its appetizing big ass grilled cheese which comes with an overflowing cheese stuffed in it and also has an aromatic smoky flavor to it.
Another great thing about this grilled cheese dish is that it comes with a complimentary side of beer battered onion rings, whose marvelous combination makes the entire dinner a lot more enjoyable than ever before.
Location and contact
14. Whiskey Cake
Why it's a must visit?
The whiskey cake restaurant is one of the hippest diners located in the most frequented and fashionable Penn Square Mall and has gained a lot of popularity for having a farm to table set up with an American food menu along with several craft beer options.
The restaurant features a high ceiling structure, with brick laden walls and an entire industrial theme, along with generous hospitality, which has made it one of the best places to dine in the city.
Among the many reasons why this restaurant has become so loved by its people is because of its delicious food pairings and outstanding drink options that elevate one's a dining in okc experience to unimaginable levels.
Chef's Choice
When deciding which dish to order, then it would be a wise decision to consider trying out their cocktails and drinks first as they Are the specialty here, especially with their spectacular 3 Little pigs drinks, which have become the most beloved drink at this place.
But if you want to get a fulfilling meal, then their bowl dish, which goes by the name of a Bar and Ranch Wagyu Chili, will probably give you a sensational feast as it comes in generous portions and will you satisfied with its ingredients.
Also, make sure that you finish your feast with their particular and house favorite dessert named whiskey cake which has a genuinely divine flavor that would take you to an entirely new different world with its bursting sweet flavors.
Location and contact
15. Nunu's Mediterranean Café
Why it's a must visit?
The Nunu's Mediterranean Café restaurant has every charm that you can imagine when it comes to an adorable Café as it features an atmospheric ambiance along with a Mediterranean inspired cuisine that has managed to sway its visitors with its breathtaking flavors.
So if you're in search of a relaxing place to eat with a laid-back atmosphere, then this restaurant should be on the top of your list as it features a comfortable setting along with a colorful menu.
Also, the one thing which has made this place quite magical is its unique flavors which cannot be found in any other rival restaurant and therefore have become one of the most frequented spots of various loyal patrons who go to this place to taste its unique dishes.
Chef's Choice
It would be a shame to visit this restaurant and straight head off to the main course as their appetizers have genuine delicate flavors and definitely deserves a try, especially their lovely Maza Platter, which is bound to leave you spellbound.
Also, you can follow the traditional method of sampling your dish with the main course by trying out their scrumptious sampler plates, which contain a lot of non-veg dishes, along with vegetarian options, to give you a buffet experience.
The platter contains almost every delicious dish that you can imagine ranging from their Mediterranean specialized cuisine to Indian flavors like Beef Kofta, Chicken Kebab, and Cabbage rolls.
Location and contact
16. Sushi Neko
Why it's a must visit?
The Sushi Neko restaurant, as the name suggests, specializes in delivering people gourmet Japanese food with a sophisticated ambiance along with immersing furnishings like their Tatami tables to give you the most exotic pan Asian venture.
One gets to experience the authentic taste of Asian dishes while relaxing on their beautiful Tatami tables and also trying out their appetizing sushi rolls with lots of colorful variety.
Due to its sophisticated ambiance and use of exotic ingredients, the restaurant has become one of the loveliest places to eat in the city for its overall aesthetic vibe.
One also gets to sit at simple tables here, which also explains its welcoming atmosphere and oriental nature because of its authentic Japanese inspired décor.
Chef's Choice
The name of the restaurant itself implies the wide sushi varieties that it provides to its guests, whose taste is beyond amazing and contains authentic spicy flavors with fresh seafood catches.
So when it comes to choosing different sushi rolls, then their sassy shrimp, big roll, spider, and lady love win the crown as they give people the most exquisite touch of Japanese sushi rolls with bursting flavors and fresh taste.
But if you want to try a single meal with a fulfilling texture and flavorsome taste, their Ramen Tonkotsu Style will probably give you the most delightful noodle based taste ever!
Location and contact
17. Vzd's Restaurant & Bar
Why it's a must visit?
The VZD's Restaurant and Bar is owned locally by a family in Oklahoma and is a well-known Gastro pub that has become a trendy place to visit to enjoy live music performances, draft beers that are available on tap, and specialized government pub inspired food for a thrilling dinner night.
Be it morning or deep night, the restaurant always remains open and is an enjoyable place to visit if you want to sweep into the night's Majesty with comfort food and an enchanting atmosphere.
It's also considered to be one of the cool places to eat in the city as one not only gets to feast on their appetizing pub-based food but also gets to enjoy their live music shows, which adds a lot of thrill to your entire feast.
Chef's Choice
As we mentioned above, the restaurant specializes in delivering pub-based food along with tasty draft beers, which have a captivating pairing power that goes beyond anything you might have ever encountered.
But if you have visited this place to grab some quick snacks, then their Super Bowl cheese bowl will probably please your palate with its overflowing cheese taste along with the crispy chips that come along with it.
One can also give their VZD's Nachos a try as they have a spicy and crispy taste to them and go exceedingly well with their specialized drink options.
But if you want to try something heavier and more fulfilling, then a plate of their special VZD's Five Dollar Cheeseburger will probably cease all your cravings and will leave an unforgettable impression on you with its exuberant taste.
Location and contact
18. Prairie Artisan Ales
Why it's a must visit?
The Prairie Artisan Ales restaurant is an adorable local brewery and a famous taproom that also shares its convenient location near the vicinity of the 8th Street market, which has attracted the attention of a lot of people.
This spacious and hip taproom is an ideal spot to visit with your friends if you are looking for a thrilling hangout and want to try out the different variety of draft beer options with a lot of excitement.
The service here is also fancy and rapid, which is another reason why people frequently visit this spot if they are craving some delicious fast food options.
Chef's Choice
The entire restaurant is in partnership with another corporation, because of which its taproom food choices are affected by its collaborator.
But the reason why this restaurant has gained a lot of acclaims all over the state of Oklahoma is due to its exquisite beer menu, which gives people not only draught beer options but also tap choices that they can freely mix to their own liking.
But even deciding between several beer options can be tiring, but you can always go with our recommendation of Saison A L'Orange, tasty Pumpkin Kerfuffle, and lovely Pirate Noir, which have a truly rejuvenating taste with and not so overwhelming intoxicating effect.
Location and contact
19. Cafe Cacao Latin Cuisine
Why it's a must visit?
The Cafe Cacao Latin Cuisine restaurant is another relaxed diner that has become a local favorite for its charming Latin American food choices made and homestyle food technique using Guatemalan dishes to create a genuinely innovative fusion of American cuisine.
This charming restaurants near me delivers people the nostalgia of home cooked food, along with its enticing sophisticated ambiance.
Its stylish and contemporary design offers people the most exquisite hospitality that is unrivaled by any other diner in Oklahoma.
Chef's Choice
Besides featuring a lauded atmospheric ambiance, the restaurant also performs exceedingly well in the area of delivering decadent Latin American cuisine, especially with its individual servings of Tostadas.
Another equally fabulous dish that you can pair with their Tostadas is their Motuleno with a side dish of Longaniza, which genuinely comes off as a charming sampling option that would tingle your tastebuds in a delightful manner.
But if you want to accentuate your dining experience a lot more level, then you can make it more luxurious with a glass of their famous restaurants and rejuvenating Horchata Latte.
Location and contact
20. The Garage Burgers & Beer
Why it's a must visit?
The Garage Burgers and Beer restaurant is a famous regional burger chain that, just like McDonald's, has become beloved by many people due to its tasty options of beers, fries, and burgers.
One of the many gracious aspects of this restaurant is its familiar food choices that save people a lot of time when deciding between the many food options that are available on the menu and hence offer them wholesome, simple food choices with no hassle.
Also, the food is not the only thing that is greatly appreciated here, as its vibrant atmosphere is another excellent addition to the overall enthusiastic vibe that it has garnered over the years.
Chef's Choice
One of the best things that you can give a try here is their Smothered Chili and Cheese Burger, which comes with an overflowing flavor of cheese with a creamy texture that makes one drool just by looking at it and gives you the most satisfying feast ever.
Also, the Smothered Chili and Cheese Burger come along with a side dish of crispy, freshly cut fries, which adds a lot of taste to the entire feast and also lives up to its worth with its delicious taste.
As the restaurant is also a local brewery, it would be wise to consider trying out their several beer options that are famous here, which goes pretty well with their varied, fast food choices.
Location and contact
21. Pearl Oyster's Bar
Why it's a must visit?
The Pearl Oyster's Bar restaurant's name itself gives away its specialization in delivering people exotic seafood options with high-quality ingredients and a fascinating atmosphere to enrapture people's attention.
Any seafood lover would absolutely adore this place; it not only provides them with the freshest oyster dishes but also delivers them a blend of creative seafood dishes that is sure to leave them satisfied.
Another truly fascinating aspect of this diner is that it presents people with a recipe fusion of Creole, Southwest, Mediterranean, and Asian flavors to give them the most lovely exotic eatery experience.
Also, the restaurant, besides having a breathtaking interior, also features a spacious outdoor patio to give them a special afternoon delight.
Chef's Choice
As one can gather from the restaurant's title itself, the oyster at this place wins the crown as they have a beautiful runny texture to them along with bursting flavors that leave anyone craving for more.
Also, their other seafood specialties, like their shrimp tempura, are good considerable options too, as their fresh flavor and delicate touch make anyone drool for hours.
Make sure that you don't forget to pair their exquisite seafood dishes with their stunning margaritas, which is an indeed breathtaking pairing that gives people the best gastronomist venture.
Location and contact
22. Mickey's Mantle Steakhouse
Why it's a must visit?
The Mickey's Mantle Steakhouse is a famous restaurant in the city that is known for serving classic Northern American inspired juicy steaks and has got its title from the revered local baseball legend Mikey who is considered to be the pride of Oklahoma.
This restaurant is a sanctuary for seafood lovers as it features spacious settings of more than 10,000 ft.² of dining hall along with fresh seafood choices and various other red meat options too.
It's also a prominent meeting point for people coming from several business backgrounds to famous celebrities and athletes as well who like to drown themselves within the immersing atmosphere of its luxurious serving of cigars and unique artistic setting.
The restaurant does not back off when it comes to providing a lively Entertainment event every week as it has a high definition LCD TV in every part of the dining hall and also has a vibrant atmosphere due to its streaming of live sports channels to get the spirits of its visitors moving.
Chef's Choice
As the restaurant is a luxury steakhouse, their juicy steaks take the crown here as they come with delicate red meat and a generous seasoning of various sauces and spices that pleases the palate of its visitors.
Also the hospitality of this diner is also pretty welcoming as it features a restrictive diet menu for gluten allergy, lactose intolerance, and vegan, too, through several specific catering choices.
Other than that, one can never forget to describe their spectacular and impressive wine choices that cover over 500 selections of wine options from all over the world, which makes use of old age rum with lots of flavors.
Location and contact
23. The Crabtown
Why it's a must visit?
The Crabtown restaurant shares its location inside a beautiful historical building named Brick town and is famous for its several seafood specialties, especially its Cajun Crab Boil dish, which is freshly prepared from the butcher shop and delivers food within a specified time limit.
The interior of the restaurant is made in a refurbished manner inside a warehouse and is a truly fantastic destination for seafood lovers who want to taste the flavor of fresh seafood catches.
It also shares its location near several historic landmarks like Hampton Inn and the ballpark on Sheridan as it offers people the convenience to travel without additional problems.
Chef's Choice
The name of the restaurant itself implies its specialization in serving distinct seafood choices, especially its famous crab dishes, which have become beloved by several townspeople.
But their other delicious items like pasta, steaks, and chicken are also delightful alternatives to consider here as they come with savory gravy and aromatic flavors.
Also, as we mentioned above, as it has its own separate butcher shop, all the ingredients here are freshly made in the most organic manner and offer people healthy outdoors choices to experiment with.
Location and contact
24. Edna
Why it's a must visit?
The Edna restaurant has its own Fan club and is one of the most loved diners in Oklahoma as it features a neighborhood sidebar along with its decoration of Dollar bills stuck on its walls for a quirky effect.
The restaurant has so much prominence globally that it has sold over 1 million lunchbox cocktails that have won the hearts of thousands of people.
Though the restaurant has been refurbished a lot of times previously, it still manages to work in a traditional manner by featuring a casual atmosphere with modest decorations.
Chef's Choice
As we mentioned above, their cocktails are their biggest specialty here as they have sold over 1 million of their specialized drinks internationally, especially with their light texture and their use of freshly made orange juice and amaretto, which get served in a foggy mug.
Besides tasting their rejuvenating cocktails and several other beer options, you will also find their appetizers to be genuinely delightful as they come in a mild form and warms your stomach in the best manner.
So when it comes to appetizers, their nachos at the best bet here as they are crispy and spicy, and their basket dinners also deserve a huge mention in the list as they are made in the most exquisite sense with aromatic flavors.
25. Pie Junkie
Why it's a must visit?
The pie junkie restaurant has a fascinating history of getting established by two genius mothers who shared a breathtaking friendship bond between them and decided to use their baking talents into a full-fledged service, thus providing people with the most decadent desserts.
Since its opening in 2013, this famous bakery has grown into one of the most beloved bakery joints in the area producing over 275 pies per week for its loyal visitors.
It also shares its convenient location inside the plaza district which offers people a relaxing hideout after exploring the entire shopping district.
Chef's Choice
As the restaurant has opened its full-fledged service, it has spread its influence all over Oklahoma by delivering people a colorful variety of almost 20 variety of pies which comes in several delicious Flavours.
Some of our favorite flavors to taste here are their baked fudge pie seasoned with diced pecans and thoroughly salted
bourbon caramel.
Their macadamia key lime pie adorned with a peach blueberry flavor and tasty lemon cream tart are also good alternatives to consider.
Location and contact
Famous foods to try in the city
Seafood – Oklahoma is known for boasting a vast variety of seafood choices that are fresh from the seas and are made in the most exquisite sense with varied authentic techniques, be it Japanese, Mediterranean, Latin America, etc. The seafood dishes here come in a lot of variety and be it their fried octopus, shrimp tempura, or simple oysters with bursting mouth flavors.
Pies – When it comes to dessert varieties, Oklahoma takes the top position in all of the US as it serves the best pastries in the city through specialized bakery houses that not only have spread their prominence in the state itself but also internationally through its wide variety of extensive flavors. So if you are craving either strawberry, blueberry, or caramel, then Oklahoma is your haven as it gives you the best sugar rush of a lifetime in a toothsome way.
Beers – Oklahoma has tons of brewery restaurants, Gastropubs, and bars that serve people a variety of drinks ranging from simple cocktails, to tap beer and draft beer options too. Besides providing fantastic beer options, the chefs here also make sure that they are best paired with American's nostalgic comfort food, which is the biggest highlight here.
Fast Food – One of the most impeccable things about Oklahoma is its fascinating fast food choices which come in the form of western comfort food that is frequently delivered with draft beers and therefore offers people a reminiscent peek into America's food lifestyle, which has revolutionized into gourmet food choices.
Final Thoughts
Oklahoma is a city that excludes a breathtaking culinary food scene of America with lots of diversity and authenticity. That's why finding a good restaurants okc is like finding a diamond in the rough, especially if you want to taste authentic North American food. So if you were struggling to find where to eat, then we hope that this catalog has proven efficient to you when it comes to clearing those queries and has provided you with an excellent place to eat in the city.