21 Best Restaurants & Places in Key Largo, FL | 2023 (Top Eats!)
Key Largo is a city where adventurers come to proclaim their love for outdoor activities. The place is fantastic for adventurous activities and serves world-class seafood cuisine that is appreciated globally. The many outdoor activities here have given it the catchphrase of 'diving capital' as its home to numerous glorious parks that exude botanical beauty.
Also, the freshest catches of the sea have made it one of the top destinations to indulge in seafood, and that's why everything here is perfection in every way.
Therefore to help you discover some decent places to eat in the city, we have created this list of the best restaurants in Key Largo that have delivered a valued service over the years.
Best Restaurants in Key Largo This Year
1. What The Fish Rolls & More – Tavernier
Why it's a must visit?
The What The Fish Rolls & More restaurant is a celebrated counter-serve seafood diner in Tavernier that is located only seven minutes away from Key Largo.
If you are on the way to the city of Key Largo, then make sure that you stop by this restaurant to try their refreshing seafood varieties for a rejuvenating feast.
It's a perfect place to stop by if you are looking for a simple bite and a casual place to eat with a laid-back atmosphere.
Chef's Choice
The place has so many delectable dishes and uses fresh seafood, which is the reason why they feel so refreshing and tasty.
But if you want to taste something authentic, then make sure that you go for the roller lobster and crab cake.
Whereas if you are into something more adventurous and experimental, then their Ceviche Del Mar is always a fabulous option to consider.
Location and Contact
Phone:- +1 305-440-3650
Email:- Florida@whatthefishrolls.com
2. Harriette's Restaurant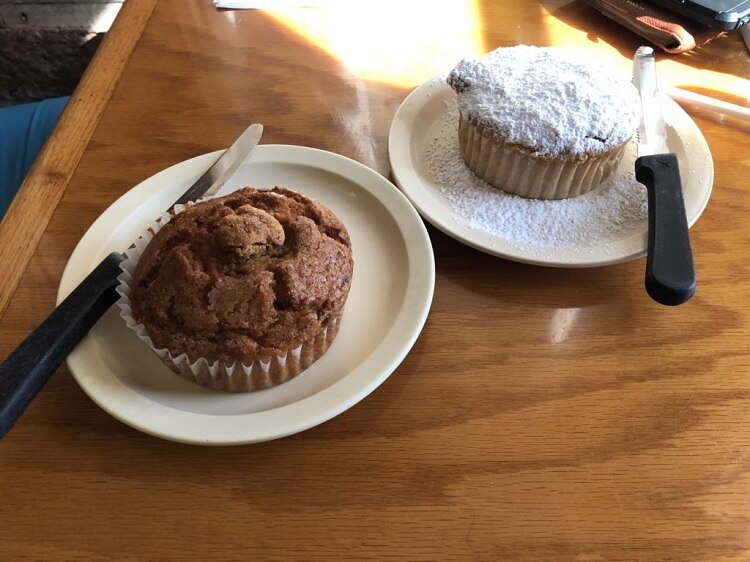 Why it's a must visit?
Harriette's restaurant is known for providing people with simple lunch and breakfast options and is located on an overseas Highway and has its own separate bakery.
If you prefer hearty meals but also want to taste Key Largo's cuisine, then this restaurant can be a good choice for you as it provides homey meals in large portions that blend exceptionally well with its welcoming atmosphere.
The range here is extensive ranging from crab cake Benedict to pancakes and is definitely one of the top restaurants in Key Largo for indulging in comfort food choices.
Chef's Choice
With so many years of professionalism, the restaurant has managed to showcase people multiple muffin flavors that offer visitors a lot of variety.
Even though the restaurant has so many flavors in the muffin category, it's their popular key lime pie muffin that remains the most loved dish year, which should not be missed.
Location and Contact
Phone:- +1 305-852-8689
Email:- harrietteskeylargo@yahoo.com
3. Hobo's Cafe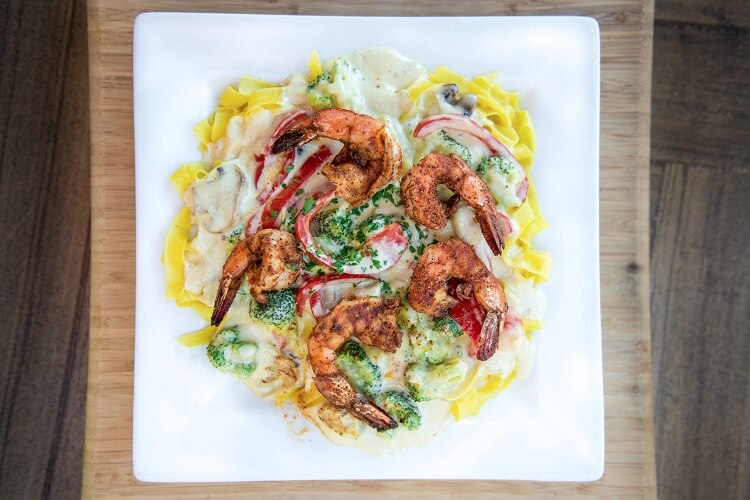 Why it's a must visit?
The Hobo's Cafe is a relaxed seafood diner known for its incredible Florida bites and aesthetic design.
When it comes to the question of where to eat the nicest lunch in Key Largo, this café takes the top position as it provides people with the freshest meals that they can ever experience.
Almost every single ingredient here is locally fetched from Floridian farmers and fishermen, which is the reason why the dishes here have such a fresh taste of them and feel amazing.
Chef's Choice
Try their traditional American choices, which is why it remains famous through its multiple comfort food options.
Among its classic American choices are dishes like Greek isles Lamb burger and their tasty Marino burger, which are no beat to other meals.
But if you prefer to stick with simple yet classic choices, then get their conch fritters which is a delightful dish.
Location and Contact
Phone:- +1 305-451-5888
Email:- contact@hoboscafe.net
4. Doc's Diner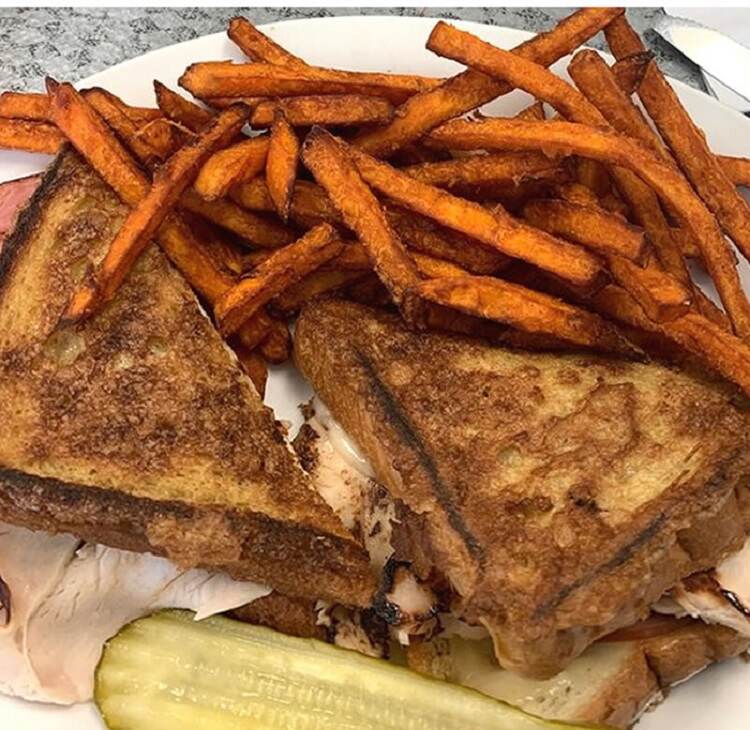 Why it's a must visit?
The Doc's Diner is run by a family in Key Largo and is known for its mouthwatering American seafood-styled dishes with a casual atmosphere that feels heartwarming.
This restaurant is one of the cool places to eat in Key Largo because of its rustic ambiance, rapid service, and reasonable prices, which makes it approachable and worth coming back to.
Also, the welcoming atmosphere here makes anyone feel at home with a relaxing ambiance.
Chef's Choice
We would recommend that you keep your feast simple by trying their champ which is a dish that comes with several meals like toast, grilled hash browns, and eggs as its main dishes.
Also, a sip of their Joe beverage will finish your feast in the most rejuvenating manner so that you can start your day in the most refreshing way, as it is also won several local awards for its lovely flavors.
Location and Contact
Phone:- +1 305-451-2895
Email:- oinfo@docsdinerkeylargo.com
5. The Fish House
Why it's a must visit?
The Fish House restaurant is a famous Fish market in Key Largo and offers people delectable dishes that are made from sustainable ingredients, as the local fisherman freshly catches the seafood here.
The food here is undeniably one of the best in all of the Key Largo as it also comes in bountiful portions and feels incredible on taste buds.
Not to mention, it's one of the top-rated restaurants in Florida that has continued to enamor seafood lovers, as it also has its own market that serves the freshest varieties.
Chef's Choice
It's challenging to go wrong with their seafood choices as the place features several local favorites like their tasty Florida lobster and mahi-mahi.
Also, it gives you the option to get it in either sautéed, seared or smoked form.
Location and Contact
Phone:- +1 305-451-4665
Email:- admin@fishhouse.com
6. Mrs. Mac's Kitchen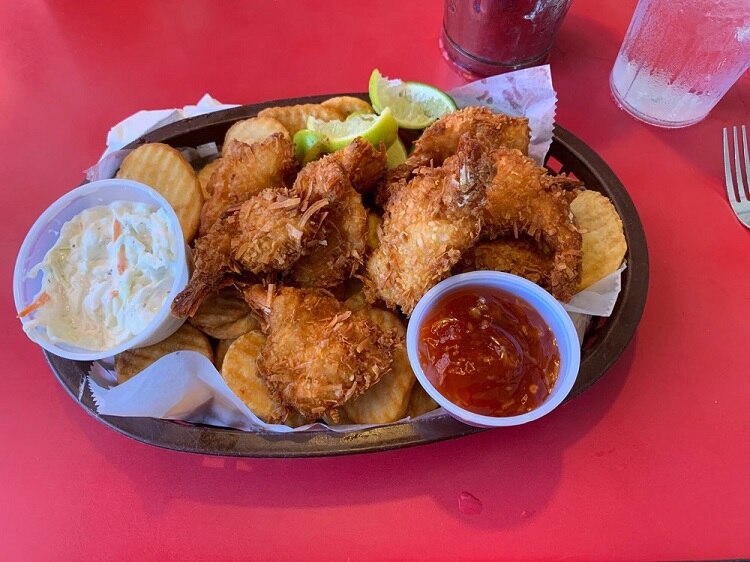 Why it's a must visit?
The Mrs. Mac's Kitchen restaurant was refurbished in a circa form in 1976 and is a local seafood diner that takes inspiration from homemade recipes of the founder's mother that feels homey and nostalgic.
It's one of the best restaurants near me that you can try visiting, as the hearty meals here, as well as the welcoming vibe, has made it a favorite among tourists who yearn for homemade meals.
The place is outstanding for a quick morning meal, as the many dishes here go incredibly well with a glass of bubbly champagne that feels fancy yet simple at the same time.
Chef's Choice
The most outstanding dish here that you can have any time of the day, be it for breakfast, lunch, or dinner, is their Sopa de Caracol which is an award-winning dish that has won a lot of praise.
The entire dish is made from authentic conch that comes soaked in tomato base that gives it its creamy texture and flavor.
Pair those excellent dishes with a glass of their wines or Champaign, and you are good to go.
Location and Contact
Phone:- +1 305-451-3722
Email:- Info@MrsMacsKitchen.com
7. Alfredo's Cookhouse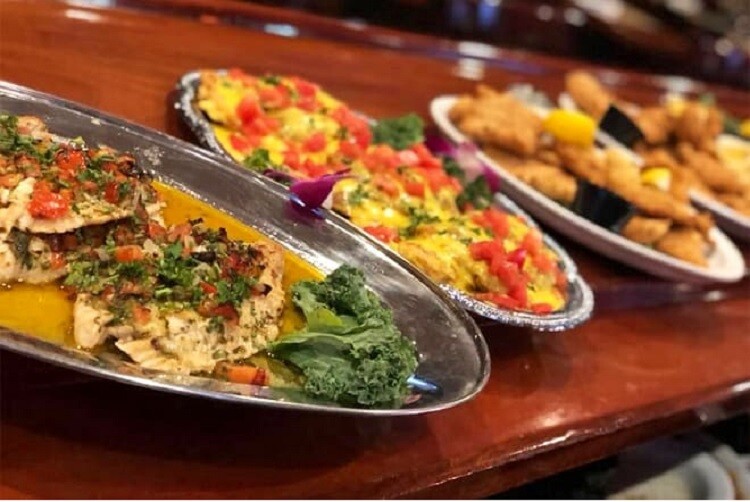 Why it's a must visit?
Alfredo's cookhouse is a vintage steakhouse and a restaurant that is known for its Mexican cuisine and tasty morning meals.
It's a place where youngsters come out to chill while indulging in tasty meals, and because of such reasons, it's one of the must eat places in Key Largo as one gets to have a pleasant experience here.
The accommodating service here and the colorful menu with huge portions make anyone feel satisfied as soon as they leave this place.
Chef's Choice
Even though every single dish at this restaurant is excellent, its main hibachi entrées deserve a massive shout-out as it's a show-stopper dish that comes with mouthwatering flavors.
Their hibachi scallops are a good seafood option, too, if you want something simple and delicious.
Don't forget the tuna steak, which comes with soft flavors and has a mouth-melting texture.
Location and Contact
8. The Buzzard's Roost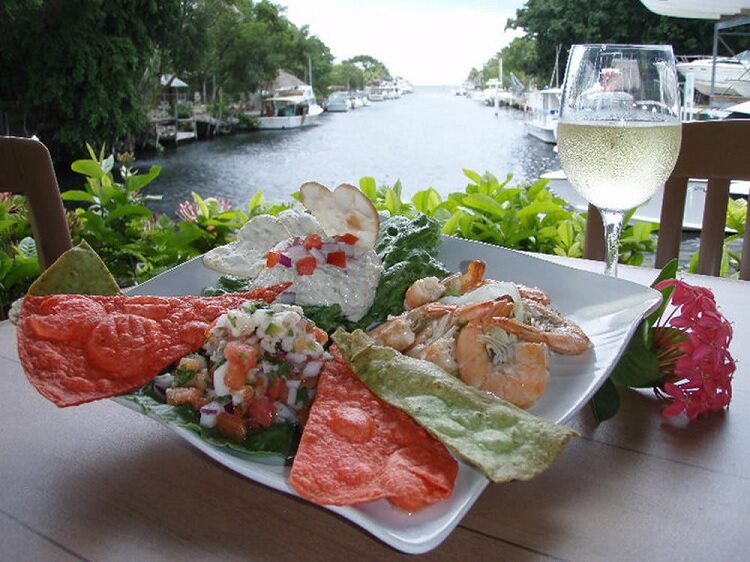 Why it's a must visit?
Buzzard's Roost restaurant is a fabulous seafood diner that is located on a beautiful waterfront in Garden Cove Marina.
The diner is considered to be among the many great restaurants in Key Largo as it has a fancy ambiance that is perfect for having romantic dates with your significant other as the delectable steaks here and the seafood with gorgeous views of the waterfront and live music make it an ideal evening diner.
Also, it has a casual ambiance with a cozy atmosphere that makes sipping mimosas feel extra unique and refreshing.
Chef's Choice
Begin with their tasty fresh yellow snapper ceviche as a starter option to embark on a decadent feast ahead. 
But if you don't prefer their ceviche, then their Barbara's Ram conch chowder will be a great alternative as a starter.
Also, if you wish to explore more seafood options, then their lobster dishes will definitely give you an epicure experience.
Location and Contact
Phone:- +1 305-453-3746
Email:- buzzardsroost@keysdining.com
9. Num Thai Restaurant and Sushi Bar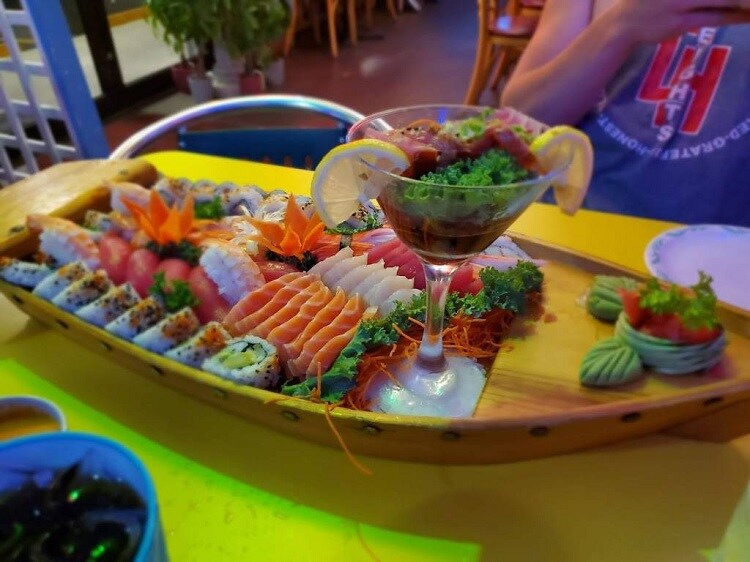 Why it's a must visit?
The Num Thai Restaurant and Sushi Bar restaurant is a modest Thai and sushi restaurant that is situated inside a strip mall neighboring the Overseas Highway.
This restaurant, without a doubt, is one of the most famous restaurants in Key Largo, as it offers people something unique that other diners lack.
The restaurant presents people with a wide range of seafood choices that you will absolutely love as it comes with an Asian twist in the form of noodles, curry, and sushi.
Chef's Choice
Begin with something simple like their fried wontons to encounter a great spin on appetizers.
Make some space in your stomach for their delicious sushi combos that are recommended by the professionals here and therefore are the best combinations.
But if you want to try something experimental and adventurous, then a bite of their Thai red curry will prove your fancy.
Location and Contact
10. Bayside Grille & Sunset Bar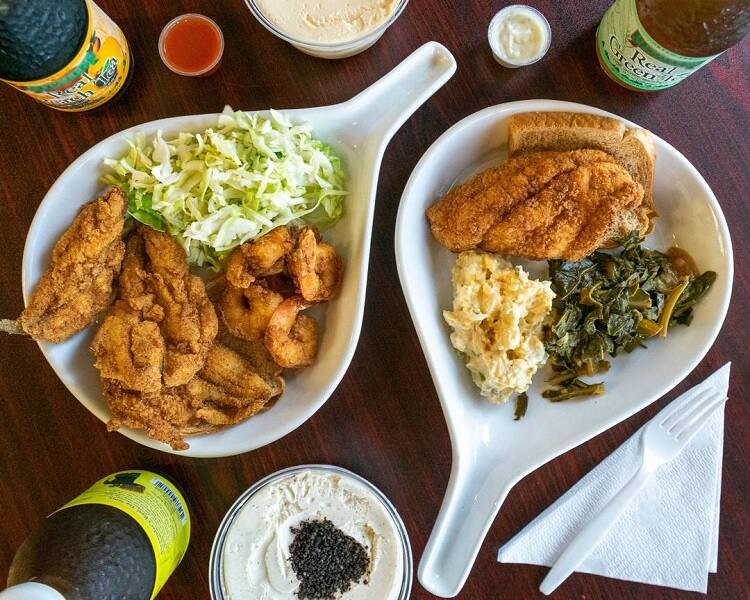 Why it's a must visit?
The Bayside Grille & Sunset Bar restaurant is known for its stunning beachfront location and its offering of tasty local dishes specializing in seafood choices.
The restaurant has an elevated atmosphere with unique touches, like having open-air seating with an island theme that rectifies its position as a 5-star restaurant in Key Largo.
Plus, a combination of their lovely seafood dishes with their exquisite wines would further make the feast a lot tastier.
Also, anyone who is a sunset lover will come to adore this place, as the diner is known for its dazzling views of the sunset during evening hours.
Chef's Choice
The restaurant feature several main entrées like their Keyribean shrimp, which is a spectacular dish that comes with heavenly flavors.
Their Bahamian conch chowder makes for an incredible main course dish and gives one the most pleasant dining experience.
Location and Contact
Phone:- +1 305-451-3380
Email:- baysidesunsets@gmail.com
11. DiGiorgio's Cafe Largo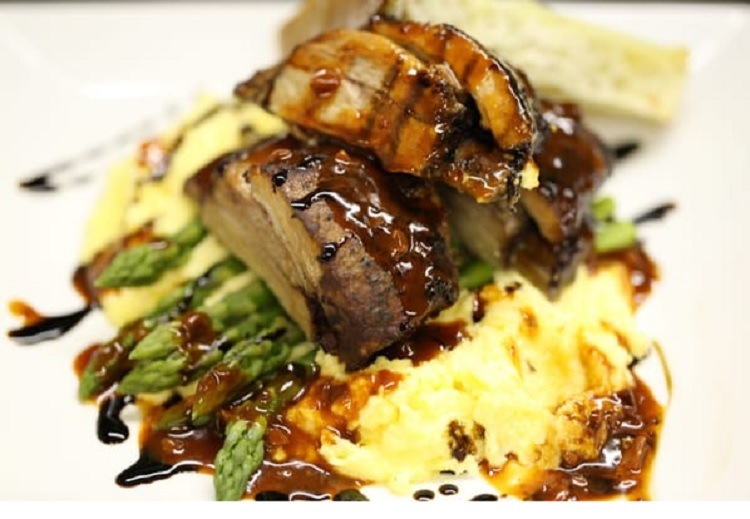 Why it's a must visit?
DiGiorgio's Cafe Largo is a family own diner that is known for its exquisite local seafood and pasta choices that have become a major hit among the residents of Key Largo.
This restaurant is one of the most fantastic family restaurants in Key Largo Florida that is perfect for having evening and brunch meals in an Italian fashion with authentic flavors.
Aside from their tasty pizzas and plates of pasta, the restaurant also serves Florida Key Largo favorites in the form of exceptional seafood choices that the city is famous for.
We are sure that this restaurant will provide you with the most remarkable Italian dining experience with its freshest catches and ingredients.
Chef's Choice
The one dish which is the ultimate meal here is their veal chop cutlet Florentine which is an absolute favorite for many people.
The Veal chop cutlet Florentine comes heavily roasted in olive oil that comes seasoned with tasty mozzarella and prosciutto cheese that gives it its pulled effect.
Try their different kinds of pasta and pizzas also to complete the entire Italian dining experience.
Location and Contact
Phone:- +1 305-451-4885
Email:- keylargoitalian@gmail.com
12. Skipper's Dockside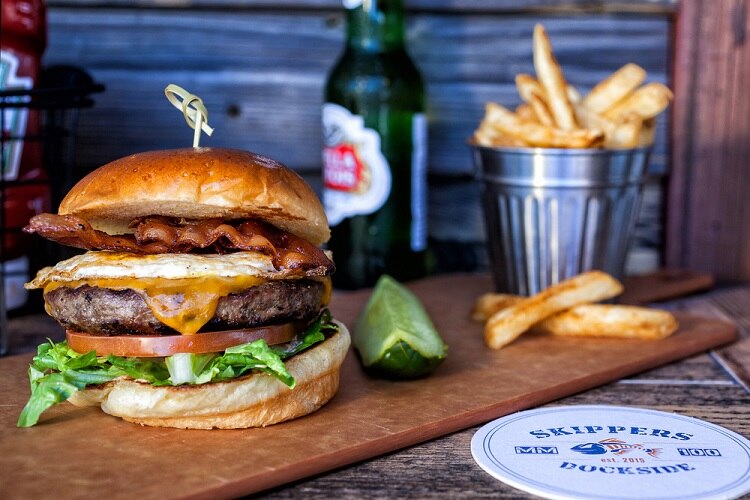 Why it's a must visit?
The Skipper's Dockside restaurant is designed in a boat house fashion and is a significant waterfront restaurant located inside the marina Del mar resort and Marina in Key Largo.
This restaurant is a perfect option for those who seek a peaceful dining experience in Key Largo with bright beach chairs, sandy floors, palm trees, and tasty American plus seafood dishes.
One will absolutely rejoice with every bite at this place as the cool breeze lifts the spirit as they indulge in the many tasty dishes that this restaurant offers.
Chef's Choice
We would recommend that you go for more straightforward choices here if you want to enjoy the atmosphere more.
Among the many favorites here is their Key Largo tacos, which is a good handheld choice if you want something simple and tasty. 
Their Keys Mahi sandwich is an outstanding choice to go for, especially when it's paired with their tasty cocktails and their lovely draft beers.
Location and Contact
Phone:- +1 305-453-9794
Email:- info@skippersdockside.com
13. Alabama Jack's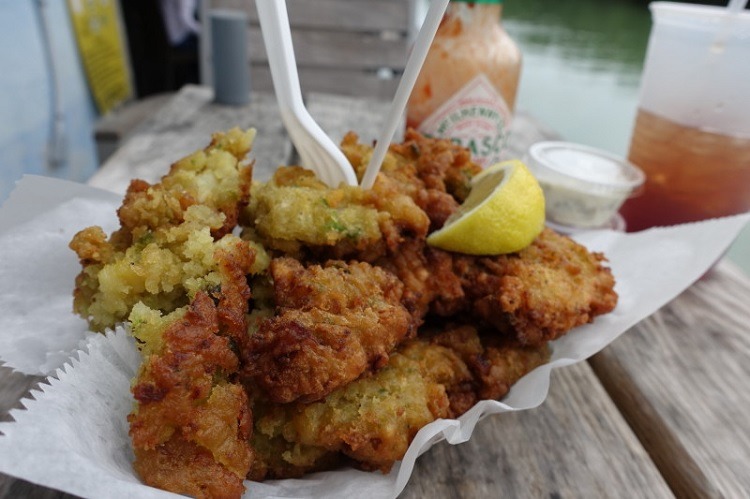 Why it's a must visit?
The Alabama Jack's restaurant is a modest waterside seafood diner that is known for its tasty food, live music, and beautiful open walls.
It's a cozy restaurant that lets people enjoy the soft breeze of the waters with immersing live music and because of such reasons it has become one of the best restaurants in the city that serves people the most pleasant dining in Key Largo experience.
As it's a beach bar, it's loved by tourists and local people alike as it's outstanding for having casual dining in the city.
Chef's Choice
If you have ended up coming here, you should not miss out on their sinfully delicious conch fritters, which are a perfect snack option.
Also, as it's a bar, it would go without saying that its drinks are also pretty flavorsome and should definitely be tried.
Location and Contact
14. Ballyhoo's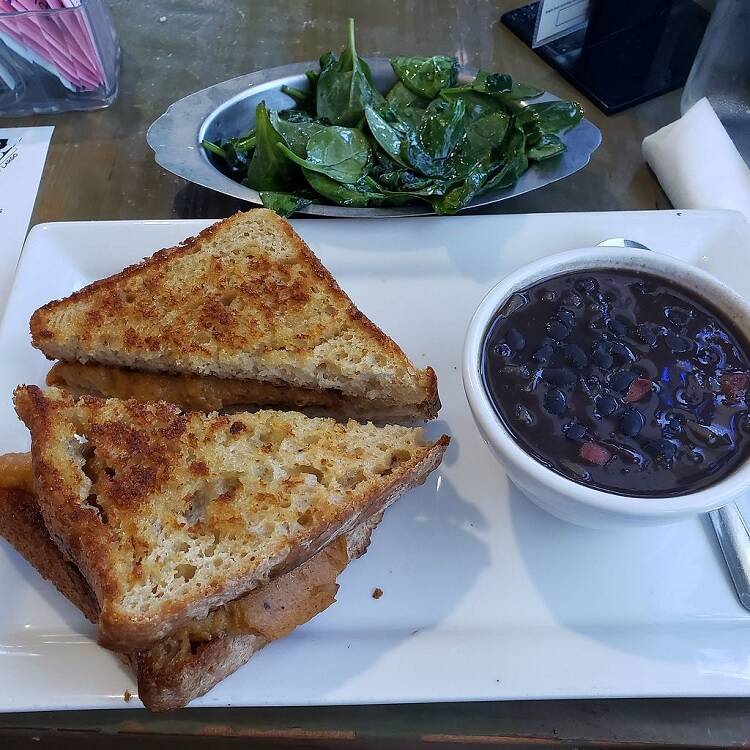 Why it's a must visit?
The Ballyhoo's restaurant is a relaxed eatery in Key Largo, Florida, that is known for its exuberant vegan and seafood dishes that have won the hearts of people.
The restaurant delivers people a southern twist to Florida fare and because of this, it has become one of the top-rated restaurants in Key Largo that has undeniably delicious cuisine.
It's a joyful experience dining here as the place office many tasty side options with their local seafood like salads, rice, and black beans.
Chef's Choice
As the restaurant remains crowded almost every time of the day, it often runs out of stock quickly, and therefore we would recommend that you visit it early or order beforehand.
But the one thing that you should definitely not miss out on here is their stone crabs which is their biggest specialty and is the most highlighted option.
Location and Contact
Phone:- +1 305-852-0822
Email:- salsballyhoos@gmail.com
15. Jimmy Johnson's Big Chill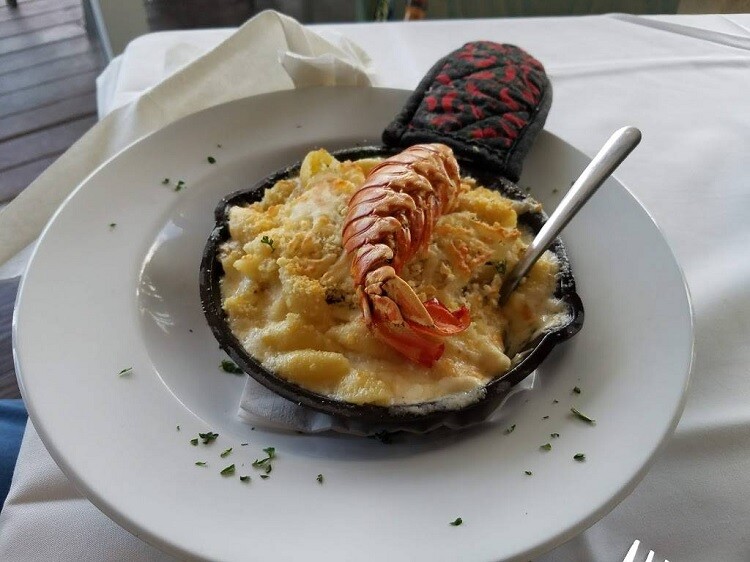 Why it's a must visit?
Jimmy Johnson's Big Chill restaurant is a charming beachfront American diner that is located in Jimmie Johnson's Fisherman Cove, which is a famous seafood branch in Florida.
The restaurant embodies an Oceanside ambiance with a tiki bar and a lovely hallway that is well-celebrated by the local people of Key Largo and, thereby, is one of the most fabulous restaurants out there.
Inside this restaurant, you will get to experience a bright island-themed atmosphere with beloved American plus seafood dishes that you can eat to your heart's content while gazing at the dazzling views of the waters.
Chef's Choice
Coming to its fascinating cuisine options is its white truffle lobster mac & cheese, which is the yummiest dish here that has no rivals to it.
Pair those dishes with other American samplings and drinks, and you are done for the day.
Location and Contact
Phone:- +1 305-453-9066
Email:- mikeylw95@gmail.com
16. Key Largo Conch House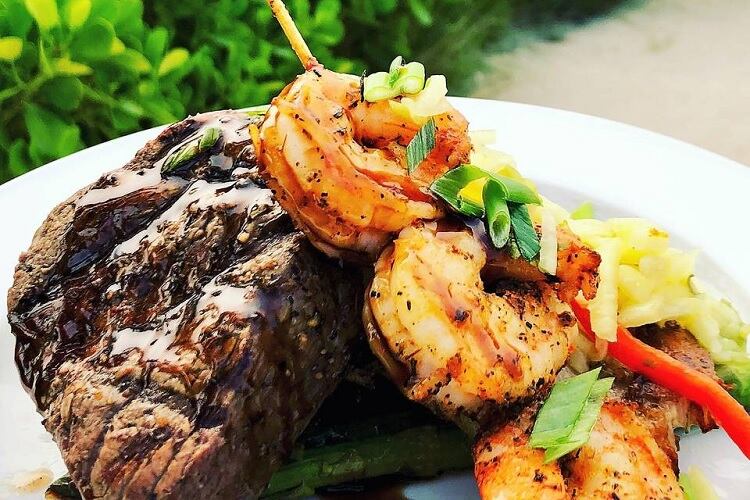 Why it's a must visit?
The Key Largo Conch House restaurant is one of the most refined family-owned restaurants in Key Largo that serves people the finest dinner, lunch, and breakfast options on its beautiful lush veranda that has a house parrot.
If you are searching to get a taste of the most delectable lunch plus dinner options in Key Largo, then this place will definitely appease all your cravings with its many mouthwatering dishes.
The lush surrounding here, with a botanical theme, makes everyone lose themselves in the beauty of nature while indulging in their many delectable dishes.
Chef's Choice
If you are looking to encounter the best breakfast in the city, then you won't go wrong with their signature eggs Benedict that comes with a seasoning of conch ceviche and lobster along with other varieties like grits, Key lime academia pancakes, and Cajun shrimp which are worth dying for.
As for dinner, we would recommend that you begin with their sampler dish of conch house that has meals like conch ceviche, coconut shrimp, conch fritters, and cracked conch.
Other main entrées here include fillets which come either in blackened, grilled, or fried forms, or their freshly caught hogfish which is a divine dish and their house tacos which also give people the option to get it either in non-veg or vegetarian curry form.
Location and Contact
Phone:- +1 305-453-4844
Email:- info@keylargoconchhouse.com
17. Lazy Lobster Seafood Restaurant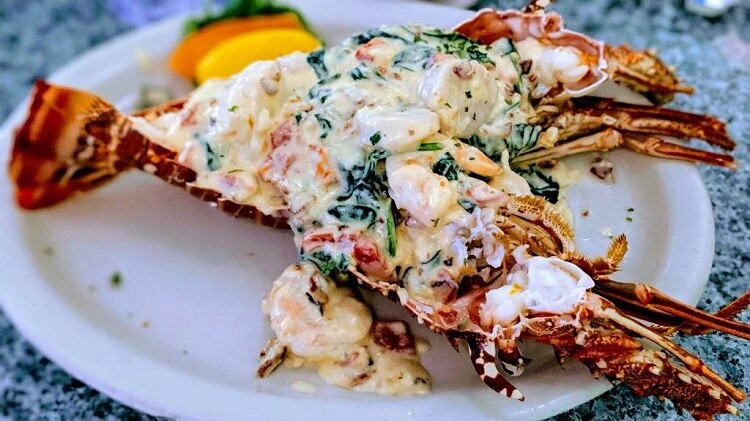 Why it's a must visit?
The Lazy Lobster Seafood restaurant is the perfect diner if you want to eat outdoors inside a huge hallway garden with umbrellas that gives one a beachy vibe.
The umbrellas help one protect themselves from the intense sun of Florida and is definitely a fine place to eat with several lovely delicacies.
Also, the restaurant is run by the executive chef Lupe who happens to create the most fascinating varieties of seafood dishes that is hard to match against.
Chef's Choice
Among its many delicious dishes are light meals like oysters, fried cracked conch, lazy conch, and their special lobster dinner, which gets served in lots of ways, either in Keylime, Matecumbe, or Islamorada style.
We would recommend that you try their chicken piccata rather than the rice and also take a bite of their filet mignon, which will complete your feast in the most delicious manner.
Also, the vegetarian variety here is excellent with the dishes like plates of pasta and something lighter like sandwiches.
Location and Contact
Phone:- +1 305-451-0565
Email:- lazylobsterinthekeys@gmail.com
18. C&C Wood Fire Eats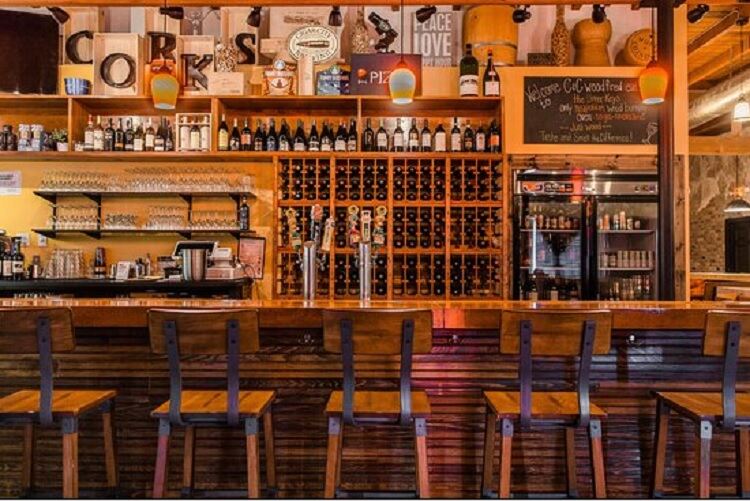 Why it's a must visit?
The C&C Wood Fire Eats restaurant is someplace that one should definitely go to if they suddenly get a craving for tasty pizzas that have authentic flavors.
The restaurant solely specializes in Neopolitan wood-fired pizzas that are made in an oven and are one of a kind all over the city.
The restaurant has been serving the local people decadent pizzas for more than two decades and continues to deliver consistent quality with heavily loaded pizzas.
Chef's Choice
Some of its tasty wood-fired pies include dishes like Tuscan truffle, Carne Calabrese, which is a spicy non-veg pizza, the Zaza, which comes with freshly diced tomatoes, mozzarella cheese, garlic and basil, and their tasty prosciutto and blue cheese pizza which are memorable meals to try.
But if you feel that you don't want to try conventional pizzas, then you can always go for their custom cheese boards in the form of charcuterie which includes meals like black truffle salami and wild boar.
Location and Contact
Phone:- +1 305-451-0995
Email:- woodfireovenkeylargo@gmail.com
19. Blonde Giraffe Key Lime Pie Factory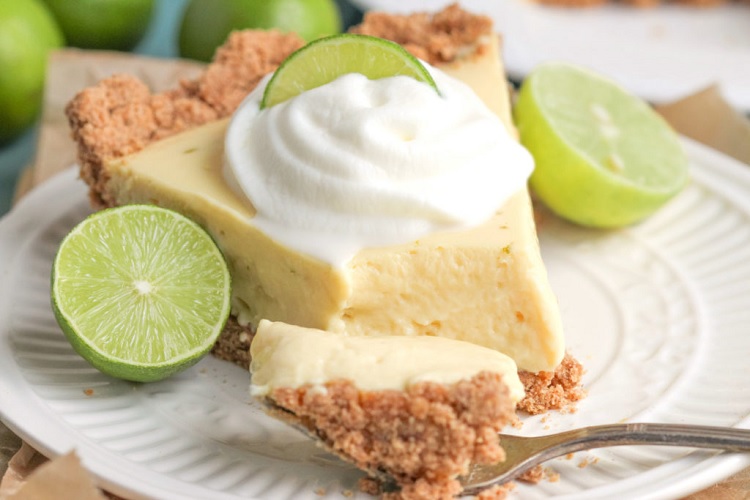 Why it's a must visit?
The Blonde Giraffe Key Lime Pie Factory is a fabulous diner in Key Largo that has been featured in lots of magazines and TV shows and gives almost everyone a pleasant dining experience with its many flavorful dishes.
It's a place that a lot of food gastronomists go to because of its popularity across several food TV shows, and it is the most incredible location to visit if one has a sweet tooth.
Also, it remains open almost every day of the week for 12 hours and has a beautiful Secret Garden that lets one enjoy toothsome desserts to their heart's content.
Chef's Choice
Try their classic Keylime pie, especially their chocolate-covered pie, which is truly a divine dish to consider.
In the same way, their coffee, cookies, and Keylime Florid candies are a treat to the tastebuds that leave an unforgettable aftertaste.
Don't forget to try their frozen pie as a go-to meal as you relax in their beautiful lush gardens.
Location and Contact
Phone:- +1 305-922-2400
Email:- pies@blondgiraffe.com
20. Hideout Restaurant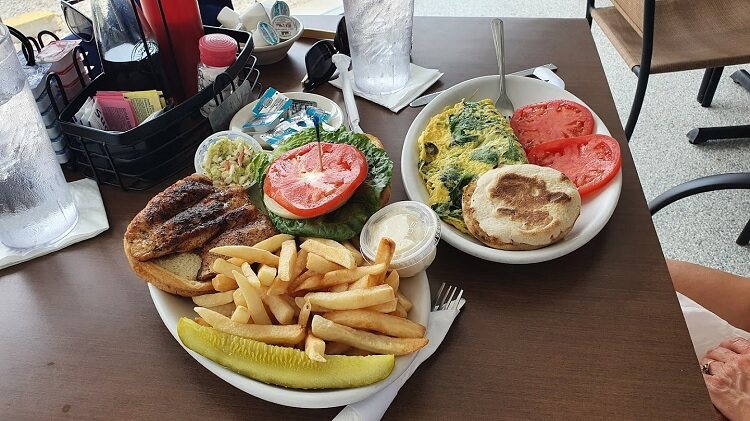 Why it's a must visit?
The Hideout restaurant is a fantastic option to dine at for both lunch and breakfast, as the place offers exceptional traditional varieties which unique weekend options.
The breakfast and lunch timings are specific here, as a special event that usually gets held on Friday also has a specified timing which one should be knowledgeable about.
Also, it's worth mentioning that this restaurant is dog friendly and has a huge patio area which makes it accommodating and fun.
Chef's Choice
If you are coming here for breakfast, then make sure you order their classic egg dishes, which come with your personal choice of toppings in the form of grits, meats, and fish, along with other traditional varieties like lobster cake Benedict, omelets, deep-fried chip beef with a complementary dish of home fries and hotcakes.
As for lunch and dinner, the restaurant serves mouthwatering dishes like lobster bites which is the most popular dish here as it is exclusively made by chef Tony, with other options like shrimp wings, conch fritter, chicken fingers baskets, and a lot more.
They also have special platters like their tasty seafood combo which comes with dishes like Key Largo fish sandwiches, crab cakes, jumbo shrimp, lobster cake sandwiches, fish, and other seafood classics.
Location and Contact
21. Taco Jalisco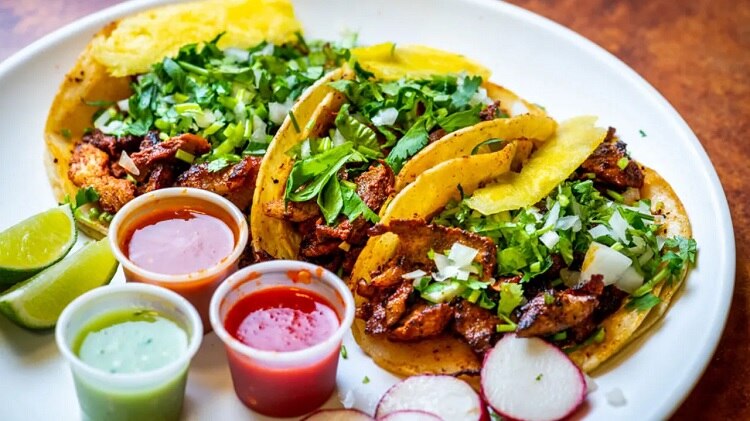 Why it's a must visit?
In the mood for delicious Mexican cuisine? Then you have found your personal haven, as this Taco Jalisco restaurant is one of the rarest Mexican restaurants in Key Largo, which serves authentic dishes in a truck-like setting which is a specialty of Mexican restaurants.
Almost every single person who has visited this restaurant has lauded it for its incredible spin on Mexican dishes with comfortable outdoor seating that comes with affordable options.
Also, every dish here is made in the freshest way because of its use of authentic ingredients and rapid serving.
Chef's Choice
The menu here is colorful with tons of tacos varieties from corn tortillas to steaks and other Mexican specials like tongue, sausages, shrimp, fish, chicken, and their pork al pastor.
One can also go for their handheld dishes like burritos or their tasty snack-like options with meals like quesadillas and tacos that are served in the freshest way.
Also, make sure that you call them ahead of visiting, as the place always has a huge queue.
Location and Contact
Famous Foods to Try in the City 
Seafood – Without a doubt, the seafood in Key Largo is the most prominent specialty as beautiful waters surround the place, and because of that, all the dishes here are made with the freshest seafood catch of the day acquired from local fishermen and therefore have such a refreshing flavor in them. That's why it should definitely be tried, be in the form of simple oysters and clam chowders as appetizers to mean entrées like lobster, squid, and crabs.
Key Lime Pie – It would be a shame to miss out on this most significant dessert specialty of Key Largo, which is their Key lime pie that comes in flavorful forms with the most toothsome flavor as it is made with original ingredients and gets served in beautiful aesthetic presentation details which is why it's so well-praised across the state and deserves to be tried.
Strawberry Shortcake – Strawberry shortcake is not only famous in Key Largo but also has its prevalence spread all over Florida for its unique flavors that are home to its regional flavors and therefore are a must try dessert option in the city. It's one of those dishes that should never be missed if one visits Key Largo, as it's hard to locate anywhere else that matches this place's quality.
Final Thoughts
Key Largo remains a gorgeous location surrounded by dazzling waterfronts and scenic views that one should at least experience once in their life for a peaceful encounter.
The place, because of its image as a diving nation, also has a fair share of premium seafood-inspired choices that have given rise to some of the most creative dishes that can only be found here.Because of such reasons, a lot of gastronomists and seafood enthusiasts often visit it to take a look at its cuisine factor.
So if you are coming here to explore for the same reason, then make sure that you select some excellent places to eat from our list of the best restaurants in Key Largo that have managed to keep up with their image of providing exceptional food varieties that come with unforgettable flavors. So bon appétit and have a happy journey exploring.